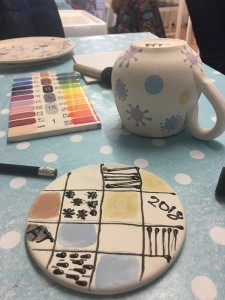 Mum, being the thoughtful person she is, perused my 101 things in 1001 days list for an idea for a birthday present, spotted "#1: Paint a plate (or mug or bowl)" and gave me a voucher to spend at The Pottery Place, which is a craft centre just round the corner from my house here in Witney, Oxfordshire. At The Pottery Place they have a huge range of pottery pieces for you to paint, from cups and plates to animals, plaques and letters. Once you've chosen your piece, you go upstairs to the studio where you can choose your paints and decorate it however you like.
I went one sleety Sunday afternoon and, after choosing a small jug and a round plaque, I spent a happy couple of hours painting the jug in a design inspired by Jessie Tait's "Flowermist" design. I've started collecting Midwinter pottery, especially jugs, and I thought it would be cool to have something in the collection that was all my own work, my take on a classic Midwinter pattern. I also painted the plaque in another Midwinter-esque pattern, though I have to admit it was less successful.
It was such a lovely relaxing afternoon, sitting there quietly watching the sleet fall as I chose colours and brushes and watched my pieces of pot transform from plain white objects to objets d'art…. well, something like that anyway! Staff were on hand to help with painting styles and brush types if I wanted advice, but they were equally happy to leave me to my own devices. I collected the pieces a few days later and was especially delighted to see how the jug had turned out. The colours had intensified quite a lot and I am so proud to place it within my collection!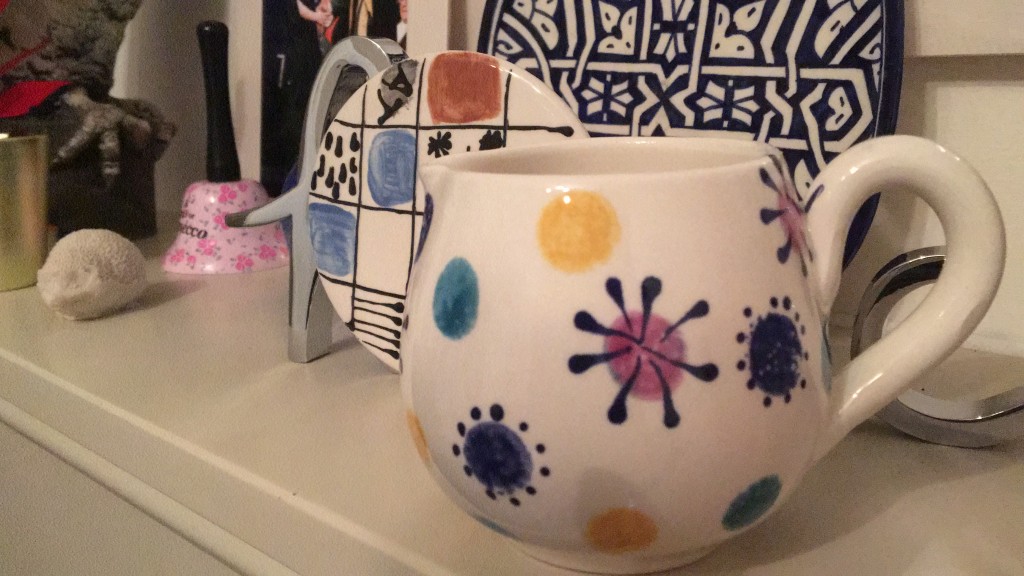 So that was something crossed off my list. Yippee! But I think I got the bug for pottery painting, as before I left the studio I'd signed up for a flower painting workshop – which was Thing #5 on my list, take an art class. Two weeks later I went back and learned a simple technique to paint really striking flowers, and this time I painted a cup and saucer. Partway through I was quite disappointed with how it looked, but again once the piece had been fired the colours are bold and I'm so happy with the design – in fact, a few people have said it looks like a professional job! The workshop was great fun. I went on my own but sat with three women who were very friendly, and at only £20 for the evening, which included all the materials plus tea and cake, it was great value for money too. I'm now wondering what craft I might try next, as they run all sorts of workshops – coming up are classes in blockprinting, mosaics and decopatch.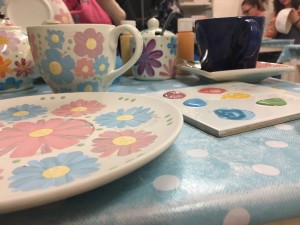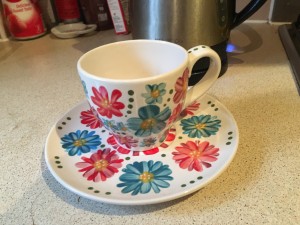 So two items crossed off my list, new things on the mantelpiece and a lot of fun along the way. I can definitely recommend The Pottery Place as somewhere lovely to go for a relaxing and enjoyable afternoon.
I haven't done any art journalling for ages, but the creative urge took over me at the weekend and I decided to have a go at some "found poetry". While they're not perfect, I was quite pleased with the end results!
To create this one I cut out fifty or so bits of sentences from the pages of an old book (it was actually a book my daughter bought to make me a Xmas present – one of those books with the insides hollowed out, for hiding things). I looked for fragments that appealed, and then sorted through them and put together various bits and pieces that seemed to work or have a similar theme. The poem is all about remembering that each of us is unique and beautiful.
This second one was fairly unsuccessful really. I tore a page out of another old book and picked out various words that made an odd poem about a journey. I painted over the rest of the text and then used watercolour pencils to highlight the words. For the background I started by doing some free writing in watercolour pencils, and then ran water over the page to smudge the words before sticking the book page on to it. Didn't quite get the effect I wanted.
This one is probably my favourite. The individual lines were cut from a book of poetry I bought in a charity shop, but each line was from a different poem. I think the end poem is rather romantic!
Finally, this one would have been better but as usual I went a bit too far with my embellishments!
Did some art journalling today, but it didn't really turn out how it was in my head. The idea was based around snow – that snow covers everything with a blanket of purity, but then as it melts you see the random shapes and colours and slushy mucky bits beneath it – not so pure after all. This was to be accompanied by a Mae West quote: "I used to be Snow White but I drifted" ….
So I stuck a load of random textures on the page and added some modelling clay and white paint over the top, but the texture of the clay got mixed up with the paint and didn't really stand out enough, and the materials just ended up looking a bit messy. I tried to stamp the quote on but the textures meant it wasn't possible to get an even spread of weight so it didn't really show up. Then I added it with my new Caran D'Ache watercolour pencils but they smudged so much it's illegible. Then I wrote it in marker pen, but as the paint/modelling clay was still a bit tacky that didn't really work either. And then I realised I'd actually written the quote slightly wrong anyway. Ah well.
So the end result is a bit of a random mess but I know what it is all about, even if no one else does – and I guess that's the whole point of art journalling – it's a way for me to express my feelings; it's not meant to be a piece of art work for public consumption. And at least I can honestly say I haven't spent the entire day watching my Jonathan Creek box set ;)
I haven't done any art journalling for a while – a combination of being really busy with work and feeling a bit down in the dumps since taking Katie to university. I decided to give myself a couple of hours off this afternoon though and did some journalling. This one is in honour of my fabulous daughter!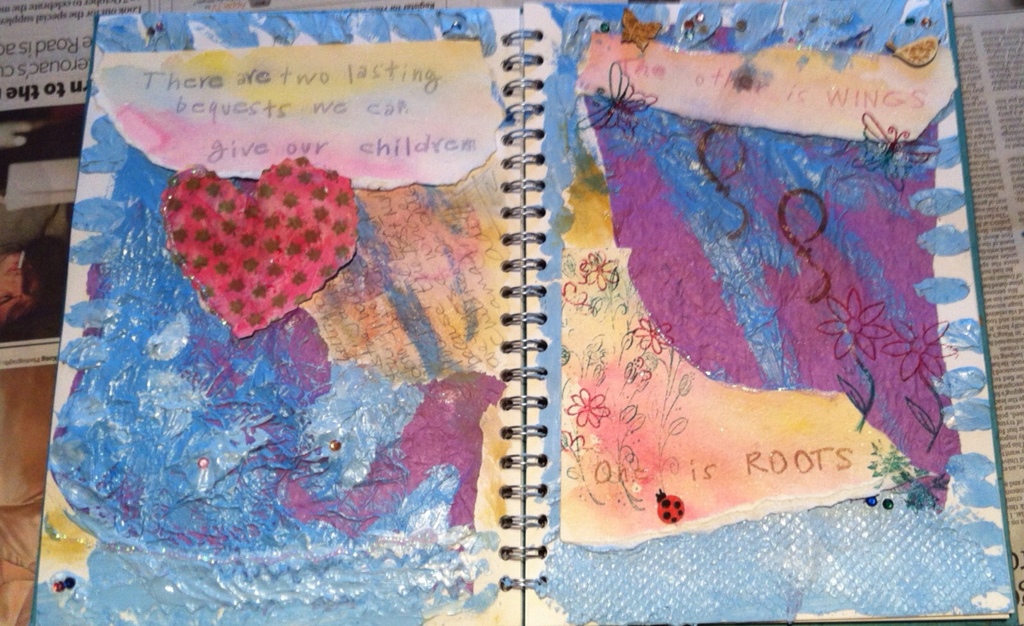 September 3, 2012 6:12 pm
Bought a huge lot of stamps from eBay and spent an hour trying them out. This my not be especially well thought out art but it was great fun and I think it has a certain charm about it!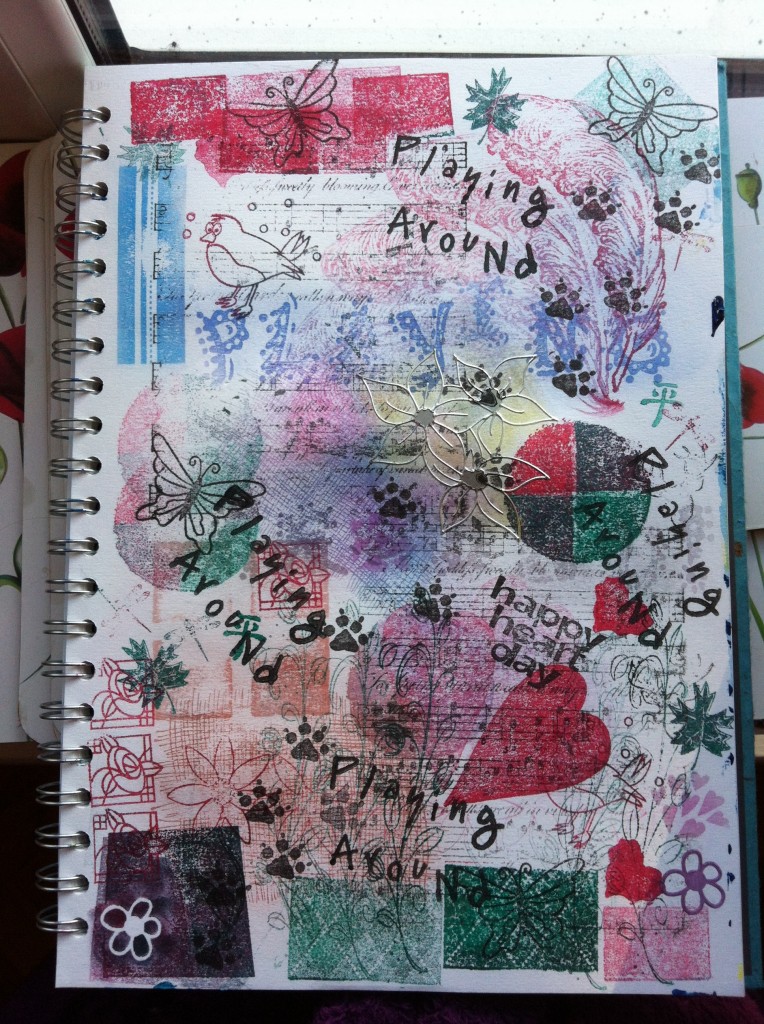 After watching one of the workshops on the 21 Secrets Art Journal Playground website I bought some modelling paste
and had a go at adding texture to the page. This started off as just a big blob of textured blueness but it reminded me of the sea, so I added a few effects including glitter glue to finish it off.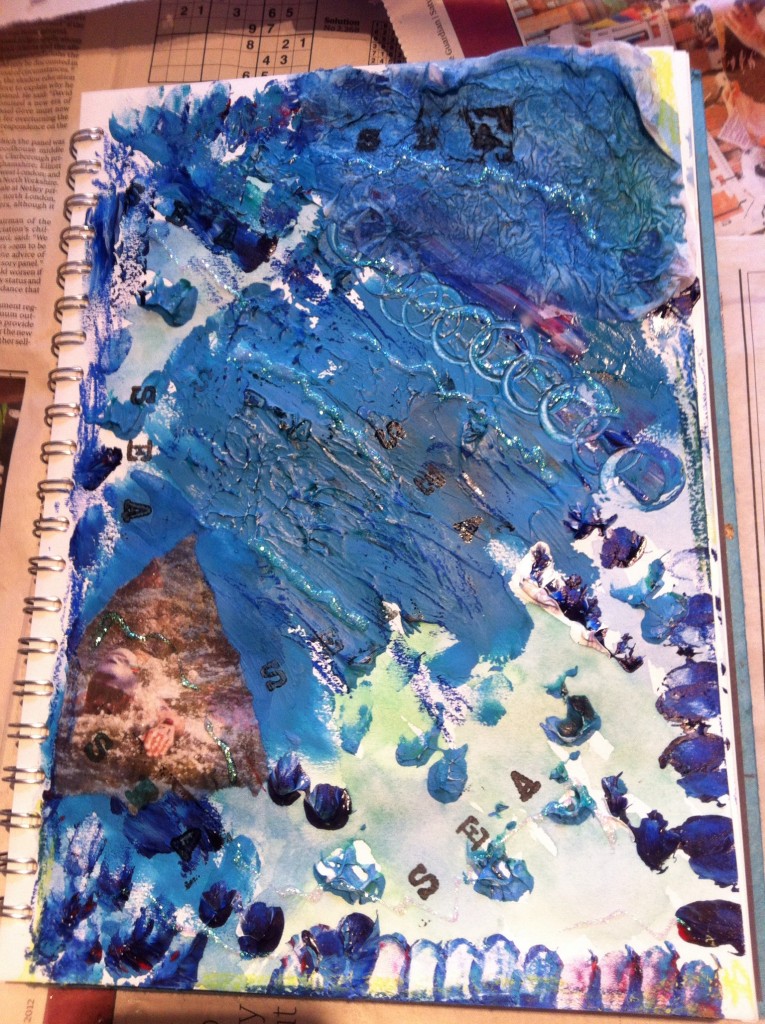 I wrote a haiku today (as part of my 101 things list) and was inspired to create a page too. The haiku itself is in the page, if you can read my messy handwriting!!
This was the final piece of the day and I actually did the painting on the workshop and then finished it off at home. it's based on one of my favourite quotes, from LP Hartley's The Go Between, and it's a quote that has held true to me throughout my life: "The past is a foreign country; they do things differently there".