On Saturday 31st August 2013 I started a new project, The Book of You, Written by Me. This project has been devised by Julie Goucher and is an opportunity to go on a journey of discovery to remember, rediscover and explore your own life and memories, with a view to recording them for future generations. My grandparents had amazing, interesting and exciting lives but now they're gone there's little to show for it. This is my opportunity to capture the essence of me and leave a lasting legacy for those coming after me.
The project runs for at least fifteen months and Julie will be giving participants weekly prompts to write from. Some of them may result in very personal articles, but any that I feel comfortable sharing will appear here. The idea is that ultimately I will have enough material to create a book to be left for my children and my children's children!
—

February 15, 2014 3:27 pm
This entry is prompt #25 of The Book of Me, Written by You project
This week's prompt is – Love (I love you!)

Love comes in varying shapes and sizes

I love you

I love ice cream

I love the smell of rain, Spring, toast

I love my (insert your family member, pet etc)

There is no right or wrong way to love….or is there?

Define what love means to you.
What does love mean to me? Love between two people is when you accept each other, warts and all, and that applies regardless of whether that is love between friends, family, partners or yourself. Love is all encompassing, a warmth and acceptance that makes you feel secure and safe. Love is unconditional. When you love someone, you love them despite everything.
It's only in recent years that I've come to realise what love truly is. So many times in the past I've thought I loved someone or I was loved or I was in love, but it always came with strings attached. In true love there are no strings.
Sometimes I have craved love, and I've put myself in dangerous positions as a result. Sometimes I thought I was unlovable.
Now I know what love feels like. Love is knowing whatever happens, you'll be there. Love is being supportive even when you don't agree. Love is deeper than any other feeling. Love is the most painful, joyful, in sense feeling one person can ever feel for another. True love is forever, and for never.
Some of the things I love:
I love my children
I love my man
I love my family
I love my cats
I love my closest friends
I love the sea
I love snugging up in bed
I love a good book
I love drinking tea
I love challenging myself, learning, discovering and exploring
I love myself, warts and all (though it's taken me a long time to be able to say that)
I love waking through woodland in winter
I love poppies
I love writing
I love being loved
I love the smell of freshly mown lawn
I love Cromer
I love being alive
This entry is prompt #24 of The Book of Me, Written by You project
This week's prompt is – Favourite Colour

Do you have a favourite colour? and if so why?

Do you like vibrant colours or darker colours?

Do you associate anyone with a particular colour? If so who and why ?

Does your favourite colour reflect your personality?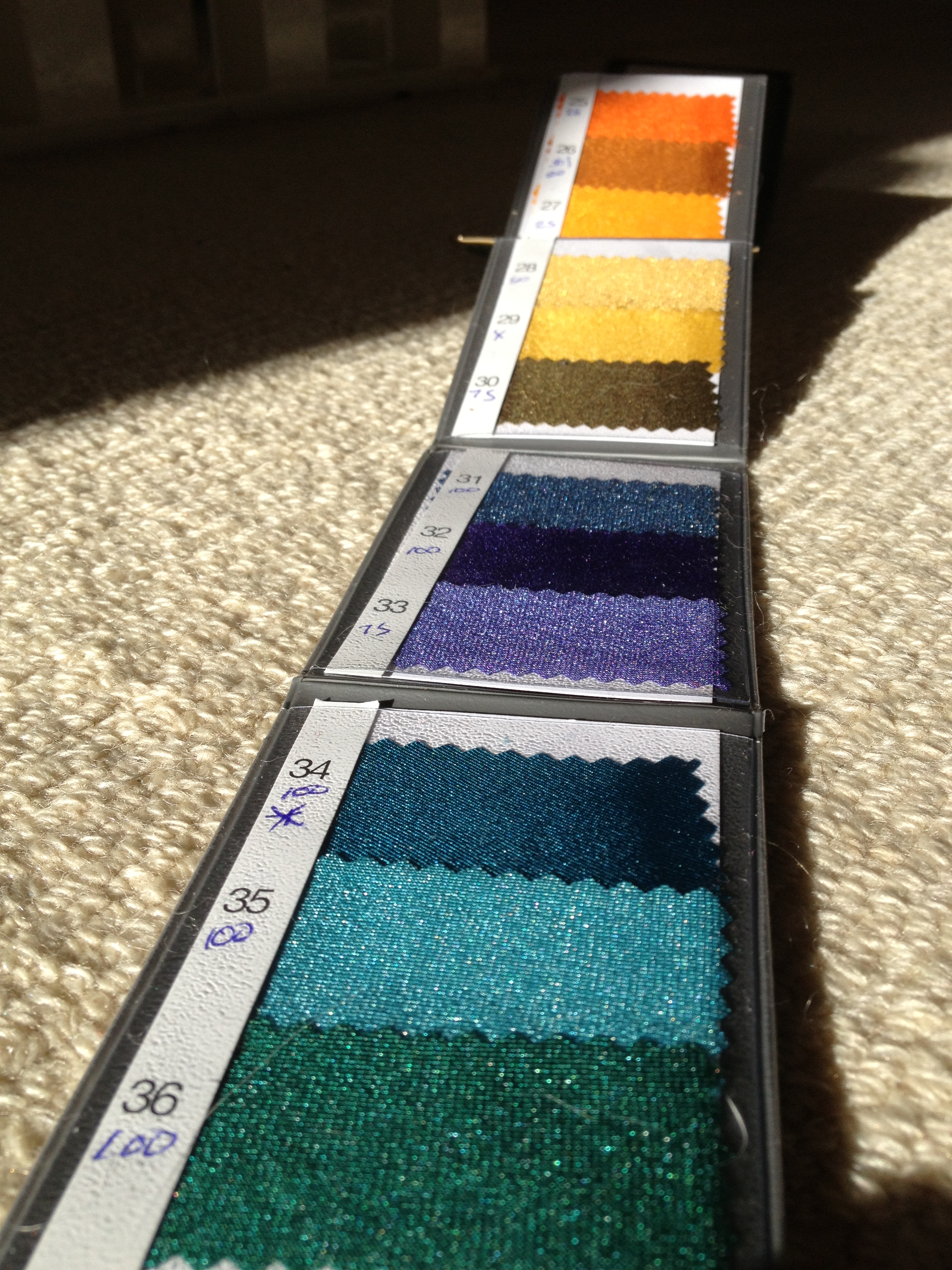 For as long as I can remember my favourite colours have always been blue and purple, and I don't really know why. When I was a kid my favourite football team was West Ham (solely because my mum's cousin supported them and I was in love with him!) so perhaps my preference for blue and purple (claret and blue) came from them, I don't know. Of course I support Chelsea now so the blue is very relevant! And even my business logo is in shades of blue and purple. They are it's colours I feel comfortable with.
I definitely prefer darker, more vibrant colours. I'm not a pastel person! However, when I was a teenager I was a bit of a goth and everything I wore was black, with a hint of purple. I always wanted purple or blue hair but I've never had the courage to do it … One day!
I find purple and blue strong yet calm colours – and I'd like to think that reflects my personality. My least favourite colours generally are red and yellow – too bright and harsh and aggressive. In terms of clothes, my least favourite colours have always been shades of brown – probably because my nanna never wore anything but brown (though she always looked very elegant) and so I associated brown with old lady clothes.
In 2013 I had my colours analysed and guess what, I am a "dark blue autumn", which means I should be wearing brown rather than black! Aargh! However, my colour palette also includes some beautiful blues and purples, so I'm happy overall.
This entry is prompt #23 of The Book of Me, Written by You project
This week's prompt is – Memory Board

– How do you see the point of a memory board

– Why keep one?

– Do you keep one? Or will you?

This could be a cork board in your office, kitchen or regular space? If you do what do you keep on it? and why?
I've always kept bits and pieces from days out but never really knew what to do with them … until I read "How To Do Everything and Be Happy" by Peter Jones, in which he talks about having a "trophy board". A trophy board is basically a notice board where you put all those bits and pieces you collect, to remind you just how much you've done. The idea is you start your board in January and add things throughout the year. If your having a bad day or feeling you're not doing much with your life, you simply glance at the board and all the tickets and postcards and leaflets remind you of all the great things you've done and places you've been. At the end of the year you pack everything away in an envelope, write the year on it and then start afresh on the board. So for me that's my interpretation of a memory board – and it's something I have fun putting together and even more fun taking apart at the end of the year, when everything on it brings back memories. My board sits in my office, just above my desk, so I can see it every day.
I didn't take a photo of last year's trophy board, but here is my board from 2012.
In among that lot are reminders of holidays in Egypt and Wales; tickets for the London 2012 Paralympics; a leaflet from a local radio station I was interviewed for; a certificate for doing a firewalk; name label from a workshop; wristband from a music festival; restaurant receipts, museum leaflets and football tickets. I always love looking back at the board because my memory is hopeless and I forget half the things we do!
A slightly different take on this is a vision board. I wanted to make one of these for ages and finally got round to it late last year. Rather than holding memories of the things I've done, it has images representing the things I'd like tone, have and do … Here's my vision board: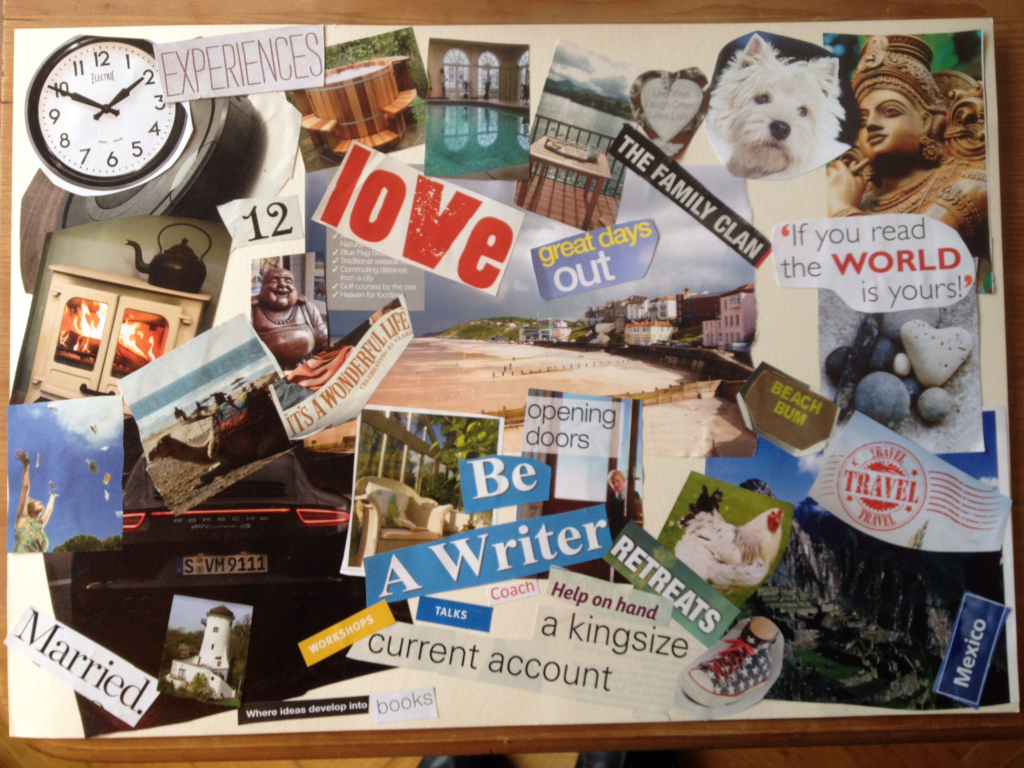 This entry is prompt #22 of The Book of Me, Written by You project
This weeks's prompt is – Daily Routine(s)

Do you have a daily routine?

Did your parents? Grandparents?

Why did they (or you ) have this routine?

Where did this routine take place?

Structure – Is this important to you? or your family?
Routines … I was going to say I don't have a routine but I suppose I do really, in that during the week especially I tend to do the same things most days. The routine tends to be set the alarm for 7.15am, get up at half seven, go downstairs and make a cuppa, make my son's lunch, feed the cats. Steve and I tend to watch telly – normally Flog It! – while we drink our tea and I'll have some cereal, toast or Belvita biscuits. Around 8 Steve and Dan leave for work/school and shortly after I shower, dress and start work. I work from home so I don't have a very long commute! Sometimes I stop for lunch; sometimes I get lost in whatever I'm doing and work right through – though I'll normally have a couple of cups of tea during the day. Dan arrives home at 3.30 and always comes into the office for a quick chat before disappearing into his pit. I work through till Steve arrives home and shouts "Hello!" up the stairs, normally shortly after 6pm. The evenings involves watching Come Dine With Me, one or other of us (we take it in turns weekly) cooking dinner, a bit more TV and bed at about 10, where we both normally read for half an hour or so. Wednesday is pub night and we go to our local for a couple of hours. Sometimes we go on a Friday too. And that's pretty much our weekday routine! Of course it does vary; several times a month I go to early morning breakfast networking groups, sometimes I have meetings with clients, occasionally we'll go to a gig in the week, but it's pretty much the same.
Weekend tend to be different – often we wake early but stay in bed reading for a couple of hours. Some Saturdays we'll go to an auction, or football, or the cinema or a gig. Saturday night tends to be a trip to the pub and kebabs for dinner. Some Sundays we'll take our cameras out for a photo trek, or will slouch in front of the tv all day. Sunday I do a couple of loads of washing too, and one or other of us does the shopping on the Sainsburys website. Ok … Reading this back, I think I am a creature of habit!
As a child of course we had a routine involving breakfast and school and homework and dinner and bath and bed, but my dad worked for the BBC and often did funny hours. For example he would sometimes be working on Eastenders, which meant a taxi at 3am and home and bed early, or he'd be doing a live evening show so didn't get home till after midnight. He also often worked at weekends; if he was home on a Sunday Mum would always cook a roast dinner but if he was working we'd sometimes go to McDonalds for a treat! So while there were routines, there was also a lot of randomness going on.
My maternal grandparents definitely had a routine. They ran a newsagent's so their life was fitted around the opening hours of the shop. Grandad would get up early every morning and go into the shop to get the bags ready for the paper boys; he'd then work in the shop for the rest of the day, unless he had to go to the warehouse to stock up. Grandma was also an early riser but she would spend a couple of hours every day doing her chores – she always tidied the house before the cleaner arrived – and get to the shop at about 9am. They'd both work all day before closing up at 6pm and returning home. Grandma would cook dinner, Grandad did the washing up and then they'd settle down together to watch their soaps. On Sundays the shop wasn't open so Grandma got the day off – so she'd knit, clean, read and cook a roast dinner. Grandad still went in early as the papers needed sorting, but would then go to the golf course for a round before lunch. And on Fridays they met up with neighbours over the road – they'd take it in turns to host two other couples.
I don't know a great deal about my paternal grandparents' routine, except that Grandad was a workaholic, Nanna stayed home and he always came home for his lunch!
This entry is prompt #21 of The Book of Me, Written by You project
This week's prompt is – Hobbies




Childhood hobbies & collections

Did you share a "passion" with a family member or friend?

Tell us about it – How, why, where

Do you still have any old hobbies – the ones that have been with you since childhood?

Do you still have those childhood collections?
When I was a child I collected all sorts of things. My biggest collection was Wade Whimsies. My grandma gave me two Whimsies – a tortoise and a Bambi – that were hers and it grew from there. Mum and I used to go to antiques fayres where she would look for Goss china and I'd be on the hunt for Whimsies. I probably had about fifty in the end, but of course I grew up and left home and ended up selling most of them on ebay. I still have the original two though, in a box in the garage.
I also collected postcards of Cromer – one of my favourite places. Some I bought while on holiday in Cromer; the rest came from collectors' fayres. Again I abandoned the collection when I left home – I think beer and gigs became more important! – but my mum kept the album and has added to it, and I would imagine one day they'll come back to me – but not for a long while yet, I hope.
Another couple of collections were a little more weird. For a while I collected jokers, and I also collected sugar sachets – though I think I actually ended up using my collection in my tea!
So those were my childhood collections, and as an adult I collected ornamental hedgehogs. When I was about 15 I had a spiky haircut and hedgehogs were my favourite animal. Mum bought me a hedgehog one birthday and the collection soon grew to over seventy. At the time I was living somewhere with a big semi circular windowsill to display them on but in the three houses since I've not really had anywhere to put them and sadly many have got damaged, and a few more have been sold. I've still got about twenty or so, in a box in the garage.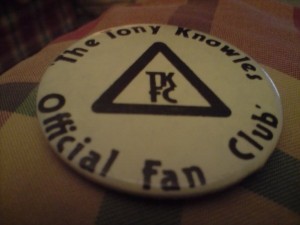 I had various other hobbies as a child, and many of them have followed me into adult life. I've always loved reading and writing and I kept a diary as a child; I still journal on and off now. I enjoyed taking photographs, listening to music, going to gigs and watching football, and I still do all those things now. But I guess my big obsession as a child was snooker. I was actually snooker loopy – and especially loopy for Tony Knowles, who was a rather good looking young (well, in his thirties) snooker player in the 1980s. I watched snooker whenever it was on the TV, I read books about snooker, I debated snooker with a friend at school and I even went to see some live snooker thanks to Mum! I liked many of the players but Tony Knowles was definitely my favourite and I had a couple of posters of him on my bedroom wall – including a cutout from The Sun, when he was their "Page 7 Fella"! I was also a member of the Tony Knowles Fan Club, had a photograph of (possibly) his white Mercedes and hand-painted a t-shirt with "Tony Knowles is my number 1!", which I wore when I met him after a match. I guess you could say I was obsessed … Today I find snooker dull and boring and all the players are very beige. Obsession cured!
However, I do still tend to get obsessive about things now and then. Recently I discovered art journalling, spent a small fortune on art materials and did crafty things every weekend for a couple of months, but I haven't done any for a while now (apart from some Xmas cards). I bought a guitar but got bored after I learned four chords. At one time I was fascinated by all things paranormal, and read every book I could get my hands on – before dropping that interest very quickly. I just don't know what the next obsession will be … Or when it will hit me!
This entry is prompt #20 of The Book of Me, Written by You project
This week's prompt is – The feeling of home

Home means different things to different people, so this week we are going to explore what it means to us

What does it feel like?

How do you recognise it?

What makes it home – people, place, time
This is going to be a really difficult one for me … Because after all, what is a home, what makes it more than the place where you live? Every house I have lived in was my home at the time …. To quote the song, "wherever I lay my hat, that's my home." But a true home is something more than bricks and mortar, something more than the people that live in it, the memories it holds, the feelings it can elicit. A true home is something that exists in your heart and your mind, it's somewhere that gets under your skin and into your blood, it's the one place where you feel most relaxed, most at peace, most like yourself. But what if that one special place, the place you call home, is somewhere you have never actually lived? What then?
I was born and brought up in Harrow, north west London and I spent the first eighteen years of my life there. It was definitely home at the time – but though my dad still lives in the same house, it doesn't feel like home any more and I don't feel like I have any emotional connection to Harrow either.
From Harrow I moved to Hounslow, in west London, and I lived in various rooms in shared houses before settling with a partner in a flat in Feltham, and then another in Hanworth – all the same area really. In total I was in that part of London for around six years and each house was home at the time but again I don't feel any emotional ties to the area.
Then we moved out west to Farnborough, Hampshire, with our fifteen month old daughter, and our house there was very definitely a home, though not always a happy one. We lived there together with our children for six years and he continued living there after we separated until his sudden death last year. The house I moved to with the children as a single parent family became a very happy home, but it wasn't till I had to empty his house that I realised in many way his house was my home, because it broke my heart to see the state it had become.
From Farnborough I move north west to Oxfordshire, first to live with my soon-to-be-husand and then to become a single parent once again when the marriage failed. His home was never a home to me; the house we moved to became a home of sorts but was never a house I particularly liked. Today I and my wonderful man live in a large four bed house in Faringdon, and we are very happy here – yet despite living in this town for nearly six years I still wouldn't say it feels like home.
Because in my heart home is somewhere I have never even lived – Cromer, in Norfolk. I first went to Cromer when I was four, and I've been almost every year since, apart from a brief hiatus in the 1990s. As a child I arrived at Cromer station and felt like I was home; nowadays I drive past the "Welcome to Cromer: Gem of the North Norfolk Coast" sign and know I'm home. And one day, you know, I'll be going home. It's just a matter of when.
This entry is prompt #19 of The Book of Me, Written by You project
This week's prompt is – Who Do You Miss?

Having just gone through the Festive season our thoughts turn to those not with us.

Whether that is people who live elsewhere and that we will not see over the festive season

People that have passed away.

Who do you miss?

Why do you miss them?

Them as an individual

Something specific to them
Ok this is a hard one …. Of course there are lots of people I miss and lots of people I would like to have shared Christmas with – Nanna and Grandad Pussies, Grandma and Grandad Fred (Fred hasn't gone physically but as he has Alzheimer's he is no longer with us mentally) mainly, and also Uncle Mervyn. I've been lucky in that the majority of deaths in the family have been to people in their later years, and fortunately I haven't yet lost any close friends.
However, of course there was one person missing this year who almost definitely wouldn't have shared Christmas with us anyway, but who was missed in all sorts of strange ways – Ian. My children's father.
I met Ian back in 1992 in Hounslow, west London. I was on the rebound from a brief relationship with the love of my life, and feeling pretty lonely. Ian drank in the same pub as me; he worked at a yard over the road, delivering coal. In fact his nickname in there was Coalman Ian, and he used to come in after work black with coal dust. He was a bit of a joker, never took anything seriously. In my fragile state there was something attractive about this man, he made me laugh, and when he invited me to a nearby fair and then squealed like a baby on the umbrella ride I fell for him. I'd recently moved to a new room in a shared house and I didn't like it very much. I quickly began spending nights at Ian's flat and after a few short weeks I moved in.
My parents, especially my mother, disapproved from the start. Ian wasn't "one of us" – he was not well educated, and while he wasn't stupid he wasn't intellectually my equivalent, or so the family thought. I think no one else could see the attraction, which probably made me all the more determined to make things work out!
Ian had two children by two different mothers (or so he thought at the time – it turned out one wasn't his, but that's another story). We used to see the boys at weekends and I loved being step mum to the youngest, who often stayed overnight. During the week we'd visit friends or go to the pub; on the surface everything appeared to be going well but I was actually hiding a dark secret. Ian had a very short fuse and a terrible temper and when he lost it, he really lost it, often lashing out at me in the process. I won't go into details here but I was often bruised and battered, and there was always an apologetic bunch of red roses waiting for me a few days later. The relationship was very controlling; Ian didn't like the fact that I'd had a past, had previous boyfriends, had a mind of my own so I started to block things out. It was easier to forget who I was than risk another row. I gave up work because Ian was suspicious about me working with other men; I gave up swimming because he didn't like that other men could see my legs. For about 12 months things were very difficult – and then I found I was pregnant.
I actually had really wanted a baby. I felt that I was never going to be able to escape the situation so I might as well make the best of it. I told Ian that if he ever touched me again I would leave and take the baby with me … And to his credit the violence stopped.
For the next few years things were okay, and sometimes even good. Katie was born in 1994, we moved to Farnborough, Hants in 1995 and Dan came along in 1997. Ian had started his own courier business; I did a number of part time jobs, including child minding and office cleaning. We had a fair few friends and for the most part we got on well together. There were still some horrendous rows but these were few and far between. However, I was aware that while things were settled I wasn't happy, and gradually my memories of the past began to come back. As I grew more indignant about what I'd put up with and how my life had been affected, the rows increased and eventually in 2001, having found the strength to tell a couple of friends and my mum, I moved out with the children.
Life as a single parent was difficult but we made our new home a happy one. I stayed in contact with Ian and the children saw him every Saturday, and stayed over every other weekend. Things weren't ideal – he rarely took the children out or supported them financially – but I felt safer and was able to create a new life for myself, and the children were happy. I guess the only person who wasn't happy was Ian.
We moved house, to Oxfordshire, in 1995 when I foolishly met someone and got married. (We moved out three years later.) The distance meant the Saturday visits stopped, though the children still stayed with Ian every other weekend. Gradually, however, they were getting more and more disheartened because their dad rarely made any effort to entertain them: their weekends involved sitting in a room with the curtains closed, watching him play on the Playstation. Katie especially wanted to be doing other things – hanging out with friends, having a Saturday job, normal teenage stuff. Then in April 2011 we had a huge row over a promised visit to grandparents that hadn't happened. Ian threatened me, the children heard it and they chose not to visit him again. It was their decision, and I supported them in it. I hoped he would apologise but nothing was forthcoming. Dan saw him a couple of times later that year but he missed Katie's birthday, missed Christmas, only spoke to Katie on Xmas Day because she phoned him. The following May was her 18th birthday and he missed it entirely, missed Dan's 15th, missed Christmas, missed Katie passing A levels and going to university, ignored her emails to tell him all about it. The children decided that he obviously didn't care so they tried to forget they had a dad. To all intents and purposes he had pulled himself out of their lives …
Until last May, when I received a Facebook message from one of his friends asking me to call him. Ian had had a stroke and was in hospital, very poorly. Of course the children wanted to see him, so we went to visit – his mother, who I spoke to for the first time in 12 years, told me not to visit him as it would be too upsetting for him. The children stayed for three hours and were shocked by his appearance: he'd always been a chunky man but was thin, emaciated almost. Katie spoke to him on the phone a few times and on Fathers Day we went to visit him again, in a smaller hospital where he would receive rehabilitation. This time he invited me up and for a few hours we sat together as a family, for the first time in years. It was actually a really lovely afternoon. He was doing much better, his sense of humour had reappeared and we all enjoyed the time spent together. It felt like some bridges were rebuilt, both between the children and their father, and between Ian and me. I didn't know what the future would hold, but I felt positive that the relationships would be better all round.
And then he died. A few weeks later we found out, quite by accident, that he had been moved and was in intensive care; he died the next day, of a perforated bowel, peritonitis, gall bladder necrosis. He must have been in the most unimaginable pain. However I may have felt about him, I wouldn't have wished that on him.
Ian was just 47 years old.
The six months since his death have been difficult for us all. Dan, in his typical Aspergers way of thinking, pretty much said "Oh well, dad's dead. Nothing I can do about it, move on." I don't know if grief will catch up with him later. Katie has found it much more difficult. She has been openly grieving for her father but I think there's also an element of guilt there – that perhaps she feels if they hadn't abandoned him things would be difficult. She – at the age of 19 – was appointed administrator of his estate – there was no will – and we have had to clear out his house and sort out his affairs. The house was in a dreadful state, signs of hoarding and neglect everywhere. I think it's safe to say he was suffering some sort of mental health issues, depression at the very least.
While his funeral was a small affair there were plenty of friends there – people he had lost touch with or fallen out with in his lifetime, who still cared enough to show their respects. We all talked about how, despite his temper and his issues, there was a good side to him too. He was funny, generous and loving, even if he had a strange way of showing it at times. In some ways I still feel angry for the way he treated me and the children over the years – there are things that happened I will never forget and I still find hard to forgive. But I also feel desperately sad for the waste of his life. I feel desperately sad that he won't be there to see his children grow up and embrace adult life. He won't be there when they graduate, or marry, or have our grandchildren. And while there were times when I wished him out of our lives, now he actually is I find myself wanting to pick up the phone, wanting to tell him what the kids are up to, wanting to involve him in their lives. Ian …. It pains me to say it, but I miss you, you old bugger.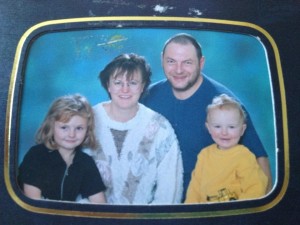 This entry is prompt #18 of The Book of Me, Written by You project
This week's prompt is – First Present or Gift

Can you remember it?

Who bought it for you?

Do you still have it?

Pictures or a description

Other special gifts?
For some reason I had a feeling that the first gift I ever received was my Bunnikins breakfast set – and when I asked my mum about it she said yes, it probably was, because it was given to her by someone she worked with when she went on maternity leave! Originally there was a plate, bowl and mug, but it looks like the mug has got broken at some point. I still have in my possession (in a box in the garage somewhere) the bowl and plate and when I get a chance to sort through all the boxes I'll add a photo. In the meantime the picture on the right will give you a fair idea of what they look like.
Other special gifts include: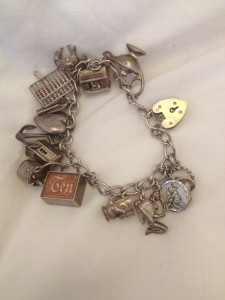 My silver charm bracelet. This belonged to my grandma but I don't know where she got it – perhaps it was a present from her husband? I've never worn it – it's not really my kind of thing, it's not very practical and would doubtless rattle and catch on things and generally get in the way – but it's probably one of my most treasured possessions. There are some really quirky charms on it – a blacksmith's forge with a small lever you turn to make the blacksmith hit his hammer on the anvil; a garage that opens to reveal a tiny car inside; a glass-fronted box with a ten shilling note in it and the words "in emergency break glass" on the back; a paint pot and brush and so on. I've added a small basket of flowers that I was given as a child, and before I pass it on to my daughter (or perhaps my grand-daughter?) I'll add one or two more charms. I'm just reluctant to pass it on at all right now as I love it so much!
I also had a golden cross that my grandma gave me. She wasn't particularly religious so I don't know why she had it, and I certainly am not! I don't think I ever wore it and I have now passed it on to Katie, who wears it quite regularly (and she's not religious either!)
Steve has recently given me a diamond ring – not an engagement ring, I hasten to add (I wish!!) – which I love and treasure. It's Victorian, 18 carat gold with a platinum mounting and seven diamonds forming a flower. It's very special to me.
Of course my children are experts at giving me special gifts – or rather, Katie is; Dan just gets to have his name on the gift tag! One of the best was a photo slideshow Katie put together for me for Christmas 2008. We had had a really difficult year and the photos and captions she used made me cry as I watched it on Xmas morning. I have added it to YouTube as an unlisted video and I watch it now and then, when I'm feeling a bit low, and it always makes me smile (and cry a little!). The following year she made me a photobook which brought back lots of lovely memories and again, it's something very special to me. I also have a couple of teddies the children have given me on Mother's Days past and of course I wouldn't part with them!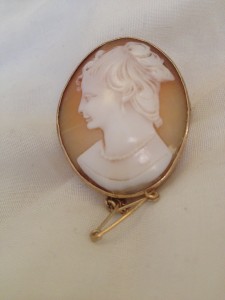 However, perhaps my most treasured possession of all is "hat and beads" – a small cameo brooch that belonged to my nanna. I believe this was a present to my nanna from my grandad and I can't remember her ever not wearing it. The picture depicts a lady with her hair up in some sort of bun and wearing a necklace and when I was very small I used to call it "hat and beads" and the name stuck. My nanna came to my (ill-fated) wedding in 2005 – she was nearly 88 at the time – and was wearing her brooch. "Hat and beads, dear," she said to me with a smile and a wink, "hat and beads." Sadly my nanna died in 2012 aged 93 and my aunt, knowing there was only one thing I would like to have to remember Nanna by, gave me Hat and Beads. Again it's not something I would be likely to wear but I will never part with it, and sometimes I get it out and reminisce.
December 22, 2013 6:44 pm
This entry is prompt #17 of The Book of Me, Written by You project
This week's prompt is – Toys & Games

Can you remember your first toy, or game?

Do you still have it?

Who did you play with?

Did you play board games?

Have you inherited any of your family games & toys?

Share some pictures if you would like to!



I can't remember the first toy I had … I would imagine it was probably something fluffy, when I was a baby. The first toy I really remember was a big fabric doll of Florence from The Magic Roundabout. My nanna made it, and she also made my brother a Brian the Snail. Florence had a massive head and long floppy legs and at some point I'll post a picture of her.
Another floppy-legged toy I had was Fred, a knitted mouse my grandma made me. The original Fred is long gone but somewhere we have Fred mk II, which Grandma made for Katie. Again, picture to follow when I find him!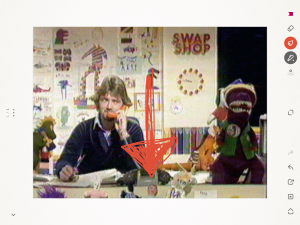 Grandma also knitted me a smaller doll, who was called Jack. Jack had a very exciting life. My dad worked for the BBC and was often on the crew for Swap Shop. One day Dad took Jack to work and he spent some weeks on the front of the Swap Shop desk – till he was kidnapped in mysterious circumstances! Over the next few weeks Dad received anonymous ransom notes in his pigeonhole; he was also sent photos of Jack in precarious situations (tied to an ironing board, tied to railway tracks, that kind of thing). There was even a ransom demand in the message board part of the programme one morning. I can't remember what the ransom actually was, but Jack was returned eventually, unharmed. However, he has since disappeared … I hope he is off somewhere having more adventures! You can just about see the top of Jack in the photo, under the big red arrow.
I've always been a board game fan and my brother and I used to play a lot as kids – Smuggle, Game of Life, Kerplunk and Spider & Fly were favourites, and we also used to play Monopoly, Cluedo, Risk etc. One of my favourite games was Totopoly, a horse racing game. We also had some mad game called Blast Off which I think was all about trying to get a space ship to the moon! I still enjoy board games, though the rest of the family don't share my enthusiasm – except at New Year, when we usually get drunk and play Ant and Dec's Saturday Night Takeaway and Cranium!
The toy I would have loved to inherit was a rocking Mickey Mouse. It belonged to my dad and would probably have failed every health and safety test nowadays – I imagine the paint was laced with lead and the rocking mechanism could probably amputate small fingers. I would love to have it, but I think it was probably sold when my nanna moved from Cambridge to Somerset. I wonder where it is now.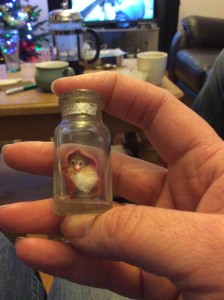 I've moved house so many times that all my toys have either been lost or given away. However, I do have one that has stayed with me wherever I've been. For some reason it feels very special to me, though I don't know why. It's a man in a bottle, and I got it in my Christmas stocking when I was a little girl. It's sat on many a kitchen windowsill and in fact I just took it from the kitchen window sill now to photograph it! One day I will pass it on to my grandchildren and hope they love him (for whatever odd reason) as much as I do!
More pictures to follow!
December 22, 2013 6:02 pm
This entry is prompt #16 of The Book of Me, Written by You project
This week's prompt is – Message in a Bottle

If you were to physically write or virtually write a message to place into a bottle what would you write?

Do you live by the sea and are able to potentially throw into the Ocean? Or perhaps a river

Do you feel strongly that you would not "litter" in this way – in which case you may complete the task virtually

What would you like to happen with the message?

Do you hope it is picked up somewhere, miles from home?

Are you going to create a secret email account in case it is picked up and someone emails you

Or would you like to write an anonymous note to someone that you know

Or write a message to a deceased loved one?
For the last few years I've been undertaking a challenge – to complete a pre-defined list of 101 things in 1001 days. I'm currently on my second "101 in 1001" list but number 25 on my first list was "Send a message in a bottle" – and it was one of the things I actually completed!
We were on holiday in New Quay in Wales at the time and had decided to do some sea kayaking. I had a plastic bottle on me and I wrote a letter about the list and the challenge, and what we had been doing on holiday. I included the day and location that I was going to send my message, and I also included my email address so if anyone found it they could let me know. I went out in the kayak as far as I dared (which was, admittedly, not that far) and left the bottle bobbing in the water, with visions of it floating out towards Ireland, or perhaps even America …
The bottle was found, but it didn't go very far! It was retrieved that same afternoon by a boy who was also sea kayaking! You can read all about it, incuding the original letter I sent and the reply I received, here. It would have been lovely if it had travelled to faraway places, but perhaps I'll try it another time and see what happens.
Something that's on the current list is to write a note, put it in a book and leave it somewhere …. perhaps that might be more successul!