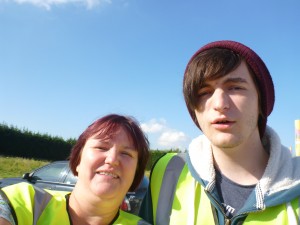 So on Sunday 27th September 2015 my son and I left home at 4.25am to join the Swindon to Calais Solidarity group for their first trip to the Calais Jungle – the refugee camp at Calais. Although I'm not actually an official member of the group I've been quite involved with the preparation for this trip, through acting as a collection point, campaigning for donations and making up individual toiletry bags, and the day before the trip Steve and I helped load the van.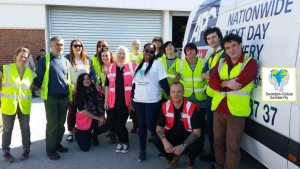 I'd met a couple of people from the group but was a little apprehensive about who our travel companions would be and I know Dan was too – but everyone, without fail, was fantastic. I couldn't wish to be associated with a more lovely group of people!
Once assembled we were a group of twenty travelling in a long wheel base Transit van and four cars, accompanied by a film crew from BBC Wiltshire. They had to take a security guy with them, so we stopped off at a hotel in Ashford to collect him (and have a quick wee) before heading on to Folkestone and onto the Eurotunnel across to Calais.
After a quick regroup at the motorway services we collected Riaz, out "man on the ground", and then went to one of the distribution centres to unload the van. I wasn't really sure what I'd expected but I was blown away by the size of the place and the amount of stuff in storage! There were lots of volunteers there who all seemed to know what they were doing while we stood around feeling useless and generally getting in the way! Eventually we worked out that a large lorry was being loaded with sleeping bags for the camp; we'd brought a load with us so we set up a chain gang to manhandle them all from our van to the truck. However, a lot of them were buried under tents so my job was to stand in the van and pull all the tents out of the way so other people could get to the sleeping bags. Once we'd got those out of the way we loaded up trolley after trolley with tents and roll mats, ready to be stored in the distribution centre till they're taken to the camp. I was a bit worried that everything would stay there indefinitely but we were told that the van of sleeping bags was going to the camp later that day. Knowing that stuff we had brought over would be used by someone that evening was really reassuring – and sure enough we did see the lorry in the camp later that day.
Once we'd unloaded the van it was time to visit the camp to distribute the packs of toiletries, some tinned food plus a few other bits and pieces we'd brought over. I was a bit apprehensive about what the camp would be like but actually it was so friendly and there wasn't a single moment when I felt threatened in any way. The TV security guy did tell us the atmosphere would change as the day went on, though, and it was certainly a little rowdier when we left at his recommended time of 4.30pm – I can imagine it might be a scary place after dark.
As soon as our van parked up an orderly queue built at the back of it, even without us asking. I guess the refugees are used to people coming with donations and know the drill. As soon as the back doors opened there was a bit of a scrum but it was all very good-natured and we managed to control it fairly well. It was very quickly obvious, though, that these are desperate people who ahve very little. Some of them had only the clothes they were wearing, so donations are much appreciated. Anna-Maria, our group leader, showed them what we had – toiletries – and quite a few of the men (for at this stage it was all men) wandered off, but we still had quite a crowd waiting and we spent probably an hour giving out toiletries. Because there was a bit of a gaggle at the back of the van I took a rucksack and moved away a little, and Dan and I handed them out to anyone who wanted one. Sometimes people wanted something in particular – we were asked for shampoo and deodorant – and I was pleased we'd mixed up the contents a bit, as we were able to swap bags and give people what they needed.
We also had some food to distribute – mainly pasta, rice and tins of soup, beans, rice pudding and fruit. By this time I'd started talking to some of the refugees and Dan and I had a lovely conversation with two young men from Syria. It turned into a bit of banter as I was trying to get rid of a tin of vegetable soup and they weren't impressed; they kept telling me "No soup! No soup!" It became a bit of a joke as I tried to sell the benefits of this bloody soup to the men, to no avail. Eventually they said they would like a bag, so I managed to get hold of an empty rucksack for them and gave it to them – on condition that they took the soup as well! They were so friendly and it was a really funny situation (probably one of those where you had to be there!) – and later on we saw them again and they called out "No soup!"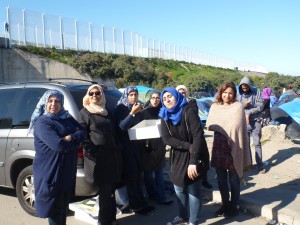 So no soup, but they do like cake! At one point a group of lovely ladies came in with big boxes of cream cakes, which went down very well with the camp inhabitants – though there was a bit of a rush for them, and some of our team helped with the distribution. In fact, we are planning on taking cake, biscuits and other treats to the camp next time we visit.
We had a bag of about half a dozen football with us and they really went down well! Wherever you go in the camp you see people playing footie, so again, I think this is definitely something we'll try to cater for in future deliveries.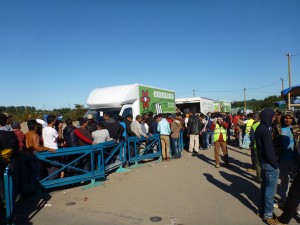 Many of the men wanted jackets and shoes, neither of which we had (having been recommended to take no clothing over!) and it was gutting to have to tell them no. However, after a while two huge trucks arrived from the distribution centre, loaded up with shoes, and huge queues formed with men waiting two hours and more to get a pair. We had to move the van to let the trucks in, so that was our cue to split into smaller groups and see a bit more of the camp. We decided to take the remaining toiletry bags into the camp, so we loaded up several black sacks and ventured in, later returning to re-fill our bags with food. I also took a few scarves, a woolly hat and a pair of gloves that my mum had given me.
The camp resembles the Glastonbury festival in a way; there are places where all you can see is a sea of tents, though many of them are actually hand-made, with tarpaulins draped over flimsy wooden frames. I was surprised to see how much structure there is in the camp – there are lots of "buildings" made from offcuts of wood, metal sheeting and tarpaulins, acting as restaurants, bars, cafes and shops. You have to remember that many of the refugees here were living good lives before war forced them to flee; just because they are refugees doesn't mean they are penniless, and I'm sure some people are doing a roaring trade there.
There's a real sense of community in the camp, and we saw a church, a meeting house and various tents used for other community reasons. In one area there was a power generator and rows of power points for people to charge their mobile phones – vital for people thousands of miles from home, who might want to talk to family. There was also a small music system and speakers and the men there were obviously enjoying socialising and relaxing a little. One guy even invited Dan for a dance! There's a caravan that serves as a medical centre, and further into the camp I've heard there are more churches, a library and a school. I was surprised to find there were half a dozen portaloos near the entrance to the camp – funded through a community group – and we also saw a couple of water pipes where people could wash and collect water for cooking etc. I was concerned there was no sanitation at all, so that was good to see. However, there are around 4,500 people in the camp and six toilets don't go far ….
So exploring the camp was really fascinating – what really came across was that the people who live there want to live as decent a life as they can, considering the circumstances. They are hard working, innovative, motivated and ingenious – these are certainly not people who want to sit back and let other people provide for them.
But the best part of the day was the people we met, especially once we went off into the camp itself. We met so many people who were all really friendly and welcoming. However, there were a few people (who shall remain nameless …. I'm not good with names!) who we really connected with.
Lots of the men we spoke to were really upbeat and had a great sense of humour, despite the horrors they must have encountered in their homeland and on their journey to reach Calais. We chatted to three men from Afghanistan, two of whom wanted to come to the UK; the third said "No, England bad! I want to go to Germany, Germany welcoming." It was obviously a source of amusement among the three of them, and the other two teased him about it. Then they asked us where we were from and we said Swindon – near London. "Ah London!" one of them said. He linked his arm through mine and said, "We go to London together!" When Dan said the guy wasn't going to take his mum anywhere, he linked arms with Dan and said "We go to London then!" It was all so good-natured and funny – they were obviously well aware there was no way we could take them anywhere, and it was all very jokey.
I also got propositioned in another way! We approached three men, one of whom was sitting in front of a tent. "Ah, you come into my tent," he said. "We get …" He shook his body around, and laughed. As soon as he discovered I had my son with me and my son was 6 feet tall he changed his mind – but again it was all very light-hearted, not threatening at all, just a joke between friends. Actually what came across strongly was how much respect the refugees have for the volunteers here – and we respected them back.
What you hear all the time is that there are no women and children in the camp – and yes, the refugees there are mostly male (there's a separate camp for women and children) but we encountered quite a few children and women there – including several pregnant women, which was really shocking (and we are trying to do something to help one woman in particular, who is about seven months pregnant). There was a young girl from Iran, she must only have been about 15 or 16. Really pretty, intelligent, pretty good English.  She reminded me so much of my daughter! I don't think she'd been there long and I'm quite worried about how she will cope.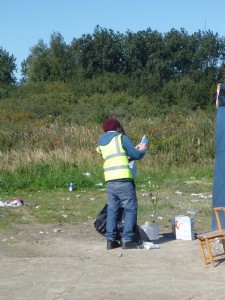 At one stage Dan spotted a guy doing some washing in a bucket. He went over to talk to him and give him some toiletries, and they had a chat and a manly handshake. It was just such a lovely gesture, seeing him engage with people like that.
I had my own moments too. One man I spoke to said he didn't need toiletries, so I asked if he'd like a scarf. He said he would, that it was cold there at night, so I wrapped the scarf around his neck and he touched me on the shoulder in thanks. Such a small gesture but it was quite a special moment.
Another recipient of a scarf was a young lad from Eritrea. He was 14 years old and all alone in the Jungle (the name used by the refugees for the camp). He'd travelled from Eritrea on his own, leaving behind his mother and four younger brothers. He was intelligent and polite, a big football fan (Inter Milan and Man United!), full of hope for the future. I really hope he can find asylum somewhere – the camp is no place for a teenage boy to be, he should be getting an education, playing footie, out with his mates. I told him he could be my son – if I could, I'd bring him home!
He wasn't the youngest person in the camp though. Many of the "men" are actually between 13 and 18, but there are younger people there too. One was a young Afghan boy who said his father lived in Birmingham; we don't know the circumstances but presumably they got separated somehow. The boy was a cheeky chappy, very friendly and with a good command of English, and quite a few of our team befriended him. For a while we were really concerned this boy was there on his own because he was only ten years old …. We have since found out he has an 18-year-old brother who is taking care of him, but we're trying to find out where the father is and if he's in the UK legally – and if so, if there's any way this family can be reunited.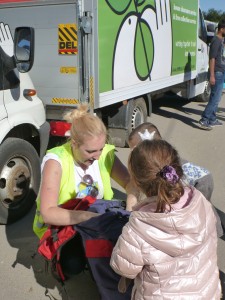 We also met a man from Syria who had two young children with him, a boy and a girl aged 4 and 6. One of our team had taken a rucksack of soft toys and there was a really lovely moment where she gave these children some toys. The boy chose a cuddly Dalmation and it brought tears to my eyes to see him cuddle it, kiss it and bite its nose. The look on his face was a picture… While they were there a young woman made a beeline for the rucksack and pulled out some toys for herself – as she walked away I realised she was only about 13 or 14. She stroked the toys as she walked away and I hope they gave her some comfort; I can't imagine what living in the camp must do for your mental health, especially for a young girl.
Towards the end of the day we went back in with food, though it was quite hard to get rid of some of the things that had been donated. However, we came across a young woman who had a very tidy makeshift tent with a row of spotlessly clean washing hanging on a line outside it. We found out she was there without a man and had two children aged 6 and 5. With two hungry mouths to feed, we gave her all the food we had left … hopefully her kids will have full bellies for a while.
(While I do have some lovely photos of a few of these amazing people I can't post them here – if they are ever in a position to make a claim for asylum it could prejudice their case, and I wouldn't want to be responsible for that. )
On the journey home we heard what others in our group had done. Some people stayed to help with the shoe distribution. Others went off with black bags to do litter picking; they went quite deep into the camp and were met with friendliness wherever they went. They were even invited into one of the restaurants for tea and soup, despite admitting they had no money on them. The welcome shown to us by the refugees was just incredible.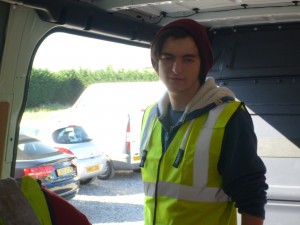 Meeting the refugees and migrants in the camp was amazing, it's as simple as that. These are people who just want a better life; they want what we have – a roof over their heads, food in the fridge, a job or an education, the chance to be safe and happy and contribute to society. It must be difficult to maintain your dignity when you're reliant on handouts from strangers, but these people are so dignified, so appreciative and so grateful. We were welcomed and thanked, and I really didn't expect that.
But the day wasn't just about helping people in need, or making new friends, or doing our tiny bit to make the world a better place. It was also a day for self-development, for reflection, for learning. I know I have grown as a person through our actions, but the real surprise of the day was how it affected Dan. Dan is the boy with Aspergers who finds social interaction difficult, the boy with ADHD who was permanently excluded from school twice, the boy from hell who was in trouble with the police at the age of ten …… There have been many times when I despaired of what would become of my son, but yesterday was the moment when my boy became a man. He started the morning as a nerdy, anxious teenager but by the end of the day he'd grown in so many ways. He struck up conversations with refugees from around the world, showing them empathy and compassion; he found practical solutions to problems; he was willing to be interviewed by the TV crew (and appeared on the local news the next day – you can watch it here); he encouraged other volunteers to keep going when they were running out of energy; and he demonstrated real leadership qualities. He's keen to go back again to do more volunteering over there and I believe he can make a real difference to the lives of many. I couldn't be a more proud mum.
So many memories of this incredible day, but this will have to do for now. I came home feeling heart-broken yet overjoyed, frustrated yet inspired. Whatever your political stance on immigration, these people need our help. The conditions in the camp are pretty appalling and they are only going to get worse as winter arrives and the weather worsens. We are going back twice more this month to take some treats, warm clothing, coats and shoes, and a group is also raising funds for multi-fuel stoves so the people there can cook and make warm drinks. Donations are gratefully accepted, (click here to see the latest list) or if you have time to give, find your local group here.