Here in Portugal, June is most definitely the month of the grass seed. They get everywhere – in my boots, in my socks, I even found one in my pyjamas last night! Who would believe a simple seed could cause so much discomfort and outright pain – horrible pointy little things!
It's been a couple of weeks since I last wrote, and everything is starting to change. It's drizzly today, but a month of unbroken sunshine has left the grass looking burnt out, and the purple and pink heathers have given way to splashes of yellow and blue flowers. The volunteers have all moved on, so it's just the family and me now, and after nearly six months here I'm starting to feel like I've outstayed my welcome. It's definitely time to for me to move too! We have located a bed base and are now trying to work out how to move it to the little house at Coelhosa; by the end of this week I will have packed up my stuff and moved on to the next stage of this adventure.
It's suddenly all feeling like a much more permanent decision to be here. Back in March I applied for temporary residency – I didn't need to do it so soon, but with the Brexit deadline looming, it felt like a sensible decision.  So that means I can stay here for up to five years, regardless of what happens in the UK. Being a Portuguese resident means I'm not legally allowed to drive my UK car, and it was coming up to the permitted 6 months in a foreign country anyway, so last week I sold my much-loved Saab 93 convertible (boohoo!) and bought a 27-year-old Peugeot 205. First time I've ever owned a left-hand drive car and it's going okay so far, though I do keep trying to change the gears with the window winder!
I'm not going to be moving to Coelhosa alone; Pickle, one of the puppies, will be joining me there. She's a lovely little thing (for now – won't be long before she's much bigger!) and I'm really looking forward to becoming a dog owner. Of course, that makes it a little more difficult if I decide to move back to the UK – though not impossible. I'd also like to have a cat or two – we did have kittens here at the farm but sadly they all died, though a friend has some gorgeous tabbies … but we'll see how it goes.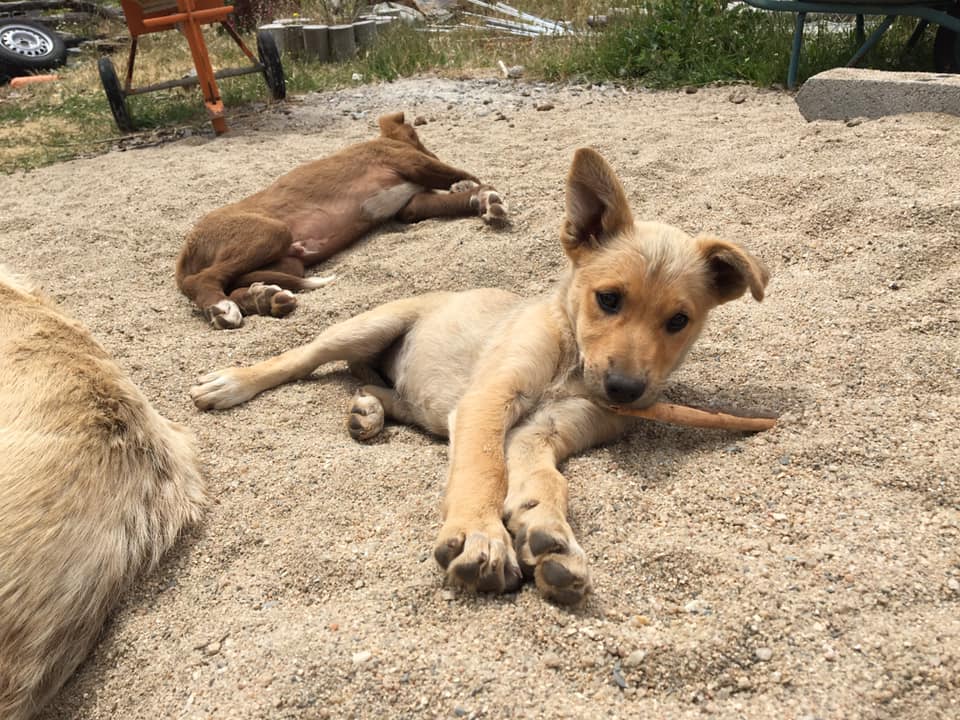 There are big changes going on at the farm, which also contribute to my feeling that now is a good time to move on. The sheep and goats have been sold and should be collected later today, which means there's no longer a position for a daily goat walker … I'm being made redundant! I'll be sad to see them go – and especially sad to say goodbye to Sheepie. She is a lamb born at the end of April, one of twins, and the mother rejected her. She's been hand reared and now isn't sure if she's a human or a dog – she's definitely not a sheep! I bottle feed her twice a day and she has a tendency to follow me around the farm – if I go inside or move far away she starts baa-ing for me, and then runs towards me with all the enthusiasm of a toddler when she sees me! She sleeps in the sheep shed at night but in the morning I let the sheep out, they wander off and she comes straight for me. She's a bit of a pain, to be honest, but I've grown very fond of her and will definitely miss her. I'm not sure how well she will fare at her new home, where presumably she will be in an enclosure with the other sheep – to be frank, at the moment she's pretty useless as a sheep! But hopefully in time she will realise what she is and integrate with the flock.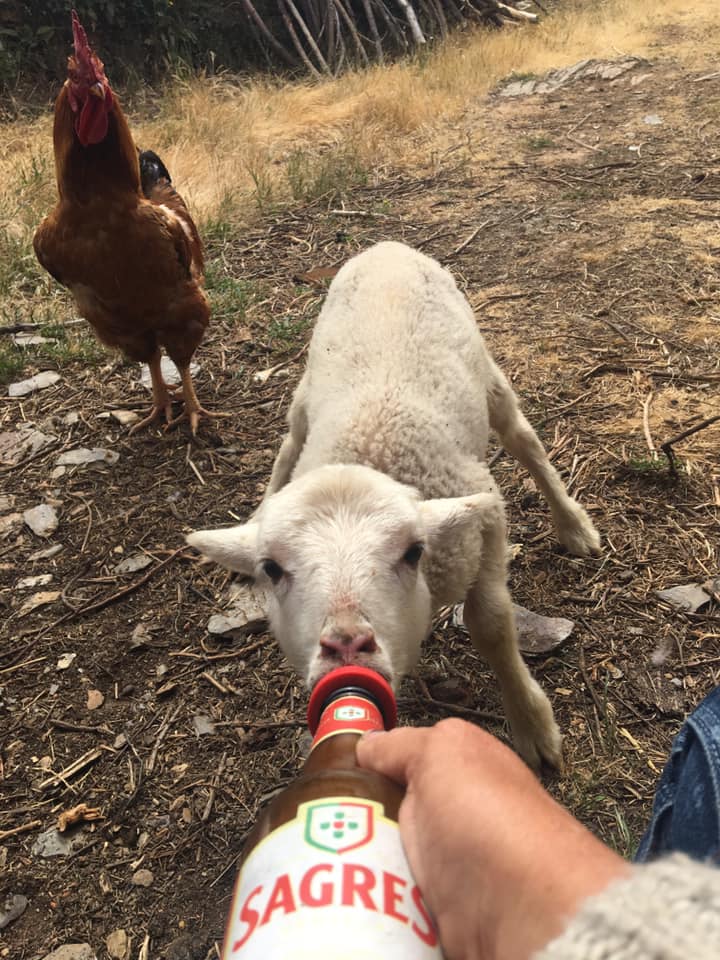 Life at Coelhosa is going to be very different to life here on the farm. I'm going to miss the animals, and obviously I'll miss my friends too, though I plan to come back regularly, not least to keep Pickle in touch with her doggie family. But I'm looking forward to doing my own thing. I looked after the farm on my own for two days last week while the family were in Lisbon and while it was an interesting and enjoyable challenge, it was also bloody hard work, and it made me realise that I don't want to be an animal farmer. I am keen to work on the land to grow a few veggies and herbs, and perhaps keep a few chickens. I did (only half-jokingly) consider keeping Sheepie as a pet, but though she's very cute now, it won't be long before she's a fully-grown sheep eating everything in sight, so that's not going to happen. I have a couple of client projects coming my way and I have three book projects of my own to work on. I want to really get back into doing yoga every day rather than now and then, and I have a few crafty ideas – I've been collecting interesting pieces of wood and want to have a go at smoothing and varnishing them, and maybe a bit of painting too. I feel like my mental health has suffered a little in the last few weeks, so I need to do some self-care to make sure I don't fall into the hole again. And I'm also looking forward to exploring the area around Coelhosa, and perhaps making some new friends. Best of all, my daughter is coming to stay for a while in the summer, and my mum hopes to visit in the autumn. Lots to look forward to!
So this will probably be my last entry from Casalinho …. It's been a fantastic nearly six months here, full of new experiences and things to learn, and it's been the perfect introduction to life in rural central Portugal. I'm eternally grateful to Andrea and Jeroen for taking me in and making me feel so welcome for so long, and for helping me negotiate the tricky Portuguese bureaucracy around residency and car ownership! Next time I write it will be from a tiny house in a tiny deserted village where I will be the only occupant! Exciting times ahead.