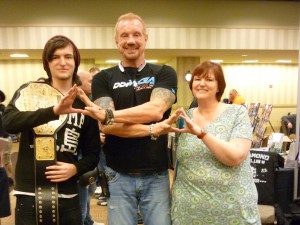 So here's my review of DDP Yoga, the transformational fitness workout devised by American wrestler Diamond Dallas Page. We met DDP at Wrestlecon in Dallas, Texas this April, and until then I'd never heard of DDP Yoga … and why should I? I'm not a yoga person, I'm not an exercise person, stuff like that passes me by. But my son had heard about it (I'll try and find the video Dan had seen that inspired him) and he mentioned it to DDP, and we chatted a bit. And while we were in America I saw lots of very large people, and I looked at the photos of me and didn't see what I liked there, and I decided to take a look at the DDP Yoga thing when we came home.
DDP – the guy behind DDP Yoga
Dallas Page created DDP Yoga when he had lots of wrestling injuries and wanted to get back into the ring. The story goes that his wife was a yoga fan and suggested he give it a go but he thought it was a mumsy thing and not for guys – but eventually he tried it, and discovered that there was a way he could use yoga to rehabilitate and recover his body and improve his fitness. He's since used the system with over 40 other wrestlers and other sports people, and also discovered that it's actually really really good for weight loss – and that it can be used by people whose weight would otherwise rule out physical activity.
Inspirational stories
The DDP Yoga website itself is inspiring. There are lots of success stories, both from sports people and from "normal" guys and girls, and they are well worth watching. And if you find yourself thinking that the stories are fabricated – well, many of the people he's worked with actually appear in the fitness videos, as proof that it works! Of course it's not just a case of doing a bit of yoga now and then; it requires dedication and lots of hard work, and a total change of diet to achieve the best results – but even 7 weeks in I am really feeling the benefits, and I haven't even looked at the nutrition section of the programme!
Most people who have heard of DDP Yoga talk about Arthur Boorman – an army veteran whose body was trashed, and who turned things around completely using DDP Yoga. It's a truly inspiring video and well worth watching – and you can do so here. But the one that really got me was the story of Jared. In fact, I came across this video of YouTuber Boogie2988 reacting to Jared's story, and I have a feeling this may be the video that Dan was talking about, so we'll go with this one. Get the tissues ready…
So what is DDP Yoga?
DDP Yoga is not like your usual yoga (or as Dallas Page says, "It ain't your mama's yoga!"). Instead, it takes many classic yoga poses and adds dynamic resistance to them – so you use your body's own strength to increase resistance, which helps to heal, strengthen and tone muscle. And because DDP Yoga increases the blood flow to the muscles it also increases the heart rate – so it gives you a really good cardio workout. But here's the great thing – every cardio exercise I've done before, like running and cycling and fitness classes, has involved lots of impact movement, jumping up and down, etc. And when you're overweight and have arthritic knees it hurts, and it's uncomfortable, and when you've got lots of flab the last thing you want to do is bounce it around. But with DDP Yoga, you can increase your heart rate, and thus burn calories, by standing still! And boy, does it make me sweat!  Just by engaging the muscles in the legs, butt, back, arms you can see your heart rate increase – so it's suitable for people who have mobility problems as well as those who just don't enjoy high impact exercise.
Another great thing about DDP Yoga is that throughout the videos Dallas Page encourages you to "make the workout your own". One of the things that puts me off other exercise programmes is the assumption that I will be able to do everything, because I feel useless if I can't. That kind of attitude just puts me off and I'm not likely to even make the effort. However, Dallas understands that not everyone is able to do every move straight away. Every exercise has modifications – different ways you can do it – and throughout the ethos is to do something  – that you are better doing something than nothing and if you do that something every day you'll get fitter and stronger and more flexible and eventually you'll be able to do the full workout. There's no body shaming, no fitness shaming involved – just encouragement to make the workout your own and get moving.
What do you get for your money?
So let's unpack DDP and see what you get. It comes in two versions – DVDs and the digital product. (Actually, I think you can also sign up for MP3s but I can't really see how anyone could do this from audio only, as it really helps to see the moves.) I decided to get the online digital subscription, partly because I wanted instant access but also because wanted to do my workouts upstairs in our enormous bedroom, but we don't have a DVD player there, and having the digital version means I can take my iPad upstairs. I've even used my phone with workouts I know well, though the screen is a bit small if you're unsure about the moves.
You can subscribe to the digital subscription for one month, three months or a year. I went for the three month option; at $40 dollars (£28) it didn't break the bank and it would give me long enough to give it a proper go. After the three months are up it'll bill me for $12.99 (about £9) a month.Included in the digital version is access via tablet, smartphone and computer, all the workout videos plus new updates, food videos, plus a PDF version of the programme guide. Alternatively you can buy the DVDs for a one off payment and you also get a printed copy of the programme guide and a poster of the "Diamond Dozen", the key moves.
There are loads of workouts included, from "Beginner Beginner" to "Extreme", and if you wanted to you could just dive in wherever. However, there's also a recommended programme that takes you through each stage over 13 weeks, introducing you to the moves and workouts gradually so you can build your strength and ability, and that's what I chose to do.
However, before you begin, the programme recommends that you take a few initial measurements. After all, if you don't know what your starting point is, you won't know how far you've come! So you're advised to put in measurements – arms, chest, waist, hips, thighs, calves – and your weight, and also to take photos in six different positions, so you can see the difference DDP Yoga is making to you.
Once you've done that you're ready to go! Ah … except for one more thing, which is optional but recommended, and that's a heart monitor. See, the dynamic resistance fat-burning part of DDP Yoga is based on you working out in an optimum heart rate zone, where your body burns calories without working you so hard you're in danger of combusting. Yes, you can do DDP Yoga without a heart monitor but it's much better using one, as you can hook it up to the app and see on screen where you are, and then engage or disengage depending on whether or not you are "in the zone" – shown in green on screen. Originally I thought my Fitbit HR Charge would work with it but sadly it doesn't sync with the app, so I have bought a Wahoo Tickr chest monitor, which I can recommend. I'd also recommend you get a yoga mat to exercise on, as it can be quite tough on the knees otherwise!
Get with the programme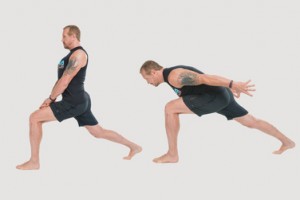 So now we are ready to start, and the programme begins with the Diamond Dozen, which introduces you to the 12 key moves used throughout the workouts. This first video is quite slow paced, but that's good as it means you can get to grips with the moves without any pressure. Dallas Page takes you through each move in turn, showing you various modifications that you can try if you're not quite able to do the complete move. For example, during Runner's Lunge and Supported Lunge I wasn't able to do the exercise "properly" at first, because it really hurt my arthritic knee, so I tried the modified version, which just meant dropping to my knee. I was able to do the rest of the exercise and within a week I was doing Runner's Lunge fully, because my body had already strengthened! The video looks quite tame but don't be fooled – it had me drenched in sweat, simply because I was engaging muscles I hadn't engaged in a long time, and that in turn got my heart racing. There are also individual videos for each move so if you're stuck on anything, you can try just that one instead of having to do the whole lot.
The programme default is for three workouts a week, starting with two run throughs of the Diamond Dozen before moving onto the Energy workout. This is the first time you'll be combining moves, moving from Cat Lift to Cat Arch to Down Dog to Safety Zone, and fortunately it's done at such a pace that I found it reasonably easy to keep up, even though the moves were still pretty new to me. After a few times I found I didn't need to watch the screen; when Dallas says Runner's Lunge or Superstar I know what I'm meant to be doing.
Here's a little taster of what one of the early programmes, Energy, is all about. (Actually the one I do is Energy 2.0, but this is the earlier version.)
The programme progresses gradually by adding more challenging workouts. The first time I did Fat Burner, with all its Squat Thrusts, I thought I was going to die! But the next time I did it, it was much easier, and by the 3rd and 4th time I was finding I could squat pretty low without killing myself. Today I did my first Red Hot Core workout, which is only 15 minutes long but really focuses on the stomach muscles, and I'm aching now – but I know next time will be easier, and I might not even need to do all the modifications!
So far the workouts have all been quite short – 30-40 minutes, which is great as I can fit one in before I start work. As you move on the idea is to start combining workouts to build it up to an hour at a time, or to do a couple a day, and that feels doable to me.
The programme is in 13 week blocks, taking you through beginner, intermediate and advanced levels, and you can customise it totally. For example, my "core" days are always Monday, Wednesday and Friday as that works best for me, but sometimes the programme switches to a Saturday, so I just edit it to suit me. You can, of course, always add in extra workouts whenever you want, and most weeks now I do at least 5 or 6 workouts a week. There's also a good mix of workouts, from a 10 minute "Wake Up" session of gentle stretching to more hardcore ones that focus on specific areas.
Why I love DDP Yoga
Something I haven't mentioned yet is how fun I find DDP Yoga. Yep, FUN! I never thought I'd say that about something like this! I'm not really an exercise fan and even with the odd thing I enjoy, like aquafit, I have to force myself to go, but I actually wake up looking forward to my DDP Yoga workout, and at weekends I find myself itching to do some and often come up partway through the day to do a session. I'm not sure what it is about it that I enjoy – Dallas Page is growly and shouty (as you'd expect from a WWE wrestler!) but also engaging and supportive – and he makes me laugh. I also love that the people in the videos aren't fitness models but REAL people (including Arthur and Jared) who have succeeded with DDPY. The workouts are challenging but achievable, and I feel a real buzz when I finish. And though I'm only in Week 7 I can already see a difference in me physically, I feel fitter and more flexible and every time I do the workouts I can tell I'm squatting lower or holding firmer or bending further. And that development inspires me to go further and further.
I also find it helps my state of mind – while this isn't traditional yoga and so doesn't put you in a meditative state, I do find that if I'm in a bad mood or worried about something, DDPY lifts my mood and takes my mind off my problems. It's also helping my breathing as there's a lot of focusing on breathing in the exercises, and I find I'm breathing more deeply now.
I haven't even mentioned the nutrition programme that's included with DDP Yoga, have I? Mostly because I haven't actually tried it yet. Again it's in three stages, and I guess I'm more or less doing the first level, which is to cut out processed foods and start eating "real" food. The later levels begin to cut out dairy and gluten and that's not for me right now – but if I get to a stage where I stop seeing results with DDP Yoga and my current healthy eating plan, I'll definitely look at it more deeply.
So there is my review of DDP Yoga. For the first time in my life I'm actually exercising regularly – daily – and really enjoying it, and on Week 7 I've already lost 8lbs and 15 inches, which is a really good start. If you've tried it, I'd love to hear how you're getting on with it – and do leave a comment if you have any questions!