A new month, and a new resolution to make the most of my life here in Portugal. Which meant this week has been very busy on the social side – in fact, I think it's the first time since I've been here that I've been out and about almost every day! So now, as an introvert, I'm feeling quite exhausted – but it's cemented existing relationships and seen the start of some beautiful new friendships.
Last Saturday I had vague plans to go to a new 'artisan craft and food fair' about an hour from me, near Penela. I mentioned in my last blog post a new friend near Pedrogao Grande who I bought a printer from (we'll call him Owen).Knowing that (a) he is a cook, (b) he has no transport, and (c) he was kind of on the way, I offered him a lift, and was delighted when he accepted. Meant I couldn't back out of going through apathy, and it was lovely going somewhere with someone for a change! There were several people there I know; we chatted and drank beer in the brief burst of sunshine we were granted, and I came home with foodie treats and plans to go back next month as Owen's 'roadie', as he is going to have his own stall. I love it when a plan comes together!
---
Sunday afternoon Pickle and I set off on an adventure to find a Neolithic outcropping complete with petroglyphs not too far from home. It seems the location is a closely guarded secret but an American friend of mine, who is a history buff, had showed me where to go on Google Maps. The stone is off a main road, down a gravel track that is passable by car to a point, but then I needed to park up and walk. It was a glorious day and Pickle scampered ahead and actually located the stone for me! It's a fascinating find – a large flat stone liberally daubed with ancient etchings – arrows, a feather, grids, shields (or doorways? I'm not sure) and more designs I couldn't identify.
I've since done some research and found out more about it.
"Pedra Letreira, is located near Cabeçadas, and it's a rock art monument as classified as "IIP – Imóvel de Interesse Público", in the year of 1997. The monument consists of a lowered Schist platform, laid horizontally. On the surface, several petroglyphs were carved with a polished stone ax, using the technique of abrasion. In this set include, among other representations, a bow and arrow motifs lattices, arrowheads and halberds, and even anthropomorphic figures. There are several theories about the age of these monuments, but it is likely that they will have a timeline between 6000 BC and 2000 BC." [Source]
The outing was marred slightly when I managed to slip on a wet rock and land heavily on my bum. I had a sudden panic that if I knocked myself out or broke an ankle, I could be lying there for days (forever!) as I had no phone signal and nobody knew where I was. Pickle then decided she didn't want to get back in the car to go home, and lead me a merry dance, but all in all it was a good day out and I was really chuffed to find Pedra Letreira.
---
Monday I was invited to my new friend Owen's house to sample his cooking! He cooked a fantastic risotto (though I did pick out the peas … he knows for next time!) and he and a friend and I sat out in his gorgeous tropical garden in the sunshine – the thermometer read 29.6C in the sun! Hard to believe it's only early February…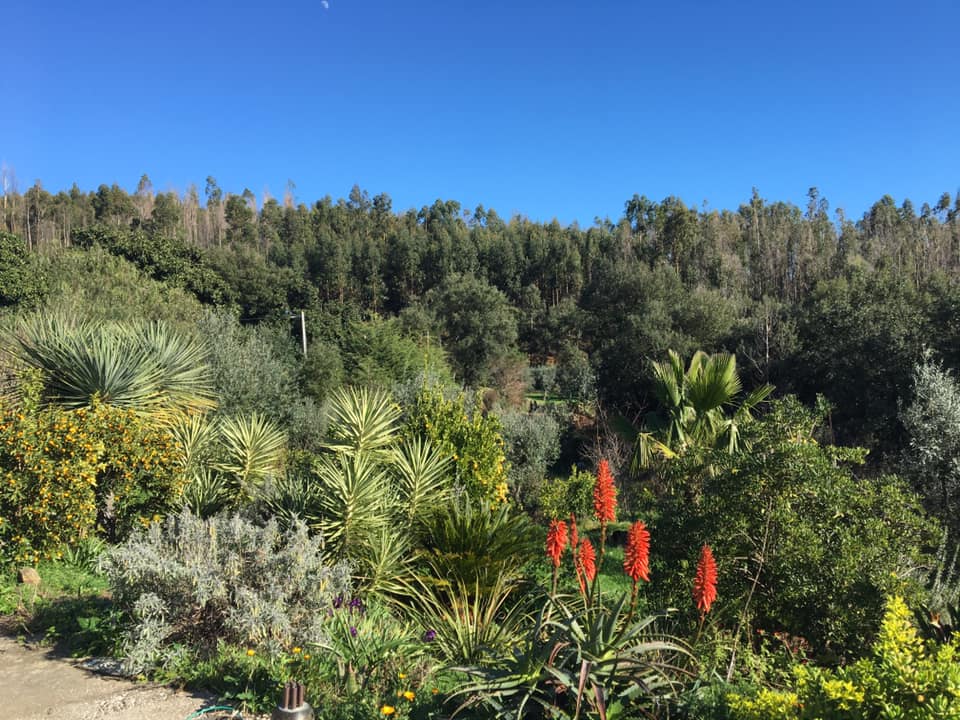 ---
Tuesday ticked the box on my resolution to "do something new every month" as I went to a regular craft morning in a pretty village called Pêra, near Castanheira da Pêra. Actually, I nearly didn't make it there at all – I thought it was in Pena, one of the schist villages Mum and I visited last year – and it was only as I set off that I thought to double check and realised my mistake! Anyway, despite the error I made it there on time and was greeted by a group of eight British women, most of whom live in Pêra (someone joked that it's Little Britain as there are lots of immigrants there) sitting outside in the morning sun. The weather has been glorious this week! While we were shown how to make a wicker-style heart out of newspaper spills and wire we chatted over delicious homemade cake and coffee. It was great fun and I even managed to produce something I was proud of!  I got on well with everyone and will be attending this group every month, both to socialise and learn some new crafts.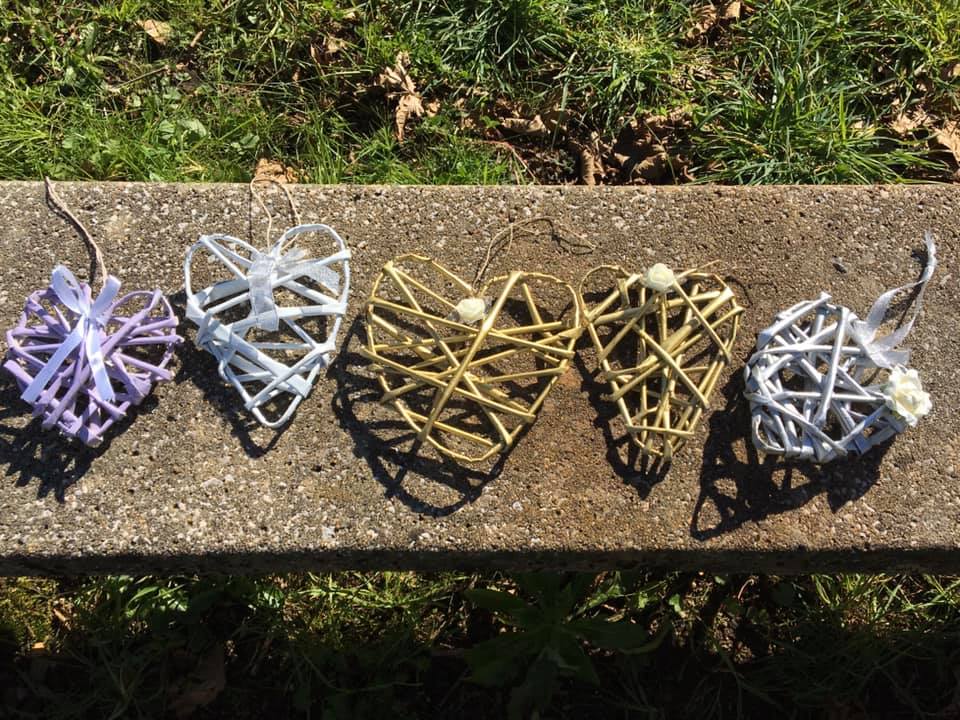 ---
Wednesday was a day at home, doing a few bits of work and enjoying a long leisurely walk with Pickle and Bobcat – I felt guilty about neglecting them so much! Spring has definitely sprung – the mountains are splashed with colour as the yellow acacia blossoms and pink heathers come into bloom, there's constant birdsong, butterflies accompanied us along the path and I even heard the chirruping of crickets at one point.
---
Thursday I was out again, this time to Pampilhosa da Serra for our almost-weekly Portuguese class. It was a really lively lesson with lots of discussion and laughter. The more Portuguese I learn (and admittedly it's not a lot so far, to my shame), the more the complexities of the language become apparent. For example, there are so many words that sound almost identical to the untuned ear, but have very different meanings. I was aware of maça / massa / mesa (apple / pasta / table) but have now learned país / pais / paês (country / parents / plural of bread) … though I don't think I'd be able to identify which was which, despite writing down phonetic versions of each (pay-eesh / pies / pie-eesh, if you're interested!).
Sadly, following the lesson there was a repetition of a pointless argument with someone who I considered a friend, but is a friend no longer. It's the third time this situation has occurred, and this time I am confident there was no fault on my part, but it's still not nice to experience the breakdown of a relationship of any type. Mind you, it would have been a bigger deal this time last year when I only knew a couple of people here; now I feel I have an ever-widening circle of friends so I'm not as upset about it as I could be. But it's still sad, and unnecessary. Nowt so queer as folk, I guess.
---
Yesterday was an opportunity to meet all-new people – another goal on my 2020 to do list. I'm a member of a Facebook group called Single in Central Portugal – aimed at socialising rather than dating – and this was a lunch organised by some other members in a town called Coja, about an hour's drive north of here. (Sometimes it feels like everywhere is an hour from me!) There were five of us there – two British men, two Dutch women and me – and we had a churrasqueira (BBQ) chicken dinner and then coffee and cake in a nearby bakery. They were all lovely, we didn't stop talking and there are already plans to meet again in a couple of weeks. More people to add to the 'friends in Portugal' contact book!
I'd only been home ten minutes when there was a beeping outside and I went out to find my part-time neighbour Fernando and friend Helder outside! I haven't seen Fernando for almost three months and while I know he will be driving me potty with his kindness very soon, I was over the moon to see him – and especially to see Helder, my pool partner, as he had a chainsaw in his car and immediately started chopping up my firewood! A lot of it is too big to fit in my woodburner so I've been pulling out the smaller bits but was worried they were running out – so Helder's arrival was most timely and I now have a large pile of smaller logs to burn. I'd attempted to light the fire just before they arrived but it hadn't caught, so they then set about restacking the stove and getting the fire going. Men and fire, hey! Anyone would think I was incapable and had been sitting here freezing to death all winter …. Seriously though, I was really pleased to see them, and of course in true neighbourly Portuguese style they came bearing gifts – oranges, lemons and turnip tops from Helder and his mother, and a jacket, walking boots and eggs from Fernando – and of course he wouldn't take no for an answer, despite the jacket being a tad too small and the boots way too big.
---
Today (Saturday) I'm having a quiet day at home but tomorrow I'm off again, this time back towards Penela (an hour's drive, of course!) for Sunday lunch with a different group of people from the Single in Central Portugal group. I know there's at least three or four going I've not met before, plus some I'd already consider friends, so I'm looking forward to it. Especially as the restaurant does a fantastic roast dinner, complete with Yorkshire pudding and gravy!!
In total contrast, next week my diary is completely empty, apart from a pool-playing date with Helder on Monday … I need to knuckle down and find some work, as funds are running dangerously low again, but I have a few ideas and leads to follow up, so I'll be focused on that. I've also decided I'd like to try my hand at making candles, once I have the funds to buy the necessary bits and bobs. I made some for Christmas presents one year, and would love to make coloured or scented candles in glasses or tea cups. Who knows, maybe I could even sell them at the artisan craft and food fair!
---
Finally … Thursday 6th February marked the first anniversary of me arriving in Portugal. Can you believe it's been a year already! On the whole it's been a wonderful year. Yes, there have been ups and downs – I found January particularly tough, but the warmer weather and the chance to get out and about and meet people and do things has cheered me up no end. I'm still looking to move somewhere with a bit more of a community feel but I don't feel as desperate to move as I did a couple of weeks ago. I'm more than happy to wait for the right place, rather than rushing into something, and as it goes, I don't have the money to move or rent anywhere just yet anyway. Though I did find an estate agent leaflet on my car windscreen when I left Coja yesterday, and it included details of a lovely little house in that area on sale for only 20,000 euros. If only I had the money …!