This post will only be of interest to anyone else suffering from Morton's Neuroma. I hope it (and the entries that follow) will be of interest. Otherwise, move along, nothing to see here!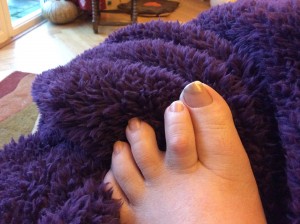 Back in 2010 I wrote a post about my Morton's Neuroma. It started as some mild discomfort in the ball of my foot, very quickly became quite uncomfortable and then very painful to walk on, and then my second and third toes started to part company, leaving my foot making a permanent V-sign. The doctor had never seen anything like it before but thought it was a Morton's Neuroma. This is not quite as scary as it is – it's not a neuroma (lump) at all, but an inflammation of the nerve that runs between the toe bones. It normally happens between toes 3 and 4 but can also affect toes 2 and 3. It's not known what causes a Morton's Neuroma but everything I read suggested it was down to footwear – high heels and narrow shoes. That confused me, because I have never worn high heels – I genuinely can't, I can't walk in them! – and I normally wear flat, wide toed shoes. anyway, an ultrasound scan confirmed that I had not one but two Morton's Neuromas in my left foot – one large one between toes 2 and 3, and a smaller one between 3 and 4. I had a cortisone injection, which relieved the problem, but sadly the effects were only temporary and about a year later the neuroma was again causing me a lot of pain. A second cortisone injection followed – it was incredibly painful to endure, and this time the effects only lasted around six months. I got to the stage where I started avoiding walking where I could … And then my toe started curling up, and a trip back to the doctor was called for!
I was referred to the Nuffield Orthaepedoc Hospital in Oxford last July and saw the lovely Mr Lavis, who arranged an X ray for my foot. It showed that my toes are much closer together than they should be – so developing Morton's Neuromas was a done deal really because of my natural physiology. He also said that the cortisone injections had actually done some damage to my foot. The protective sheath around the bones in toe 2 had been destroyed, causing the bones to rub together and toe 2 to move as far right as it could to find some space – resulting in a hammer toe! At the time I was having a lot of pain from my bent toe rubbing on my shoe, and the doctor said I could have surgery to correct the problem – but it would involve filing the bone down, pinning it all back together and the recovery time would be around 4 months! All sounded a bit drastic, and there was a concern about anaesthetic risks as I'm a big girl, so I was adviced to go away and think about it and come back in six months.
The return appointment was yesterday and over the months I have got used to the hammer toe, it's not such a problem – but the Morton's Neuroma has got much worse. I experience shooting pains in my toes daily, my foot is often swollen and walking is uncomfortable at best and downright painful at worst, so I avoid it when I can. I haven't lost any weight, I want to get fitter but when just a few steps brings on the pain it's proving difficult. So I told the consultant all this and said I knew surgery to remove the damaged nerve was a possibility. He suggested another cortisone jab – on the grounds that it can't really make my deformed toe any worse – but I don't want to spend the rest of my life having steroid injections every few months, and I can't see it being a permanent solution when the two I've already had have been a short term measure. So he seed that surgery is the best option. Basically the top of my foot will be cut open and the inflamed section of nerve removed. I'll have some numbness in my foot as a result, but hopefully I'll be a ble to walk without pain once it's all healed. A quick check of my BMI (a scarily high number – but fortunately well below the threshold for surgery) later and I'm on the list for Morton's Neuroma surgery in late spring. Watch this space for updates on the operation and my recovery!