Realised that I haven't updated my Healthy Living Regime here for weeks …. probably because I seem to have been stuck for weeks! The last time I wrote was on week 14 and I was thrilled that I'd lost 15lbs – over a stone!! Well I lost another couple of pounds in the following fortnight and then got stuck at 17lbs. I put on a pound, lost a pound, put on two, lost one, put on one, lost two, stayed the same ….. Aaargh! Very frustrating because apart from a couple of weeks when I intentionally didn't calorie count I was still doing aquafit a couple of times a week, still calorie counting.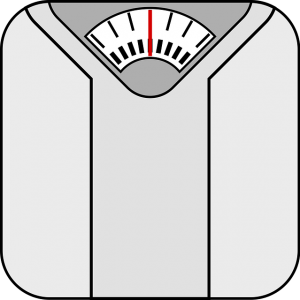 Anyway, last week was week 25 and when I got on the scales this morning I was chuffed to see I lost another 2lbs bringing the overall total to 18. Great news for me – I finally feel like I'm past a stumbling block and hopefully that will inspire me to lose another couple of pounds before Xmas. OK I was hoping for a pound a week, and I've fallen behind – but it's still going in the right direction! My clothes are definitely looser (I've started having to wear a belt on my favourite jeans) and people who haven't seen me for a while have commented, unprompted, on my weight loss, which is wonderful!
So the plan is this. I want to bring my total weight loss to at least 20lbs by the 24th December. Then I'll ease off for a couple of weeks to get through Xmas and my birthday – though I'll still be reasonably sensible. Then it's back to the full on healthy living regime on 7th January, with a goal of losing 36lbs between then and my summer holiday in August – that's 1.125lbs a week, and eminently doable if I just put my mind to it!