Anyone who knows me knows housework is not one of my priorities. Partly it's because I think life's too short to spend it bleaching the toilet twice a day, but mostly it's because I tend to let my home get to the stage where the prospect of cleaning it is overwhelming, and then let things go from there. The truth is I like having a clean, tidy house, even though I'm not an especially tidy person, but too often I only clean it (a) when we are due visitors or (b) when it gets so bad I feel depressed.
But this year I decided to try something new – to do just 15 minutes' cleaning every day, just to see if I could stay on top of it. What I found was I could bear the thought of doing 15 minutes and quite often once I got started, I ended up doing more. All went well for a couple of weeks and then our landlord gave us notice to quit and the new habit went out of the window – after all, we had to pay a professional cleaning company to do an exit clean, so what was the point in me doing anything extra?
The new house is lovely and I have been determined to keep it clean and tidy, so I brought back the 15 minute rule and it's been going well, except I tend to find myself doing the same things every day – sweeping the kitchen floor, or hanging up washing, for example – because it needs doing every day. So gradually, over the five weeks we've been here, finger marks have appeared on doors and dust on skirting boards …. I knew I needed to get a grip on it!
Many people swear by FlyLady, a website that follows the 15 minute rule and gives you specific tasks every day. But I've tried it several times and always failed, mostly because of the huge number of emails I received (I just deleted them unread!) but also because the ra-ra-ra Americanism of the site and the constant incitements to keep your shoes on at home annoyed me. I've tried and failed to find an alternative though – mention of a site called HabitHacker excited me, but it seems the site's gone into retirement.
And then I came across HomeRoutines, which is a website and an iOS app – and I think this might just be the answer!
HomeRoutines is a system that gives you several routines that you can have repeat every day, week, bi-weekly, monthly or on specific dates. It suggests a morning, evening and weekly routine and I've stuck with this as it seems to make good sense. The landing page of the app shows you today's routines, with a star next to each one that fills up as you complete the tasks. There's also an area at the top where you can add a message every day – so a message for Mondays, another for Tuesdays etc. This can be a reminder or something motivating. I haven't made use of this yet (other than adding something for the sake of this review!) but in time I might.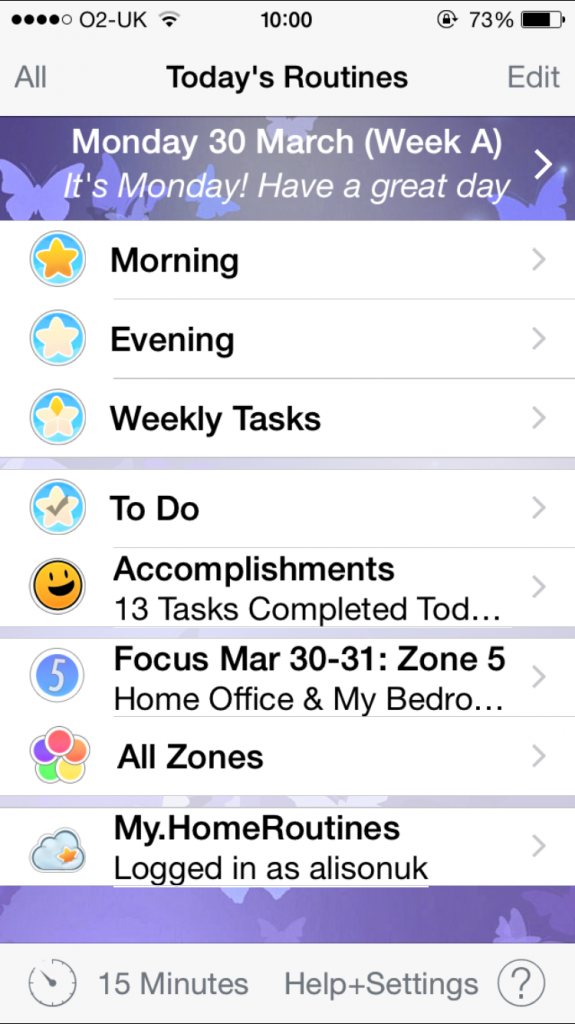 However, the app is completely customisable and you can add as many routines as you like – for example, I have a fortnightly one that shows up every other Thursday and reminds me to put the rubbish out. You can add whatever tasks you want and also change the background colours. You can even set seasonal routines – which would be useful for jobs around the garden, for example.
The aim of these daily routines is to include all the stuff that really needs doing every day. So onto that list has gone sweeping the kitchen floor, as well as loading and unloading the dishwasher, feeding the cats, cleaning the litter tray, wiping the worktops etc. My aim is to have the kitchen clean after breakfast and before bed, so never again will I be embarrassed when someone pops in for coffee and sees all my dirty pans! One of the best features of the app is that you can set it to clear all the tasks at 3am – so if I don't manage to do everything, the missed task is not there taunting me, and really if I forget to sweep the kitchen floor one day I don't need two reminders to do it the next.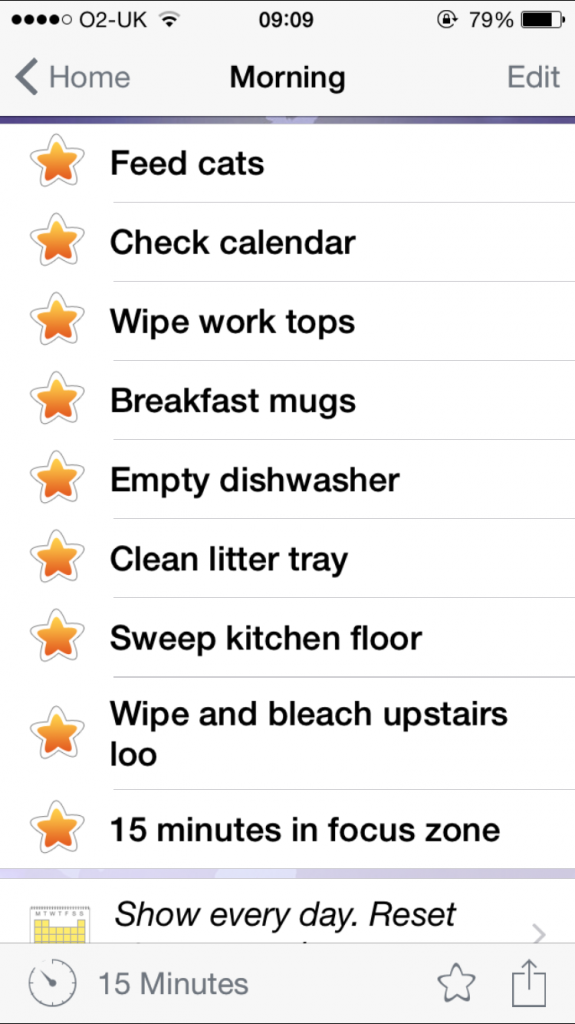 There's also a weekly list – on here I've included five jobs that really do need doing once a week at least, and my plan is to do one a day. So this morning I've put a load of washing in, tomorrow I'll get the hoover out etc.
However, no more will I be able to sweep the floor or run the hoover round and get away with that as my 15 mins of housework  – because a key feature of the app is "focus zones" – and this is the bit that I think is really going to help me. Every morning one of my tasks is to spend 15 minutes in that week's focus zone – which means that as well as all the stuff that needs doing every day, I do a little bit extra so I keep on top of the whole house instead of just the most obvious bits. The app has rooms already set up as focus zones but you can edit everything so make it suit you. So I currently have Hall, Stairs, Landing & Downstairs Loo as Zone 1, Dining Room & Living Rooms as Zone 2 and so on.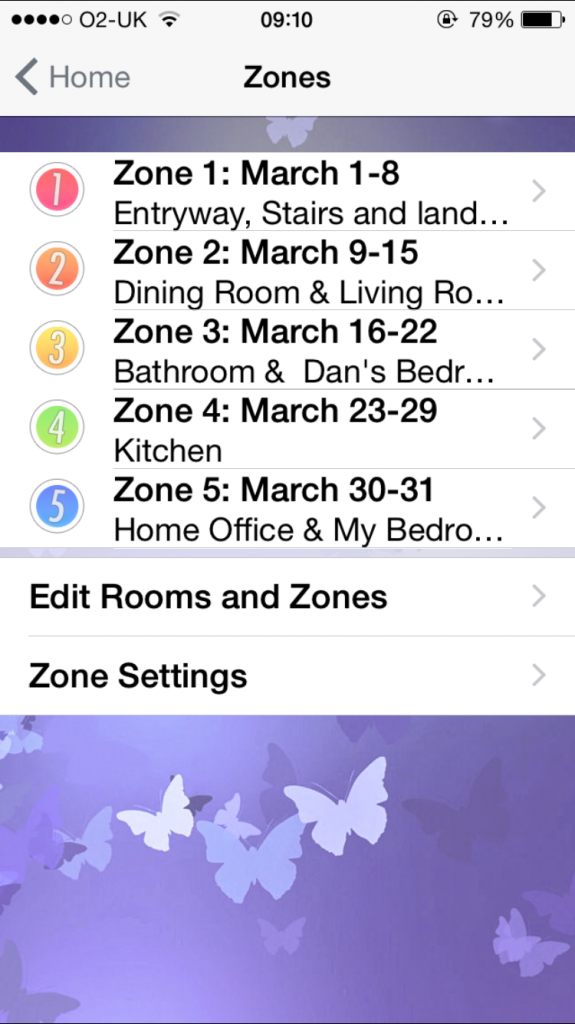 This week it's the turn of my bedroom and the home office. Today I spent 15 minutes in my bedroom, working through various tasks on the list – polishing the mirror doors on our wardrobe, cleaning the two windows and sills and wiping the inside of the door and the light switch. The app has a built-in timer –  you can pick how long to set it for, but the default is 15 minutes – and it's amazing how much you can get done in such a short space of time! I'm already halfway through all the jobs for the bedroom and by this time tomorrow I'll have ticked off everything else on the list and will have moved onto the home office.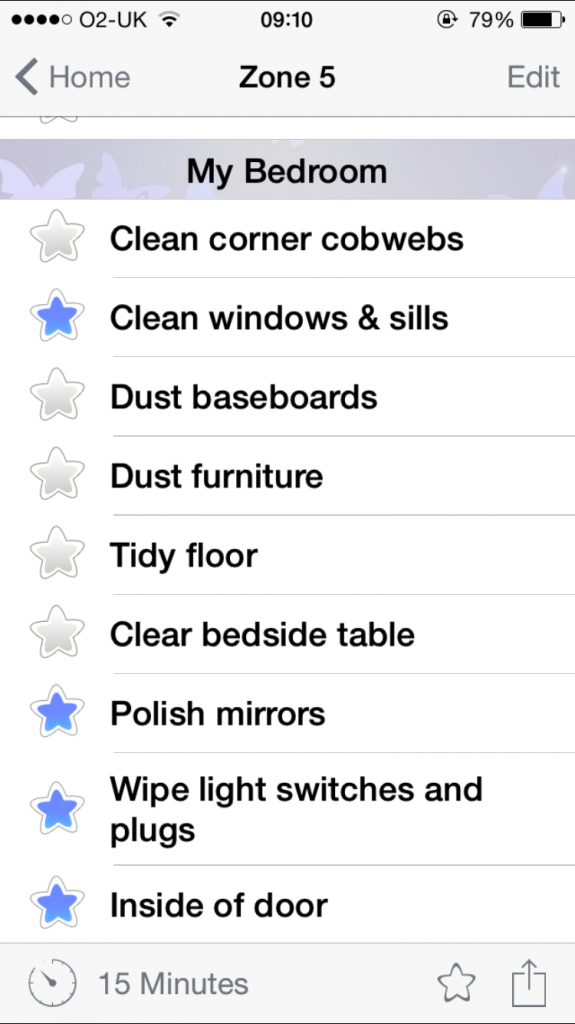 Currently I have five focus zones as that's what the app came with, but as I work out how long each zone takes me I might try to cut them down to four, so every month I'll give every part of my house a proper clean. And because of the weekly tasks it'll also always have a basic hoover, dust and mop, so it'll never be grubby. At least, that's the plan! I'm finding it quite motivating crossing off each task and getting a gold star for it, and the Achievements screen, which shows everything you've done in a day, is also great too – because on days like yesterday, which was a very lazy Sunday when I didn't feel like I'd achieved much, I could actually see I'd done 23 tasks around the house! You can also email this list to yourself, so if you're doing FlyLady you can use it for your control journal.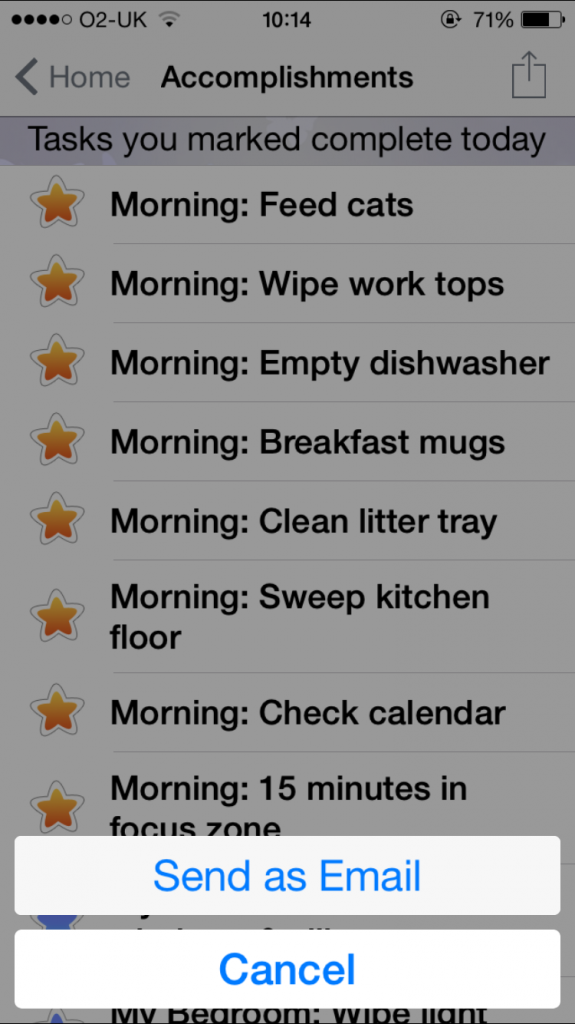 Finally, the app also has a very basic To Do list where you can add things to do today, this week or later. Not sure how much use I'll make of this as I have another task app I use regularly, but you never know, I might find a use for it.
Because the app is so customisable I can see the potential for using it for more than just housework. For example, I am trying to drink more water, learning to play the guitar, do some writing every day – so I could have a Personal Hobbies routine on there. And if you're a FlyLady follower you can add things like getting dressed to shoes to your morning routine.
You don't have to set up an account to use the app but if you do (and it's not linked to Facebook) you can sync it across devices and also access your routines on the website. There are also some really interesting blog posts on the website with great tips for managing housework.
Because this app tells me what needs doing each day, I won't be wasting time thinking about it or avoiding the bits I don't want to do. I guess every day I'll actually end up spending about an hour on the house, rather than the 15 minutes I originally intended – but because it's spread out over morning and evening routines, plus the extra weekly tasks (most of which I could, if I wanted, save for a Saturday morning) I don't think it's going to feel particularly arduous. HomeRoutines is £3.99 in the App Store and I think this is perhaps the best four quid I've spent in a long while, because I really think it will keep me focused and motivated to keep the house clean and tidy!

UPDATE
I've been using the Home Routines app for about 6 weeks now and it's completely changed my approach to housework! Gone is the reluctance to do anything on a daily basis and the mad panic when we had planned visitors, or the feelings of shame and embarrassment when someone popped round out of the blue. Instead I've now got firm morning and evening routines that mean the main areas of the house are respectable, and doing an additional 15 minutes each day in the focus rooms means everywhere gets a good clean once a month or thereabouts, so no one area really has time to get too horrifically untidy or grubby. For the first time in my life I actually feel like I am on top of things and I'm even using the app to remind me to achieve personal goals, like drinking a pint of water in the morning or journalling in the evening. I get a kick out of filling in the stars but because they reset every night I don't feel bad if anything doesn't get done, because there's always another chance tomorrow. So if you're looking for an app to help you get on top of your home, give this one a go – I highly recommend it!