I've never been a very creative person though I've often felt a need to do something artistic – but haven't known what, or how to start. So when my friend Lisa Cherry invited me along to her first Art Journalling workshop I thought I might as well – and it's started in me something that's becoming a bit of an obsession!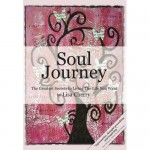 The workshop took place on a beautifully sunny Saturday at a house in Longworth, Oxfordshire. The setting was stunning – a glass-walled dining room with a table big enough to seat eight comfortably, next to a wide patio area and gorgeous garden. The workshop was run by Joy Aitman
, a scrapbooking expert who was responsible for the cover of Lisa's book, Soul Journey
(which, incidentally, I contributed to and edited).
Joy began by giving us all goodie bags containing two canvases, a journal book, a notebook, a set of watercolours, pen, pencil and some art paper. She showed us how the watercolour bled on the paper and we had fun creating some colour washes on tiny business-card sized pieces of paper. Then she showed us how to use stamps with ink and chalk, and gave us all a quote to inspire us, and we set to creating half a dozen small works of art based on our quotes. The idea was that people tend to panic when given a large blank sheet to work on – by starting small we were able to experiment and try out the tools, and it really didn't take a lot of effort to create beautiful art on a small scale!
Next we moved onto postcard-size pieces of paper and added some more techniques to our repertoire, including stencils, spray ink and punches, before preparing our canvas before lunch. This involved our first use of acrylic paint, and it was great fun trying out the different colours and mixing them together. We also covered a piece of paper with scrunched up tissue paper and painted it, which created an interesting effect!
We broke for lunch – a delicious homemade quiche with salads, and fresh fruit – and sat on the lawn chatting about our families, our lives and our creative pasts. It was lovely to find out more about my fellow artists and realise I wasn't the only one to be put off art by a teacher!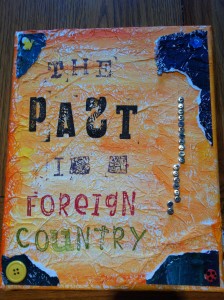 After lunch we were keen to get back to work. Joy showed us some more techniques that we applied to the painted paper and this formed the cover for our art journals. We then did a couple of brainstorming exercises to find words that described us, and chose one to apply to our small canvas. I decided on "loving" and had fun finding relevant stamps and colours to create my piece. Finally we moved onto our large canvases and we were given free rein to do as we wished with them. I chose to use one of my favourite quotes – "The past is a foreign country; they do things differently there" – and created perhaps my best piece of work of the day. In fact, we ran out of time but I was so enthusiastic I came home and finished it off!
Throughout the day Joy was a fantastic tutor. She is obviously passionate about art journalling and scrapbooking and has a wealth of skills and techniques under her belt. She also came armed with a huge supply of art materials so there was plenty for us to experiment with. It also gave me an opportunity to try out the different tools and find the ones I preferred – I wasn't keen on the spray ink, but loved using Versamark and chalk. Joy showed genuine interest in everyone and was very supportive and encouraging when it was required – but gave us time and space when we were obviously immersed in a project. After the workshop Lisa set up a private Facebook group for us to share ideas and show off our work, and Joy has been an active part of that too, which I really appreciate. Initially I had baulked slightly at the cost of the course but I came away feeling like I'd had real value for money – a fantastic day of fun with lovely people, in a beautiful setting, with delicious food and really useful instruction.
Since the workshop the art journalling bug has really bitten me. I've bought a good supply of art materials and have had lots of fun experimenting with them and creating what to me is beautiful art – and I really don't care what anyone else thinks about it!
I would highly recommend future art journalling workshops organised by Lisa and run by Joy – and I hope to attend more in future! Keep an eye on Lisa's website for details of future courses.