Can you believe I've been here nearly a month already? I can't! It feels like time moves more slowly here – I can be down in the fields collecting bedding for what seems like ages but check my watch and it's only been an hour or so – yet the days seem to pass so quickly, one blurring into another, and become weeks and then almost a month. It feels like no time at all and forever since I pulled up in my car and unloaded my worldly goods into the caravan.
In many ways I still feel like I'm on holiday. The enduring good weather means it's hard to believe it's only the beginning of March (though I hear it's been unseasonably warm back in the UK too, and actually we should all be concerned about the early spring rather than rejoicing it.). However, I have tried to get myself into more of a routine – because obviously this isn't a holiday, and there are things that need to be done, like earning money! I have to admit though that the lure of the sunshine, the outdoors and the animals is still pulling me away from the computer … seems I'm constantly being distracted by pigs.
But I have found a vague shape to my days, most days, and it seems to be working at the moment. Obviously, it's still early days and my routine is likely to change as circumstances dictate, but it's good to have a structure to be working with.
Generally, I wake between 7.30 and 8am, maybe a little earlier, and then lie in bed for far too long because, despite the caravan often being coated in a layer of ice, my bed is just so warm in the mornings! Eventually I boot myself out of bed, throw my yoga pants on (usually. Sometimes I stay in my PJs.) and stagger out, clutching my yoga mat and a sheet, which I lay out on a flat patch of land just behind the caravan. It's mostly hidden from the road by a horse box, but so few cars go past here anyway that it's not really an issue. Throughout 2016-17 I was a DDP Yoga addict and did a workout virtually every morning, but last year I fell off the mat, so to speak, and barely did any. One of my aims for 2019 was to get back into a daily exercise routine and for the last week now I've done some yoga every morning. Outside! Yep, some mornings it's been frosty, and I've often had an audience of dogs, sheep or geese, but there's something very refreshing about feeling the chill of the air on your skin, and then being washed with warmth as the sun rises up over the brow of the mountain. The yoga's not bad either – I'm already feeling the benefits and am more flexible and less achy.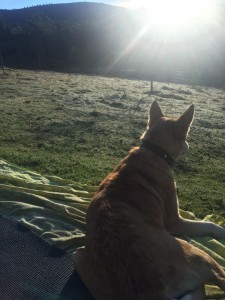 After yoga I retrieve my clothes from the bed where they've been keeping warm overnight, have a quick wash, clean my teeth, and then empty my toilet bucket out onto one of the hugel beds that edge the site.  These are mounds of wood and compost that you build up and then later plant things in. Originally the land adjoining the road was quite a steep slope; Andrea and Jeroen are using hugel beds to raise the height and level it off, though rather than planting anything in the beds, they let the grass cover them over. It's good to know my wee and toilet paper is contributing to the contours of the land!
If the sheep haven't been let out yet I wander over to their shed and do that. Andrea usually gets them out first thing, but if it's a frosty morning they come out later, as they will eat the trees if the grass is frozen! Every morning when you open the door they come blinking out into the sunshine and look surprised, as if they'd forgotten what was out there! They may be stupid but they're very cute – especially the lamb, who makes me chuckle as he leaps around with all four feet off the ground.
I head into the house around 8.30-9 and have my first cup of tea of the day and some breakfast – usually muesli, yogurt (muesli-flavoured yogurt!) and fruit. After breakfast I help feed the pigs. There are currently six separate pig enclosures and each group gets their own bucket of food, so it takes a little while to dole it all out and fill up the water troughs. There are several "levels" of piglets here and I love seeing them grow day by day.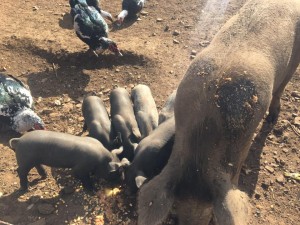 Once the pigs are fed, I try to get my head down and do some work. I'm proofreading a book for a client at the moment, and have three more lined up – and at some point I'd like to work on a couple of book ideas of my own too! I try and work until about 1-1.30pm, but as I said, it's easy to get distracted when the sun is out and there are animals around …
Lunchtime usually involves a couple of bread rolls. Yep, I was cured of my bread addiction while doing Slimming World but the bread here is just SO tasty … and I have been known to spread them liberally with chocolate spread! It tends to be salad with egg or cheese, though, or egg and cheese… I'll usually be on my third or fourth cup of tea by now too.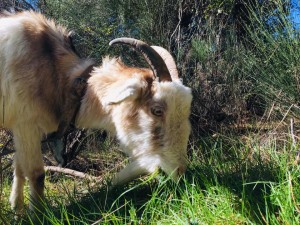 After lunch I tend to work outdoors. The goats need walking for a good 60-90 minutes and most days I've taken on that job. Usually I try to take them somewhere where there's work I can do while I watch them – like collecting bracken, leaves or dry grass for animal bedding. It doesn't always work – goats are stubborn creatures and tend to go where they want! Some days we end up in the field at the bottom where I read a book, listen to music or downloaded radio programmes (Need my fix of James O'Brien on LBC!) or practise Portuguese with the Memrise app. Often I find myself just watching the goats chewing on the grass, feeling the warmth of the sun on my face, listening to the noises of the farm and drifting off into another world … it's amazing how relaxing it is to watch goats eating!
There's always washing up to do, plates to bring out, cutlery to take in, washing to hang on the line, bedding to distribute, cats to stroke, dogs to pet, chickens to chase … it's amazing how quickly the time just disappears!
Once a week I take all my bedding out of the caravan to give it a good air – yep, that's two duvets, two blankets, a sheet, an underblanket, pillows, plus the cushions that make up the mattress. Because it's so chilly at night condensation builds up under the cushions and they get damp. Eventually they'll rot away, I guess, but drying them out and giving them a good airing will make them last longer. It's also good to give the caravan itself an airing, and a sweep – you wouldn't believe how much grass and goose poo I seem to drag in there!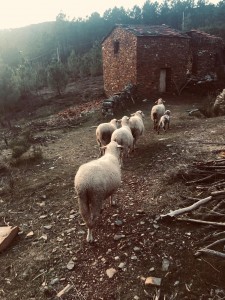 Around 5-6pm it's time to sort the animals out for the night. The sheep are usually easy (and great fun!) to put to bed – you call out "Sheepies! Sheepies!" and rattle a tin of corn and they come bounding across from wherever they are and follow you back to their shed. The ducks, chickens and geese often follow you too, and then congregate near the door of the house waiting for their share of the corn. Many of the ducks sleep outside around the farm, but the geese, the four white ducks and some of the younger chickens need to be safely in their enclosure at night, so once they've arrived, plus as many others as possible, you can lead them into the duck house and throw them corn to keep them busy. The rabbit also needs a good helping of grass, dandelions and whatever other greenery we've collected for her.
Last to be dealt with are the pigs and it's the same as the morning routine – six separate buckets of food, water to be refilled – and ducks to be repelled! Despite having locked what seems like hundreds away in the shed, there still seem to be plenty left outside who want a share of the pigs' dinner! The ducks are a real problem actually, because they do tend to deprive the pigs of some of their food, and aren't easily deterred. Sometimes it's getting dark by the time we feed the pigs. Thank goodness for the head torch my brother gave me for my birthday!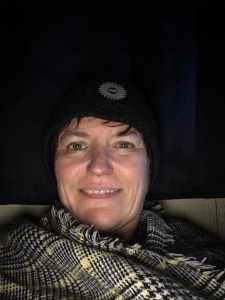 Once the animals are dealt with it's time to think about dinner. I'll write more about food in my next blog post, but I do what I can to help with preparation, lighting the fire, finding plates etc, and a few times I've cooked part or all of the meal myself. Andrea usually works in the evenings – as well as running the farm she does online English teaching to international students – but at weekends we sometimes have "movie night", when we all eat together, watch a film, and have the odd glass of jeropiga or a beer. However, most nights I usually head back to my caravan between 8pm and 9pm, armed with a hot water bottle and a flask of tea. I tend to watch something I've downloaded on Netflix – I've finished the latest series of Grace and Frankie and am now working my way through Making a Murderer and Russian Doll – before snuggling up under the duvet with my Kindle. Lights out by 10pm normally!
Once a week we head into the nearest town, Pampilhosa da Serra, for a Portuguese language class. It's only a 90-minute lesson but somehow it seems to take all day, as we socialise, stop for lunch, do a bit of shopping, and do other bits and bobs around the town. And of course, there are other days when the "routine" goes out of the window – last week we went off for a drive and a picnic, and I also took myself off for a day on my own, driving round the local area and stopping at some of the miradouros – viewpoints – along the route. But generally, life chugs along much as I've described.
Reading this back, it seems like I'm doing very little really, and I wonder where the time goes. I think one of the things I've learned during my first month here is to slow down and sometimes stop entirely. Life is happening all around us, but we tend to be so busy we never take the time to appreciate it. One evening when we were feeding the pigs, I glanced behind me and saw a glorious sunset – but I didn't stop and admire it straight away because there was work to be done. Five minutes later it had gone … The next time there was a beautiful sunset I made sure I stopped what I was doing and watched it brighten and intensify and deepen and then fade away. And you know what? The world was still here five minutes later. No pigs had expired through starvation; they probably didn't even realise there'd been a slight delay.
And I think that's how the time seems to pass so quickly. Rather than doing ten things at once, I concentrate on doing one at a time, and often stop just to take in everything that's going on around me. I'm noticing tiny flowers pushing up from the ground, spiders spinning funnel webs, birds swooping around the roof, buds on the fruit trees, bees buzzing around the heathers. It's like my eyes have been opened to the wonders of nature at last, and I can't spend enough time soaking it up.