When I announced that I'd decided to up sticks and move to Portugal for a few months, I was inundated with messages from people wishing me luck. However, the one that made me smile the most said, "Save me a sunbed by the pool!" Hah, more like a patch of mud by the duck pond, I replied. And at that point I realised that I may have given people the wrong idea about where exactly I was going …
My friends Andrea and Jeroen bought Casalinho e Escabelado about 11 years ago. It's a traditional Portuguese stone quinta – farmhouse – with about 10 hectares of land, a mix of agricultural terraces and forested mountainside. Over the years they have raised the height of the house a few feet to create a usable top floor, replaced the roof, installed electricity, remodelled the windows and laid floorboards. The house has come on a long way since I first stayed here in 2014, when there was no electricity and the only lighting was from a few dodgy solar lamps … but it's still very much a work in progress.
The main focus of the farm is animals. There are over 30 pigs, 6 sheep, 3 goats, 6 geese, too many ducks and chickens to count, a rabbit, plus 6 dog and 8 cats! So many animals means much of the day is spent caring for them – feeding them, walking them, finding bedding, etc etc. During the summer the farm runs permaculture courses and also hosts scout camps, and volunteers also stay here regularly, getting free bed and board in exchange for working on the farm. My friends have various projects going on around the farm and Andrea also works as an online English tutor, so there's only a limited amount of time left to work on the house itself, hence the slow progress.
The family follow the values of permaculture – Care of the Earth, care of people, return of surplus to Earth and people ("Fair Share") – and they reduce, reuse and recycle as far as possible. They only buy what is absolutely essential, and the house is certainly not full of fripperies (unlike my caravan!). It's rustic, to say the least, and the facilities are rudimentary – and given that I love my daily shower and weekly soak in the bath, I think a few people have been quite surprised when I talk them through what there is!
The house has its own water mine so there's no shortage of fresh mountain spring water … so long as you don't mind it cold! The water has been routed to a tap in the workshop adjoining the house, as well as to other taps around the site, including an outdoor sink that serves as the washing up area. I quite enjoy doing the dishes on a sunny day, singing along to some music on my phone. It's a different matter on a chilly wet morning when you've run out of cutlery and have to stand in the rain, washing forks in ice cold water!
Next to the outdoor sink is a utility room with a washing machine. When the sun is out, the washing dries really quickly. In wet weather you can be waiting days though. I've been intrigued to see that many of the big supermarkets actually have pay-as-you-go washing machines outside, so I'm assuming we are actually quite lucky to have one here at all.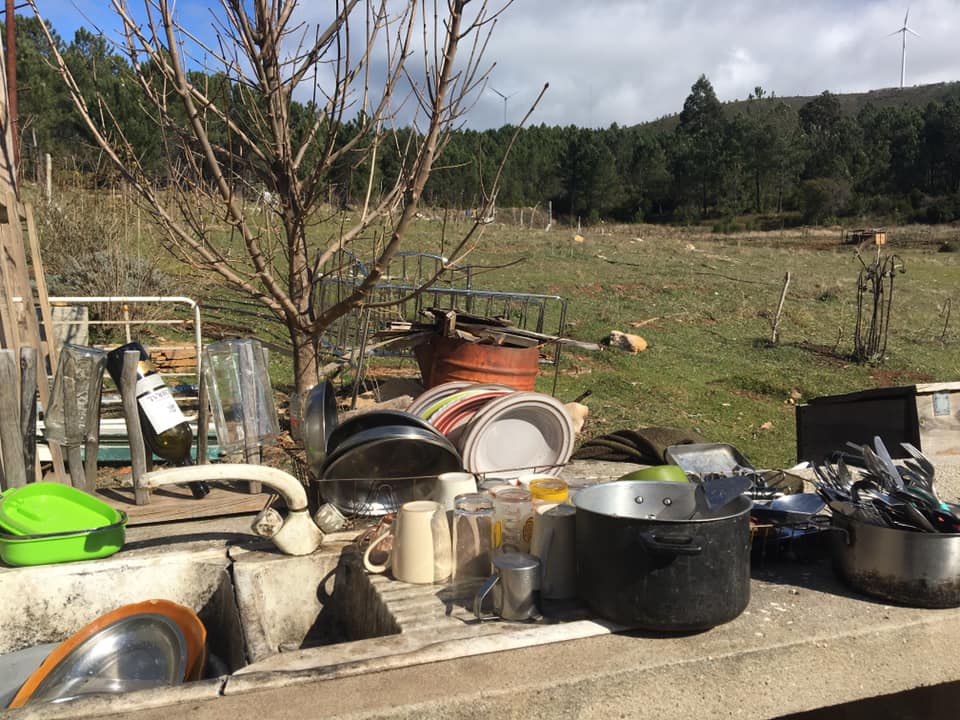 However, the plumbing doesn't yet incorporate a bathroom. There are plans to create one in the house at some stage, but for the time being there are some very ingenious compost toilets. The wooden hut contains two cubicles, each with a toilet specially designed to separate poo from pee. The poo can then be used as compost for the fruit trees, and the pee is diluted and used to irrigate the veg beds. It's a great system, remarkably non-smelly and nothing goes to waste … but it's also halfway up the side of the mountain, and with my arthritic knee and weak bladder …. Well, suffice it to say Andrea has very kindly supplied me with a lidded bucket to keep in my caravan to avoid night-time excursions. (There's also a "family" loo for solid waste only, and plenty of bushes…!)
Talking of my caravan, it's reasonably dry and draughtproof but it has no power or water supply, so I have several layers of bedding and go to bed in thermals and a hat! It's quite alarming seeing my breath mist out in front of me as I'm dozing off, but it doesn't take long for me to get nice and cosy, and invariably I throw off half the covers in the night. I've strung up some fairy lights that create a homely glow while I'm reading or watching films on my iPad, and I also have an awesome solar lantern (thanks, Mum!) that does a great job of illuminating the whole caravan, and a head torch (thanks, Bro!) that is vital for finding my way around after dark. The aforementioned bucket lives in the little toilet cubicle on top of the built-in loo (where it's at just about the right height to be used reasonably comfortably) and I keep a big bottle of water in there too, for face washing, teeth cleaning and tablet taking.
No bath – but there are two solar-powered showers, and in the summer months they can be surprisingly warm. However, in February the sun isn't quite warm enough to heat the water – and anyway, the water is being routed to the pig fields at the moment. It's amazing how quickly I've adapted to having a quick rub down with a damp flannel in the mornings, but once a week I take myself off to the public solar-powered showers at the local mountain biking centre. It's about 15 minutes away, but the drive and the 50 cents it costs for 12 minutes of gloriously hot water is well worth it! (Although I was less impressed last weekend when I put my 50c in and stood there in the nuddie for 6 minutes waiting for it to warm up! Eventually I gave up, pulled a right strop and got dressed again, but after a quick visit to the bar for change I was back and had my hot shower in a different cubicle, hurray!).
Something that seems very popular in Portugal is the "swimming river" and Casalinho is no exception. A mountain stream runs along the bottom of the land here, and in summer the family dam part of it to create a small pool. The water is about thigh-high so it's easily deep enough for a splash, a dunk and a soak. I've only used the "swimming pool" in October, when it was a bit chilly, but I'm looking forward to experiencing it in the warmer months, as I've been told it's very refreshing – and a good way to keep clean!
So there you go, my friend was right after all – we do have a pool. I'll whip my camping chair out and save it for her!
To sum it up, the facilities here are basic – it's no five star hotel – but you know what? It doesn't matter. So far I haven't felt like I'm missing anything really and in fact I feel a huge release from the pressures of my former life in the UK – no pressure to look smart (or even clean!), no pressure to wear makeup, no pressure to confirm. It's refreshingly different and doing me the world of good.