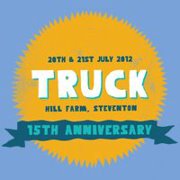 We weren't going to Truck Festival this year. Despite me being a regular Trucker since 2003 we decided that a combination of money, the Friday start and the weather – but mainly the weather – were enough to put us off. After all, this has been the wettest summer on record so far and I've reached an age where standing around in a muddy field in the pouring rain really doesn't appeal any more. So that was it, we weren't going … until the forecast improved and Steve suggested on Thursday lunchtime that maybe we could get tickets after all…. By then it was too late to take time off work and the kids had tickets for Batman on Friday afternoon, and we'd miss our favourite Truck band Alphabet Backwards, but we reckoned we could get there by 7pm and still fit in half a dozen bands, and have all day Saturday too – and with that we booked four of the remaining handful of tickets. We were going to Truck!
Arriving at a festival several hours after everyone else is a bit weird –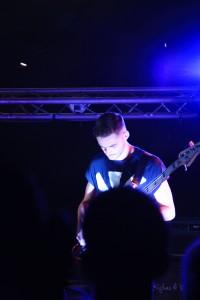 I think you really need the build up through the day to appreciate everything. My lasting impression of Friday is that everyone was so young, and so drunk, and the site was so messy…. Perhaps everyone's always like that, perhaps I'm normally a bit more chilled by the evening and don't notice but the atmosphere seemed more pissed up Friday night out than relaxed family festival, and it did affect my enjoyment of the evening somewhat. Having said that, we still managed to get to see seven bands so I didn't go home feeling entirely cheesed off.
Once the decision to come to Truck was made I'd hastily compiled a Spotify playlist and quite liked the sound of Brontide – they reminded me of Mogwai – so that was our first pick of the evening. We headed off to the resurrected Barn, catching the end of Clock Opera on the main stage as we walked – they sounded very good, and worth listening to more of, I think. Into the Barn, as dark and gloomy but not quite as smelly as ever, just in time as Brontide appeared almost straight away. For a three piece band they make an incredible noise, with layers of looped guitar playing underneath more guitar, but though I enjoyed the first couple of songs I soon found it a bit samey, so we headed off to the 2nd Stage to see what Theme Park were like. They were funky – on another day, in a different mood I'd probably have got down and strutted my stuff but tonight wasn't the night, so we wandered back into the main field to find a spot near the front for Villagers.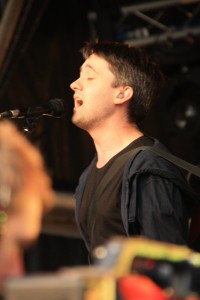 We had plenty of time, as it turned out, because Villagers were running very late, which was annoying – how long can it take to get a band's stuff set up?! Mind you, if I'd been there all day and was in a relaxed festival mood I'd probably not have been so bothered about the delay. Anyway, Villagers finally arrive and they were worth the wait; their brand of lilting alt rock was very enjoyable, especially "Becoming a Jackal" which had the crowd singing along.
Little Comets had been one of the standout bands on the playlist I put together so we dashed back up Corn Alley to the 2nd stage to see them, and they didn't disappoint. By now I was getting into the festival groove and bounced along with the crowd to the infectious, indie pop sound. (Interesting fact of the day: Little Comets are managed by ex-Aston Villa footballer Ugo Ehiogu!)
Back into the main field and joined the huge queue for Rotary lentil dhal and onion bhajis before watching some of Tim Minchin's set. Though obviously I know who he is I haven't really heard any of his stuff before and thought he was an interesting choice for a festival. I quite enjoyed his "controversial" songs about cheese and Jesus but found it difficult to hear all the words – and given that the amusing lyrics are what he's all about, that rather buggered it for me! Nice to be able to say I've seen him though, I guess.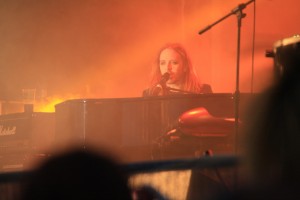 At this point we left the kids to watch the end of his set and went back over the bridge see Guillemots. Now one of the good things about Truck this year was that the timings meant you could just about see everyone on the main stage and either the Barn or 2nd stage. The downside meant everyone else could do that too – and the second stage wasn't nearly big enough to cope with so many people. So despite arriving in good time we still couldn't get into the tent to see Guillemots and had to listen from outside, which wasn't nearly as good. Didn't help that poor Fyfe Dangerfield was suffering from a sore throat which affected their performance, but I still really enjoyed it – and will try to see them again.
Back to the main stage for the headliners, Mystery Jets. I saw them at Truck a few years ago and thought they were okay, but nothing that excited me, and sadly the same was true this time. I can't quite work out why if I'm honest – they are very musically talented, they're good live performers and they have some decent tunes too, but they just don't do it for me. Anyway, we watched about half their set and then set off for home after a short but sweet Truck evening.