I promised a blog post about food, so here it is! Though I doubt it will be the last time I talk about food here.
Now ­- I am a planner, when it comes to cooking. I go through my recipe books, choose meals I fancy cooking, make a shopping list and very rarely deviate from the plan. Which is fine, and has served me well for many years!
My hosts are not planners. They have an incredible knack for taking whatever might be in the fridge and producing something delicious with it. In fact, there are plenty of times when I've looked in the kitchen and seen nothing that I think could become a meal – yet they still somehow conjure up an amazing plate of food!
Meals here tend to be simple, wholesome, tasty food.  I'm a big fan of pasta and rice and back in the UK, many of my home-cooked meals are based on these, usually using mushrooms and peppers. I love my peppers and mushrooms, but they are not so easy to find here in Portugal and are fiendishly expensive. Instead, Andrea and Jeroen create delicious pasta and rice dishes with carrots, onions, cabbage, root veg and sometimes home-reared meat or tuna – using ketchup and mayonnaise as a sauce. I've never really thought of using root vegetables or mayo in a pasta sauce, can you believe!
Of course, all these ingredients lend themselves well to soup, and we've had soup for dinner several times, always delicious, served with fresh bread, which seems so much tastier here than in the UK.
A new favourite dish here for me is a sort of savoury bread pudding – it's a great way to use up leftover or stale bread. Beat some eggs and seasoning, pour the eggs over the bread, let it all soak in, add tomato passata, onion, anything else you want and bake it. Delicious! In fact, we eat quite a lot of eggs – pancakes, egg rolls, omelettes etc.
As this is a working animal farm there's usually some home-reared meat in the freezer. We've had pork steaks, lamb stew, goat curry, roast chicken and even burgers, with home-minced pork. Last time I was here we had arroz de pato – duck rice – where rice is cooked in duck fat and juices and then crisped off in the oven. Yum! There are plenty of ducks on the farm and Andrea keeps threatening to catch one, so maybe duck rice will be on the menu soon.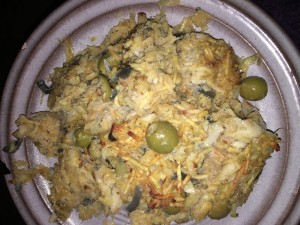 Go into any supermarket in Portugal and you won't fail to see (or smell) the bacalhau – dried salted cod – which is a staple of Portuguese cuisine. Andrea doesn't like fish so it's not a regular meal in this house, but one evening Jeroen cooked Bacalhau a Bras – cod flakes mixed with onion and matchstick-sized fried potatoes, bound together with egg, baked and topped with olives. It was a really tasty dish and I'd happily eat it again!
I have cooked a few times but being a planner and a recipe follower, I have to admit I've not found it easy. I'm gradually getting better though and am starting to improvise and be a bit more experimental with flavour combinations. An omelette I cooked for a visitor to the farm last week was declared "Epic!" (something of an overstatement, it was only an omelette!) and I also did a very passable cauliflower and macaroni cheese – I realised I didn't have any butter for the roux, and tried olive oil, which worked very well!
Andrea is a fan of foraging and living off the land, and as more and more plants come into season, I'm looking forward to finding out more about this. We were out for a picnic one day and she spotted a big patch of chickweed. We harvested a bag to take home and it found its way into salads, stews, soups and even my macaroni cheese. Andrea also dries all sorts of things for teas; elderflower is very refreshing.
I don't normally have a sweet tooth but it's hard to resist the cakes here in Portugal! Anyone who knows me knows I love a pasteis de nata (Portuguese custard tart) and I tend to have one every time we happen to stop for coffee. However, I'm also trying some other cakes and love Portugal's take on mille-feuille – mil folha – and muffins. There are also some delicious little cakey biscuits called broinha that taste a bit like hot cross buns. Very moreish!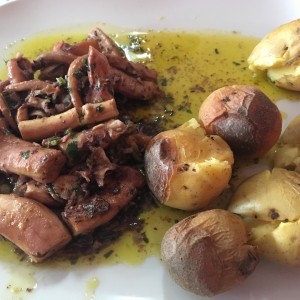 Every now and then we eat out for lunch, and this is usually the prato do dia, a set lunch for around 7 or 8 euros. This is fantastic value for money as you usually get olives, bread, soup, a main course, dessert, coffee plus wine or soft drink! In Portugal they use pretty much every part of the animal in their cooking, and I've not yet been tempted to have the very popular Cozida a Portuguesa, which is a stew of all sorts of bits of meat – including pig's ears and trotters – with vegetables, beans and a variety of sausages. However, I have tried lamb and seafood stew; a dish of rice with beans and chicken; some sort of tentacles; baby goat, suckling pig, and pig's cheeks (really really good!). In time, I hope to learn the names of the dishes so I actually know what to order! I'm normally someone who likes very highly spiced foods, but apart from paprika, spices aren't really used here – but everything I've had so far has been really tasty. Puddings are good too – Portugal does a good line in creamy desserts, along the lines of doce da casa ("sweet of the house" – usually cream and custard on a  biscuit base, a bit like a trifle), crème caramel, baked egg custard, arroz doce (rice pudding) etc. All very naughty – but very nice! And of course, lunch is normally washed down with a glass or two of vinho tinto.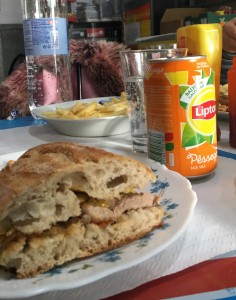 We've also eaten at a couple of "fast food" restaurants – there's a place in town that does incredible fried chicken, as does a stall at the fortnightly market, and another restaurant specialises in bifanas – thin pork steak served in a bread roll.
If there's one thing I've learned about Portuguese food in the nearly 8 weeks I've been here, it's not to judge it by appearance. I don't think Portuguese cuisine would win any prizes for presentation in the food Oscars – meals often look decidedly rustic and brown, as do the cakes. But the flavours …. Well, you really do have to come over and experience them for yourself!
All photos mine except the top image Image by Jason Goh from Pixabay