Day 2 started as day one had, in Cindi's New York Diner near Reunion Tower. But whereas it had been empty the day before it was packed this time, mostly with wrestling fans! We bumped into the couple we;'d met the previous day and talked about Wrestlecon and mentioned that we were going to Axxess that day. "You'll love it!" the guy said. "So much better than Wrestlecon."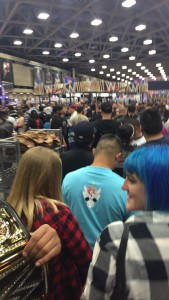 Our tickets were for the 12-4 slot and I had no idea how long we'd have to queue so we headed off in good time and spent a fair while looking round the WWE Megastore. Well …. there's no accounting for taste, I guess! I'd become used to seeing people walking round with one and sometimes two replica belts round their waists or over their shoulders, but the store was jam packed with all sorts of belts as well as Money in the Bank briefcases, dolls, clothing and more. We bought a few bits and bobs, but some of the stuff was stupidly expensive (some of the belts are over $300!) and people were buying bags and bags of the stuff! I guess it just proves how passionate WWE fans are – though I did later spot a guy on one of the Facebook groups desperately trying to sell his $200 MITB deluxe briefcase as he had decided he really didn't know what to do with it! The queue for the tills was huge but moved surprisingly quickly, and soon we were in another line, the very long line for general admission to Axxess.
I hadn't been sure how Axxess worked – I thought it was a bit like Wrestlecon, where you paid admission and then paid extra for the Meet and Greet opportunities, but actually once you're in that's it, you don't have to pay any extra (though of course there were VIP tickets, the only way to meet the top superstars). And actually, if you plan it properly and are prepared to queue A LOT it could be very good value for money. But there was no one there we particularly wanted to meet (except Hacksaw Jim, who we'd met the day before anyway) and the queues were offputtingly long, so we didn't bother with that at all. There were several photo opportunities too – on a ladder, in a ring etc. There was some pretty cool stuff to see too, costumes and props and things.
The most entertaining thing for me was the Superstar Entrance area – after queuing (of course!) you could choose one of 12 entrances and make your way down the ring as your favourite wrestler. Dan was a bit reticent about doing it, but then made his entrance as The Undertaker, got a round of applause and did a great job of it, I think!  (It was officially filmed but sadly the access code doesn't work … so you'll have to make do with my home movie!)
The big draw for Dan especially was the ring, where there was some NXT wrestling going on, including some of his favourites like Samoa Joe and Bailey, and my favourite Apollo Crews. So for most of the afternoon we watched the wrestling, though my feet hurt and I did slide away to have a drink and a sit down at one stage. I met some really cool characters and got into a couple of photos too…
As we left there was a group of God botherers outside the venue, telling us that we – along with murderers, paedophiles, feminists and "lukewarm hypocrits" – were all doomed. The wrestling fans – with Dan as one of the ringleaders – responded in style with lots of chants, entrances and witty ripostes and it made for an entertaining hour!
Next we were over to the other side of town for the WWE Hall of Fame. I've never watched it before and didn't know what to expect except for a bunch of old wrestlers talking … and I guess that's what it was really, except it was pretty entertaining. Great to see Big Van Vader (without the mask) and of course the place went nuts when Sting was inducted, and we joined in with the cries of Woooooo! ringing around the arena. Shame Ric Flair's introduction was so boring though, with him talking all about himself rather than Sting! I also enjoyed Dana Warrior and Joan Lunden; some pretty inspiring stuff was said. But I have an admission – I think jetlag got the better of me and I did find myself dozing off once or twice during the event! But overall it was a good night out. Sadly it ended on a low though – we were starving and struggled to find anywhere to eat, and the place we did end up in was so painfully slow and so dreadfully managed that it really put a downer on the day.