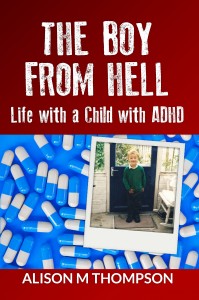 So on March 23rd My book The Boy from Hell: Life with a Child with ADHD went live on Amazon. It's been a really exciting journey which you can read all about here. So far the book is selling slowly but steadily – I sold 50 copies myself and am partway through the next box of fifty paperbacks, and I've sold around 60 Kindle books and 30 paperbacks via Amazon, too. Not huge amounts, but enough to keep me happy and the feedback has been incredible too … the book has 13 5* reviews across the Amazon sites and I've also had emails from people keen to tell me their story and how much I have inspired them!
It's funny, when I started writing this book I wasn't sure how well it would be received. I thought perhaps only my immediate family and friends would be interested – but the response so far has been amazing and I've realised that I can use my knowledge and experience of dealing with ADHD to help other families and to raise awareness of the condition. It's like I've found my "calling" …
Writing the book has also opened up new opportunities for me, too. Even before it was out I was invited to speak at a conference organised by the ADHD Foundation later this year, and I'm embarking on a tour of local libraries to give author talks in June. I've been juggling promoting the book with client work, so I've not done a lot so far, but I have had an article published on the Primary Times website and I've also been invited to write a series of articles for SEN Magazine, which is fantastic news. I'm also being interviewed on BBC Radio Oxford next week! I'm going on a "learn to speak like a TED Talker" workshop next month and I hope to be able to develop talks that inform, inspire and educate people about what life with ADHD is really like. I really feel like finally I'm starting to do what I should be doing with my life …
So that's the story so far – who knows where this book will take me next, or what else I'll be able to do? I'm hoping to write more books on coping with ADHD and I have a couple of ideas for other writing projects too … watch this space!