So it's nearly New Year's Eve, a time to look back and reflect on the year gone by and look forward to the next one. I know some people have had a tough time – and I hope next year is much better for them – but for me personally it's been pretty good, with lots of new experiences and fun along the way. Here's what I got up to in 2012.
JANUARY
January was all about moving house. Steve and I decided to rent a place together so we spent many hours sorting, decluttering and packing our respective homes before finally moving in together at the end of the month. And I have to say it seems to have been the right move for us all! Before the move we did celebrate my birthday with a trip to Stamford Bridge to watch Chelsea beat Portsmouth in the FA Cup 3rd round, followed by a very good Thai meal.
FEBRUARY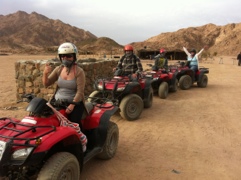 Following the house move we all felt we'd earned a holiday – so in February the four of us flew off to Egypt for some sea, sun, snorkelling and scuba diving. It was fab showing the kids round "our" Dahab and as well as doing plenty of water sports and a lot of relaxing, we also took some quad bikes up into the mountains, which is an experience we won't forget! We also did some very grown up furniture shopping …
MARCH
March was all about getting down to business, with new client meetings, a trip to London for the Business 2012 show and a new home office. There was time for fun too – family over for lunch and to test out our new dining table and chairs, a Los Campesinos! gig in Oxford, an exhilarating RIB boat trip on the Solent (Steve's Xmas present), football (Swindon vs Torquay) and an amazing firewalk, where I really did face my fears and walk on burning coals 😀
APRIL
April was a quieter month as we were gearing up for the event of the year – Katie's 18th birthday party! She and a friend had a joint Harry Potter themed party and it was a resounding success. We also managed a gig – John Bramwell from I Am Kloot, saw Oxford Utd vs Torquay, watched the Hunger Games and I gave blood.
MAY
May began with Katie's birthday, a trip to Chiquitos and her first legal alcoholic drink! Steve's family visited the same weekend and we had a very wild and drunken night at home, definitely making it a birthday to remember. This was also the month when Chelsea won the Champions League and we watched the match in a pub in Oxford, before catching the end of an Admiral Fallow gig. There was more football fun as Steve and I went to Cheltenham to see them play the mighty Gulls.The month ended with a fun Eurovision party down in Kent. There was also plenty of work going on, including a 4Networking team training event, an interview to  on Faringdon Radio to talk about my (now defunct) Jelly group and a marketing workshop. And (much to my mum's horror!) I got a tattoo…
JUNE
In June I successfully failed to organise a Canons High School 25 year reunion, with lots of people saying they'd come but only a handful actually turning up! It was fun, even though I didn't actually remember half the people there … We also spent a weekend in Sheffield visiting Steve's family, which included a walk round the Botanical Gardens in the rain; Steve and I went to our first ever auction; I was thrilled to attend the launch party for Lisa Cherry's first book Soul Journey, which I both edited and was a contributor too; Steve and I spent a day in London visiting the Damian Hirst exhibition at Tate Modern; and I delivered my first ever workshop as part of a Social Media Insight Day.
So that was the first half of 2012 … Pretty busy! The remaining six months will follow tomorrow.