Following my session with Lesley Beattie, Your Organisational Angel in December I've carried on decluttering the house and garage. I'd really been worried about the amount of stuff I have and how I was going to pare it down – but using Lesley's guidelines I've actually found it remarkably easy!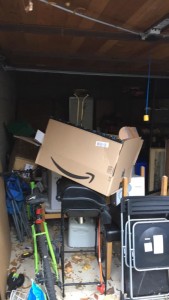 My biggest concern was the garage. Despite only moving here three years ago, the garage was full of stuff – some of which had been moved from one garage to another for several years! I have to admit I actually had no idea what was in there, and the idea of decluttering it rather than just moving all the boxes again was worrying.
However, one day after Christmas I decided to tackle it.  I started by pulling everything out so I could see what I'd got. Then I moved things around into spaces for keep – bin – give away. As the bin pile grew larger and larger, I found myself feeling not panic but a huge sense of relief. All that worrying and – just as with the box of "special things" in my office – it turned out that nearly everything was junk! I piled all the rubbish I could fit into my car (a Saab convertible – not an easy task, but easier with the roof down!) and took it to the tip. One carload down, a few to go!
I also had a pretty big pile of things to get rid of. This was stuff that was perfectly useful – just not to me any more. An impractical and ugly coffee table; a breadmaker not used since 2006; a chocolate fondue set acquired in a bulk lot from an auction; a gas barbecue, bought at an auction for a fiver and only used twice in two years; my old car radio; an ancient Macbook acquired from who knows where, never used and with no power cable; an oil painting, one of two bought at an auction for a tenner and allegedly by Britain's most forged artist. You get the picture! I offered these up on the Facebook free sites and also on my local Freegle and everything was snapped up within 24 hours. But as well as clearing out the space, giving things away gave me a lovely warm feeling. The coffee table went to a primary school teacher who said it was the perfect height and design for a display table in her classroom. The breadmaker was exchanged for eight 5L water bottles for moving my aquarium water. My daughter had the radio for her boyfriend's car; a friend had the MacBook for  his son – and it worked! The fondue set was collected by a mum who said her children had been nagging her for one for ages, and the barbecue also went to an appreciative new home. And that oil painting? My neighbour wandered past and commented on how much he liked it – and was delighted when I handed it over!
After a few hours it was getting dark and although I'd decluttered an awful lot of stuff there was still loads in there – including the dreaded boxes of doom, which have followed me around for years. So I piled everything back in, closed the door and tried to forget about it overnight.
Next day I went back out to tackle said boxes of doom. And okay, I have kept quite a lot of what was in there – mostly photos and unique cards my kids made for me – but I also threw away loads of things. Like the brochures from my honeymoon in South Africa – I've been divorced five times as long as I was married – and the teddy bear given to me by my first proper boyfriend in 1987. Lovely though Squidge was (the teddy, not the boyfriend!), he'd sat against a damp window many years ago and gone mildewy. That hadn't stopped me carting him around in a box for the next two decades. It was time for poor flat manky Squidge to go.
I was hugely grateful to a friend who helped out. Anne came round with some more water bottles for me and offered to take some rubbish to the tip for me. Not only did she take a full car load that day, she came back three days later to take two old bicycles and two broken lamps! What a star. Really helped me out as there's no way they would have fitted in my impractical car, and I would have had to pay the council to take them away. A bouquet of flowers will be heading Anne's way before I leave.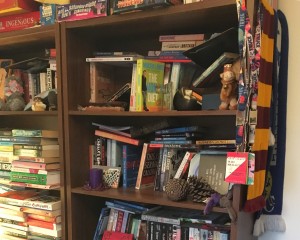 Books have also been a problem for me for many years. I've always been a bookworm and I love having books around me – even though I almost exclusively read on Kindle these days. There's just something about a house with books that appeals to me. But I had too many and they had to go.
My mum was a huge help here. "You do know, if you get rid of a book and later decide you'd like to read it, books still exist?" she asked me. D'oh. With only a very few exceptions, I'd be able to replace all my books if I felt the need … so why was I holding onto them?
I didn't want to completely get rid of all my books – the thought of coming back to a house bereft of books doesn't bear thinking about – so I set myself a limit of three small boxes to store and one to take with me. This meant I really had to think carefully about what to keep. I'd soon packed away a good selection of fiction I've loved and will read again, and reference books that I've actually found useful rather than coffee table books. I also found several books I am adamant I want to read in the near future, and these are going with me to Portugal.
Then I selected several books I'd read and loved, but was less likely to read again. I'd already decided on doing a budget Christmas, so I decided to gift these books to my family, along with homemade sweets and biscuits. My nieces each received a childhood favourite and a craft book and I chose what I hoped would be appropriate books to gift to everyone else. OK, another way of putting it would be "offloading" …! But they all seemed to appreciate them.
But what to do with the rest – several shelves full? First I opened the Ziffit app, which I'd used to sell some CDs and DVDs,  and started zapping barcodes. I was disappointed that very few novels were accepted, but lots of my non-fiction books could be sold for 50p or so, with some going for considerably more. Very soon I had a couple of boxes of books that would earn me just under £100!
Next I pulled out a load of books I had no attachment to and no reason to hang on to. Some went to a charity shop, some to friends, I sold a huge collection of vintage Agatha Christie novels via Facebook and my mum took a big bag for the second hand book stall at the Vale and Downland Museum.
I had four boxes to go and was thinking I'd take them to a charity shop – but they were all complaining about having too many donated books. So I offered them on Freegle in a last gasp hope that someone would be interested. And someone was! A lovely woman collected them for her friend, who is starting a local initiative of a mobile book swap service, visiting those villages that don't have access to a library. My books would make up some of her starting stock. How fabulous!
And so the decluttering mission has continued, with things being rehomed wherever possible (including a huge carved ethnic wooden table that I thought I'd have to take a sledgehammer to. When I offered it up on the free sites, I was overwhelmed with offers and it went to a carpenter who plans to upcycle it.) Ok, there are still piles of stuff everywhere and the house looks like I've been burgled, but at least I know that everything left will be stuff I need to pack, either to go into storage or into the car bound for Portugal.
What have I learned from decluttering?
I  don't need so much stuff. So long as I have the basics to do what needs doing, I don't need the latest shiny gadget or several versions of what is essentially the same thing.
Unless they bring me specific joy by being aesthetically pleasing AND I actually have them on display, I don't need souvenirs to remind me of holidays and days out – those postcards and tickets and guide books have all gone in the bin because I have my memories, and photos, and that's all I need.
I've really enjoyed giving things away and knowing that objects I no longer want or need, or that have been in storage for years, will be given a new lease of life.
I've come to appreciate that it's the thought behind someone gifting me something that's the actual joy, not the gift itself – and if the gift doesn't bring me pleasure then there is more joy to be had in passing it on to someone who will enjoy it.
I finally realise that books still exist even if they're not owned by me, and that there is very little that's irreplaceable.
I've decluttered drawers and boxes of little bits and bobs that I thought were special for some reason – but only a few days later I can't actually remember what was in there.
And I know that everything I've kept has been kept for a reason – and that means I value it even more now.
I'm walking away from this exercise with a sense of achievement, a sense of relief and half the stuff I had before – and I have no regrets!