This entry is prompt #5 of The Book of Me, Written by You project.
The prompt for week 5 is Your Childhood Home

Was it rented or owned? – with parents/Grandparents

What was it like – describe it – each room.

Were there a favourite room?

Is there anything you particularly remember from the house?
My childhood home is in Harrow, Middlesex (or Greater London, as we're meant to call it nowadays). Harrow is best known for the hill and the school but we were definitely in Harrow-at-the-bottom-of-the-Hill, closer to the rather downmarket Wealdstone than the posh part. In fact, when I was a child our road was opposite Wealdstone FC's football ground; the site is now a Tesco. The road is called Elmgrove Road and in the past there were indeed elm trees along the bottom half of the road (just past our house) but they were all chopped down when Dutch Elm Disease struck in the seventies. The road is long and straight, ending at a tunnel that passes under the railway line. Our house is about halfway along the road on the left, but actually we are the last house on the left hand side of the road. In the old days there was a huge field next to us, but it's since been built on and there's an old people's home and an industrial estate there now. The house is still officially the last individual residence on that side of the road though. It's the last of a row of four terraced houses and there's a lane next to it that goes behind the four houses and gives everyone access to their garages, as well as access to garages attached to the houses in the road that backs onto ours.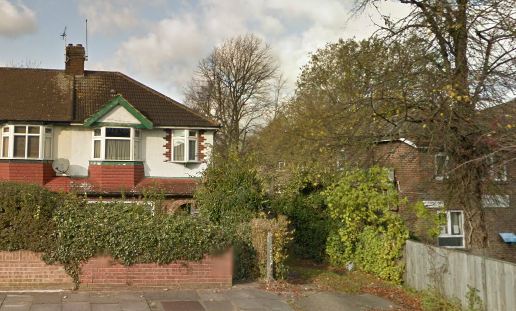 You can't really see the ground floor of our house from the pavement as it's at a lower level and there's a wall and a huge forsythia hedge running the width of the house. To get to it you go through the gateway (the gate fell off long ago) and down a steep flight of five steps. In recent years my dad has had the steps relaid and they are less steep now, but still not the easiest of steps to navigate. Our front garden was laid out with mainly rose bushes and a hydrangea in the middle, with narrow concrete pathways separating the geometric – mainly triangular – beds. The front of the house has a wide window for the front room, and an open porchway. The front door has been, as far as I can remember, blue, green and possibly even red at one stage – though my memory is failing me on this point!
The front door opens into a hallway and behind the door is a hall table – I think the one there now is not the original one (though it may be) but ours is the only house in the world that I can remember having a hall table! (OK that's not quite true – my grandma had one, but they are few and far between.) The table has a big mirror and a shelf under for the phone directory and it used to have a stool at one stage – though I always remember my mum sitting on the bottom step when she called my grandma every Sunday, and my dad pacing up and down when he was on the phone!
Now our house has changed a fair bit during my lifetime. When I was small the front room was our living room. I can't remember a huge amount about it but there were two alcoves full of books (still there now) and there was (still is) an electric fire. Around the fire was kind of plasticy textured wallpaper – I think it was meant to be a pebble design but for some reason I've always thought of it being bacon and fried eggs! When I was very young we had a hideous black sofa with an orange flower pattern – which ended up in my bedroom for a while – and then we got a very seventies orange modular sofa. The back room was the dining room, and there was a round table (which opened out to an oval) and a sideboard. The kitchen was galley style, very narrow, with a pantry at the top end and a door to the garden at the bottom. The garden had a small concrete area and then there were a few steps down to the lawn and there was a rockery filling the gap between the concrete and the grass.
However, when I was about 8 or 9 my parents had an extension built. This meant that the dining room was extended and became a lounge diner – we got a new sofa and chairs, this time green velvet, and they were at the top end, and the table and sideboard moved to the bottom end, looking out through patio doors to the (now much smaller) garden. Gone was the concrete area and the rockery – now you go down steps from the dining room to a tiny strip of paving and the lawn – and a pond! In the garden is a cherry tree, which was dead for years but still stayed upright; a lovely lilac tree; and an apple tree that my brother and I used to climb. The apples were only good for cooking but we got plenty of them each year – and plenty of wasps too! At the bottom of the garden is the garage, though it's never been used to house a car in my lifetime. It was my dad's shed for a long time, and he often disappeared down there to build planes or sledges or to play with his model railway. The garage has fallen apart now and the railway is in the attic, though I don't think my dad goes up there much nowadays.
The front room became my dad's den …. ok we used it too, especially as he had an electric organ in there, which we used to mess about on. We also had a six foot snooker table and spent many hours playing snooker or, occasionally, billiards. But mainly it was a junk room and Dad's den, and it's still definitely his den nowadays, though the organ has gone and he has wall to wall bookcases in its place.
The kitchen moved to the new extended bit, and to be honest it wasn't much bigger than the existing one, but the old kitchen had cupboards in it and was used for storage. There was also space for a hostess trolley that housed our ZX Spectrum computer – I spent many happy Sunday afternoons sitting there playing Football Manager!
Upstairs has changed very little in my lifetime really. We had a reasonable size landing with five doors off it, and the laundry basket.The first room on the left was my brother's bedroom – he lost out and got the boxroom, poor boy! He had a bed and a shelf unit that my dad built, and a scruffy old chest of drawers that he covered with stickers, and a few more shelves on the wall. He also had a half-bay window, and when we had budgies they lived on the windowsill in his room.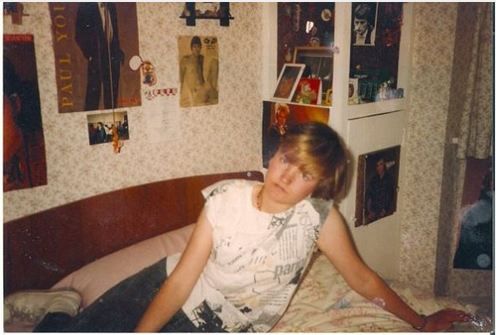 Next door was my room. The previous owners of the house had built in some cupboards but the space between them wasn't big enough for a full size double bed, so from a very young age I slept in a four foot bed, which was very nice to have as a child! At some stage Dad built some wardrobes along one wall, partially for me to put stuff in and partially for extra storage for other people. It meant I lost a chunk of the room but that didn't matter really. I do remember the sliding doors never quite worked though, and had an annoying habit of falling off the runners! I had a full bay window and when I was a teenager I had a desk in it. When I was young my bedroom had yellow wallpaper but when I got older I was allowed to choose wallpaper for it. I chose one that was white with small flowers, and I had matching curtains too. I don't think it would be my choice nowadays, but at the time I felt very grownup! As a teenager I was very into music and my bedroom walls and wardrobe doors were covered with posters of my favourite bands. I was also a big fan of actors James Dean and Matt Dillon and snooker player Tony Knowles, so I had pictures of them too. (I was a bit of a weird girl!) I loved my bedroom and spent a lot of time up there, playing when I was young, reading when I was older and getting up to all sorts of naughty things when I was older again (mainly involving alcohol!). The photo is me in my bedroom in 1985, when I was fourteen.
Next to my room was my parents' bedroom, and I just remember it being very white – white(ish) walls, white painted furtniture, white bedspread. I might be wrong there though.
Then came the toilet – tiny – just about room for the loo! – and separate bathroom – again tiny, green bath and sink, with the floor space the length of the bath and the width of the sink. Now I live in a house with a downstairs loo, an en suite loo and shower and a huge family bathroom, and I can't imagine how four of us managed with that tiny bathroom for all those years – or how my mum managed to bath two wriggly toddlers in there! The bathroom and loo wallpaper was green and white, with those tiles that look like maps that everyone had in the seventies.
So that concludes this brief tour of my childhood home. My mum and dad bought the house in 1970 when they married, and as far as I know they paid £6,200 for it. As a child I loved our house and I still do, though now it feels quite small compared to where I'm currently living. However, because it's in Greater London it's now worth well over a quarter of a million pounds. The house next door sold for £320,000 last year and that doesn't have an extension. Crazy prices. I left home when I was 18, as soon as I'd finished my A Levels. I was anxious to get on with adult life and I moved to Hounslow, west London, where I shared a room in a house with my boyfriend of the time. My brother moved out when he went to uni at 21, and Mum left in 2000, when she and my dad separated. Dad still lives in the house now, and I can't imagine him ever living anywhere else, if I'm honest.
I'll add more photos when I find my childhood photo album, or plunder my mum's collection!