This entry is prompt #21 of The Book of Me, Written by You project
This week's prompt is – Hobbies




Childhood hobbies & collections

Did you share a "passion" with a family member or friend?

Tell us about it – How, why, where

Do you still have any old hobbies – the ones that have been with you since childhood?

Do you still have those childhood collections?
When I was a child I collected all sorts of things. My biggest collection was Wade Whimsies. My grandma gave me two Whimsies – a tortoise and a Bambi – that were hers and it grew from there. Mum and I used to go to antiques fayres where she would look for Goss china and I'd be on the hunt for Whimsies. I probably had about fifty in the end, but of course I grew up and left home and ended up selling most of them on ebay. I still have the original two though, in a box in the garage.
I also collected postcards of Cromer – one of my favourite places. Some I bought while on holiday in Cromer; the rest came from collectors' fayres. Again I abandoned the collection when I left home – I think beer and gigs became more important! – but my mum kept the album and has added to it, and I would imagine one day they'll come back to me – but not for a long while yet, I hope.
Another couple of collections were a little more weird. For a while I collected jokers, and I also collected sugar sachets – though I think I actually ended up using my collection in my tea!
So those were my childhood collections, and as an adult I collected ornamental hedgehogs. When I was about 15 I had a spiky haircut and hedgehogs were my favourite animal. Mum bought me a hedgehog one birthday and the collection soon grew to over seventy. At the time I was living somewhere with a big semi circular windowsill to display them on but in the three houses since I've not really had anywhere to put them and sadly many have got damaged, and a few more have been sold. I've still got about twenty or so, in a box in the garage.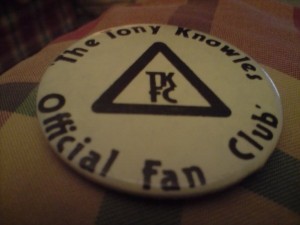 I had various other hobbies as a child, and many of them have followed me into adult life. I've always loved reading and writing and I kept a diary as a child; I still journal on and off now. I enjoyed taking photographs, listening to music, going to gigs and watching football, and I still do all those things now. But I guess my big obsession as a child was snooker. I was actually snooker loopy – and especially loopy for Tony Knowles, who was a rather good looking young (well, in his thirties) snooker player in the 1980s. I watched snooker whenever it was on the TV, I read books about snooker, I debated snooker with a friend at school and I even went to see some live snooker thanks to Mum! I liked many of the players but Tony Knowles was definitely my favourite and I had a couple of posters of him on my bedroom wall – including a cutout from The Sun, when he was their "Page 7 Fella"! I was also a member of the Tony Knowles Fan Club, had a photograph of (possibly) his white Mercedes and hand-painted a t-shirt with "Tony Knowles is my number 1!", which I wore when I met him after a match. I guess you could say I was obsessed … Today I find snooker dull and boring and all the players are very beige. Obsession cured!
However, I do still tend to get obsessive about things now and then. Recently I discovered art journalling, spent a small fortune on art materials and did crafty things every weekend for a couple of months, but I haven't done any for a while now (apart from some Xmas cards). I bought a guitar but got bored after I learned four chords. At one time I was fascinated by all things paranormal, and read every book I could get my hands on – before dropping that interest very quickly. I just don't know what the next obsession will be … Or when it will hit me!