This entry is prompt #7 of The Book of Me, Written by You project.
The prompt for week 7 is Grandparents

What were their names?

Where were they from?

Were they related? – Cousins perhaps

Where were they born, another Country or state/area

Photos

What did they do?

Did you know them?

What was your relationship with them?

If you didn't know them have you researched about them?
My Maternal Grandparents
Mary Stansfield and Fred Stansfield (Grandma and Grandad Fred)
Eileen Smith and Frank Herron (Grandma and Grandad Yorkshire)
Let me tell you a little story …
Yorkshire, shortly before WWII. Frank Herron, a Londoner who'd been called up and was based in Halifax, meets Mary Stansfield, a good Yorkshire lass who works in a bakery over the road from the barracks. They marry and a baby is conceived. Then Frank is sent away to fight the war, leaving Mary to deliver and bring up the baby alone. Linda is four when she first meets her father and she doesn't understand who this strange man is; in fact, after a week of him being home she asks her mother, in earshot of her father, when "that man" is going to leave. The relationship between father and daughter is never good and though he provides for his family, Frank is never really a proper dad to Linda.
After the war Frank works as a commercial salesman and Mary works in retail, in another bakery and later in a ladies' outfitters. When their daughter is 12 they buy a business – a florist's shop. Mary's best friend Eileen trained as a florist before her marriage and she teaches Mary everything she knows, and Mary, being the creative type, picks it up very easily. Mary owns and runs the business but Eileen also works in the shop.
Spool on some years. Linda has a place at Exeter University to study German. However, her mother has become very ill and the day before Linda leaves for uni Mary goes into hospital to have an operation, a heart valve replacement, one of the first operations of its kind in the country. Surgery goes well but she is very weak for a long time afterwards. Eileen takes over the running of the florist shop while Mary is recuperating.
Two months later Mary receives an anonymous letter. It says that her husband Frank and her best friend Eileen have been having an affair. Mary confronts Frank, who admits that they have been conducting the affair for five years. Next day Mary wakes late to find Frank gone, along with all his possessions, the money from the joint bank account, even the contents of the red tin where the bill money is kept. All Mary has is the money in her purse – a £5 note and a few coins. Later that day Eileen's husband calls, concerned that Eileen has disappeared … she's gone as well.
Linda, away in Exeter and enjoying university life, is blissfully unaware of what is going on. At Easter she goes to Germany as part of her degree course, and at some stage she stays with some family and her mother comes over for a few days – and finally tells her that her father has left. Mary tries hard to find Frank – and finds out via the bank that he and Eileen are living in London. A divorce is arranged and the marriage is over. Linda doesn't hear from her father for three years – no birthday cards, nothing. Eventually she receives a letter from him, which she throws away. Another letter arrives and she reads it and agrees to meet him – by this time she's left uni and is about to go to Finland for a year to teach English, so she stays over at his house in Stansted, with him and Eileen, by now married, the night before she sails. As you can imagine, it's a difficult evening. The relationship between Linda and her father deteriorates to the point where she doesn't even invite him to her wedding. Once she has her own children she keeps in contact, believing that her children deserve to know their grandfather regardless of what he's done. To his credit, though he doesn't see his grandchildren often, he does a reasonable job of being a grandad. Frank and Eileen eventually move back to Yorkshire and stay together, happily, till their deaths a year apart in the mid 1990s.
Back in Yorkshire in the 1960s Mary is finding life difficult. With Eileen gone there was no one to run the florist shop while Mary was ill so the shop closed and the lease was relinquished. The shock of Frank's affair brought on depression and Mary was prescribed Valium, but after a few years of feeling like a zombie she decided she'd had enough and threw away the pills. Now she doesn't really know what to do with her life … until a letter arrives from her cousin, Fred Stansfield.
Fred's branch of the family live in Cardiff. In his youth Fred had been a footballer; at his peak he was player-manager for Cardiff City and won a cap for Wales. He married Vera and the couple had a baby, Janet; it was a tricky birth as Vera suffered pre-eclampsia but fortunately the baby, Janet was born tiny, but alive. A broken leg put paid to Fred's playing career and after stints as manager at Newport and Barnet he and Vera opened a newsagents in a small village near the city. All was well till Vera died suddenly of a blood clot in the brain, when Janet was 18. Fred struggled to run the shop on his own but he had no head for business … hence the letter.
In the letter, Fred invites his cousin Mary down to Cardiff to help him run the shop. They've always been close and he's heard from other family members that Mary is at a bit of a crossroads in her life. It's just what she needs to get things going again. She moves into Fred's bungalow – sleeping separately at first, but the couple soon realise that the closeness they have always felt is actually love. In fact, they are soul mates. After a couple of years they marry. Janet finds it hard to accept – she feels that Mary is trying to replace her mother. However, Linda is thrilled as she knows her mother deserves some happiness in her life.
They run the newsagents shop together till their retirement and then enjoy some quality time together. They're a perfect match – they never argue, they're always happy. Mary's health is not good – she has further heart surgery, arthritis, osteoporosis, sciatica – but Fred is always there for her. Mary and Fred enjoy a very happy life together for nearly thirty years, till Mary dies, suddenly, on 12th December 1997 – Fred's 80th birthday. Fred spends the next ten years mourning for Mary until loss of memory through Alzheimer's, curiously, takes away the pain. He's still with us now, approaching his 96th birthday, though these days he doesn't know who he is, let alone anyone else.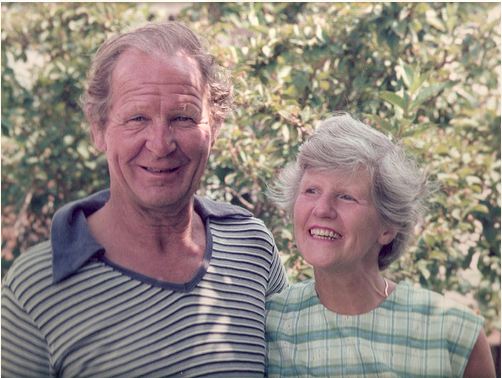 Meet my maternal grandparents – Grandma and Grandad Yorkshire (my grandfather and step-grandmother) and Grandma and Grandad Fred (photo, left) – two of the happiest, loveliest people you could ever meet.
I was never close to Grandma and Grandad Yorkshire – as a child I thought it was just because they lived so far away, but now I know the full story the reasons are obvious. On the other hand, I was really close to Grandma and Grandad Fred. Because of the newsagents business they were rarely able to visit us but we often used to go and stay in the school holidays and we had great fun "working" in the shop! Grandad worked incredibly hard – up early to sort out the papers for delivery, and usually the last to leave the shop at the end of the day. He was a bundle of fun though, the kind of man who was always laughing, singing or whistling. Grandma worked hard too but when we went to stay she usually managed to get some time off to take us to the seaside for the day. As a teenager I went through a period where I was a bit embarrassed of my grandma, with her flapping slacks and funny fur hats, but as I got older I became much closer and taking my baby daughter to visit her was one of the highlights of my life. She was a fabulous Great Grandma – or GiGi, as she became known – and though she died when Katie was 3 (and Dan was only 5 weeks old) there are many lovely memories of her to carry on through the generations.
My Paternal Grandparents
Evelyn Smith and Roland Thompson (Nanna and Grandad Pussies – because they had two cats!)

I've always been very proud of the fact that I am descended from gypsy stock. My great grandfather Cornelius Smith was a full Romany and the great nephew of Rodney Smith, the famous gypsy evangelist. Cornelius' father Ezekiel was from the last generation of the family to be tent dwellers. In fact, the story goes that Rodney bought Ezekiel a house but when he came round to visit one day there was no sign of Ezekiel. He was camped out on Ely Common, complaining that the house was too cold to live in and he was much more comfortable in his tent! Anyway, Great Grandfather Cornelius was a builder and bricklayer – apparently a very skilled one at that. He was doing some work at a house where he met chambermaid Jane Sparrow, my great nanna (who died at the grand old age of 101 in the early 1990s) and they fell in love and married. They had one son, Douglas, and then emigrated to Canada, as so many people did back then, to find a better way of life and make their fortune. I can only imagine that the streets weren't paved with gold after all, for they returned a few years later, now with a daughter too – my nanna, Evelyn.
The family lived in Ely, Cambridgeshire, and Cornelius continued in the building trade, working for the same construction company until he was 70. As far as I know Jane was a housewife. Evelyn left school and became a tailoress for one of the official Cambridge University tailors, and that was where she met Roland Thompson, my grandad.
Roland's family were mainly farmers and railway workers – his father had been an engine driver – and his mother was a professional cook. Roland tried but failed to get a job on the railway himself and he found work as a tailor. After meeting Evelyn they married and had two children – John (my dad) and Janice.They lived in Cambridge, first in Coldhams Lane, then in a university-owned house and finally in Harvey Goodwin Avenue, named after a Cambridge academic and clergyman. At some stage Grandad got an administration job at the Cambridge Union, and Nanna worked in the Union cafe. However, Grandad's career took him through the ranks and eventually he became Chair of the Union and he felt it was unseemly for his wife to be working in the cafe, so he made her give it up. Apparently she really enjoyed the job, she was very sociable and loved meeting people, but she was also an obedient wife and she took on the role of full time housewife, making sure the house was spick and span and dinner was on the table when Roland arrived home each night.
We used to visit my grandparents in Cambridge two or three times a year – I almost feel like a traitor, living as close as I do to Oxford now – though I will always prefer the lush riverside parks of Cambridge to the dreaming spires of Oxford! We almost always saw my great uncle, Roland's brother Mervyn (actually Albert Mervyn … But I don't think anyone called him Albert). He was a teacher at an all-girls school and a talented musician, a bachelor and a bit of an eccentric. The story goes that Mervyn was also sweet on Evelyn but was a very shy man – and Roland stepped in and asked her out first. Interestingly, my dad is much more like Mervyn than Roland …. I'm sure it's all just genetics but it does make you wonder …..!
Grandad died when I was 9 so my memories of him are quite vague. He retired from the union in May, when he turned 65, and died six months later, one Saturday in December; he had a massive heart attack and literally dropped dead on the bedroom floor. I remember Douglas phoning to tell us … We were watching Swap Shop on the TV, Dad was (unusually) home and Mum answered the phone. One of my biggest regrets is that I didn't go to his funeral … My parents though my brother and I were too young.I remember Grandad as a lovely man, very entertaining and always smiling. He smoked a pipe and the smell of pipe tobacco always reminds me of him. Perhaps my most vivid memory is of him rubbing balloons on his jumper and sticking them on the ceiling, all the time laughing his head off! However, my dad says he was very strict,a workaholic with no hobbies or interests outside work, so obviously I didn't know him properly. I have fond memories of Nanna and Grandad's ruby wedding party – my cousins, my brother and I were allowed to decorate the cake and we used every single decoration we could find – including Father Christmas! Of course Nanna and Grandad loved it.
When Grandad died everyone thought Nanna would fall apart because she had been devoted to Roland. They were also a very traditional couple and he managed the finances while she kept the house nice – until his death she had never even written a cheque! But she amazed everyone by coping really well with his death. She stayed on in Cambridge for a few years and then moved down to Somerset where my aunt lives. Despite having all sorts of problems with her back and being in pain a lot of her life, Nanna was a dear, and she played a big part in my life. She'd often come on summer holidays with us and I can picture her now, sitting on the beach at Cromer with her headscarf on! There are many "nanna phrases" that bring her back to me – "Husky, dear" and I'm easy, dear" will always bring a smile to my face. She was quite a saucy character, with a wicked sense of humour and a penchant for lacy underwear, even in her old age.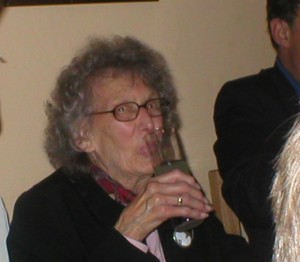 Nanna lived in her own house in Somerset till she was almost ninety, when she went to live in a care home. We threw her a surprise party for her 90th birthday. I'm not sure if it's wise doing that to someone at that age but it was a lovely event and she seemed so thrilled to have all her family, including her great grandchildren, with her. Nanna had a stroke the following year – my cousin and I went to see her and she couldn't speak to us but scribbled on a notepad "Not dead yet!" – and later she fell and broke her hip. She was pinned back together and was soon back on her feet but sadly her health started to deteriorate quite quickly from there and she died in 2011, aged 94.
I think I've been truly blessed to have had such lovely grandparents, and to have been given the opportunity to get to know them. Grandma and Grandad Fred and Nanna played a huge part in my life and I feel their influence and heritage every day. I'm actually shocked at how little I know about my paternal grandparents in comparison with my maternal ones …. time to do something about that!
More photos to be added.