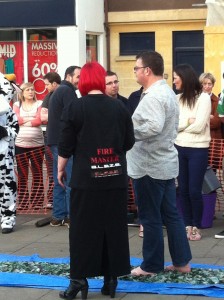 Thing #90 – do a fire walk – was added to my list of 101 things in 1001 days as a bit of a last resort to be honest. I was running short of ideas for the list and someone on the 4Networking forum suggested a fire walk and I thought, "Yeah, why not?!" Didn't really occur to me that a FIRE walk would involve fire …. and I am really scared of fire! Anyway, I decided it would be a good way to confront my fear head-on (or foot-on, rather) so when Karen Sterling of BLAZE Firewalking called me to say she was organising a fire walk in Witney and would I like to come along, I couldn't really say no!
I arrived expecting to go straight into the training session but things were running a bit late. I was very surprised to see my friend and fellow 4Ner Stef Thomas and his oldest son, who were also doing the fire walk, walking on broken glass! Looked very painful to me, though I didn't see any blood. It made me think I'd drawn the long straw with the fire walk though, because it definitely seemed the lesser evil of the two options!
Anyway, to prepare for the fire walk Karen took us all through about two hours of motivational training to get us in the right frame of mind to confront the burning embers … When you're about to walk on heats of over 1000 degrees Fahrenheit you need to prepare! The training was great fun and very enjoyable, but also had some really useful techniques and tools that we can use beyond the fire walk. We had to pull silly faces, act out emotions, be a Jerry Springer-esque audience and smile at the ceiling. It might all sound a bit daft but believe me,  it really made me feel strong and confident and ready to take on the challenge.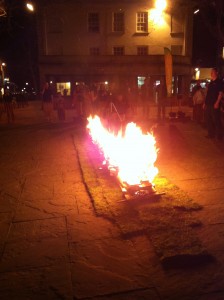 Strong, that is, until we went out to see the fire being lit – up till that point I'd been fairly comfortable about it all but I suddenly realised that this really did involve fire and seeing the flames freaked me out a little bit and I really started to doubt if I could go through with it. We walked alongside the fire – 8 steps, that's all it would be. 8 steps at 1236F ……. aargh! We did a few more exercises, were all hyped up and ready to go and then the walk began …
I was one of the last to go. I could see that everyone else had managed the walk without injury but I was petrified. All the time I was muttering, "I am strong. I am powerful. I am magnificent" – one of the mantras we used in the training session – but I didn't feel strong or powerful OR magnificent – I just felt absolutely terrified! The queue of people slowly moved on – three ahead of me. Two ahead of me. One ahead of me. OMG …. this is it – my turn. I stood on the grass at one end of the fire and looked at the glowing embers. I really didn't think I could do it.  I looked at Karen and said: "I am strong. I am powerful. I am magnificent!" I was ready …..
I took my first step, then another and before I knew it I was at the end of the twenty foot bed of red hot coals. I'd done it – and I couldn't believe it. I'd been so scared yet it was a walk in the park. Wow! I wasn't prepared for how completing the fire walk would make me feel. I was exhilarated, it was such an adrenaline rush to finish it and I couldn't stop smiling – but I also felt really emotional too, I actually had tears in my eyes!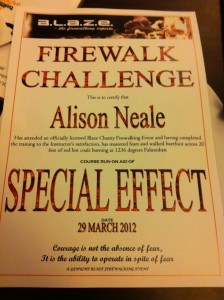 It was a truly extraordinary experience and one I'll never forget. And it's taught me a couple of important lessons. Firstly, however difficult or challenging things look, they're probably not that difficult after all, if I put my mind to it. Secondly, I have amazing inner strength – if I can overcome my biggest fear and walk on burning coals I can do anything, achieve anything.
Finally a word to the organisers – BLAZE. Karen and her team were amazing. Safety was evidently paramount and they did everything the could to reassure participants that they would come to no harm. Karen's training session was remarkable, a great combination of fun and serious information and motivating exercises. If you're looking for a fund raising event with a difference bear BLAZE in mind … the night raised over £9,500 for Special Effect, a local charity that helps disabled young people have access to computer games.
Thanks also to Witney TV for filming the event … you can watch it here. I'm at about 4min40sec,  the 3rd or 4th person from the end and you can hear me squeal when I complete the walk! Shame I didn't get a name check in the credits though 🙁
(There are a couple more photos to come … once I get them off Steve's camera!)