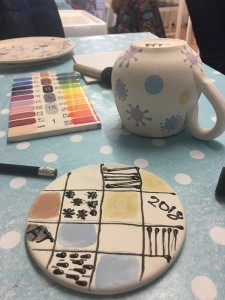 Mum, being the thoughtful person she is, perused my 101 things in 1001 days list for an idea for a birthday present, spotted "#1: Paint a plate (or mug or bowl)" and gave me a voucher to spend at The Pottery Place, which is a craft centre just round the corner from my house here in Witney, Oxfordshire. At The Pottery Place they have a huge range of pottery pieces for you to paint, from cups and plates to animals, plaques and letters. Once you've chosen your piece, you go upstairs to the studio where you can choose your paints and decorate it however you like.
I went one sleety Sunday afternoon and, after choosing a small jug and a round plaque, I spent a happy couple of hours painting the jug in a design inspired by Jessie Tait's "Flowermist" design. I've started collecting Midwinter pottery, especially jugs, and I thought it would be cool to have something in the collection that was all my own work, my take on a classic Midwinter pattern. I also painted the plaque in another Midwinter-esque pattern, though I have to admit it was less successful.
It was such a lovely relaxing afternoon, sitting there quietly watching the sleet fall as I chose colours and brushes and watched my pieces of pot transform from plain white objects to objets d'art…. well, something like that anyway! Staff were on hand to help with painting styles and brush types if I wanted advice, but they were equally happy to leave me to my own devices. I collected the pieces a few days later and was especially delighted to see how the jug had turned out. The colours had intensified quite a lot and I am so proud to place it within my collection!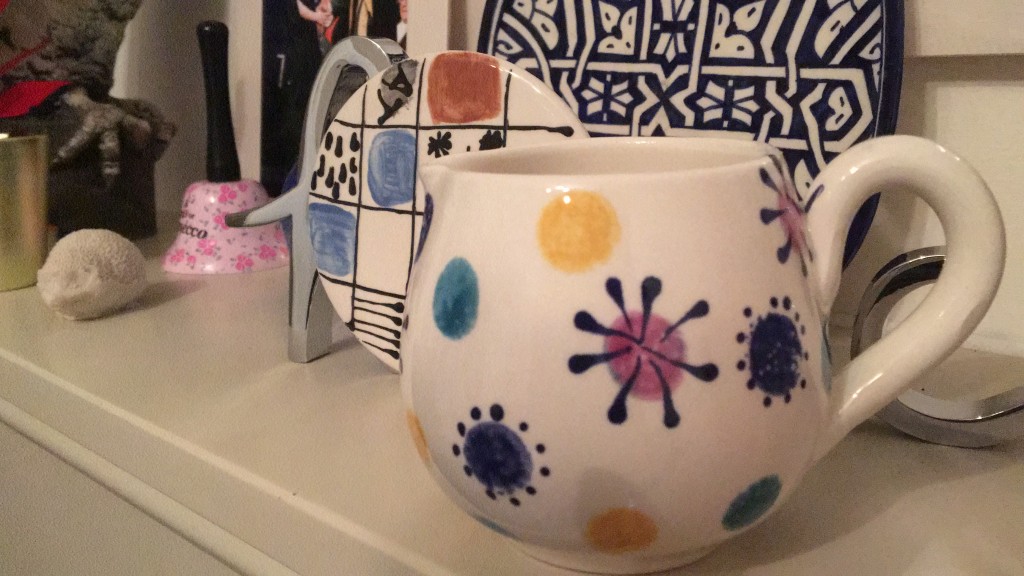 So that was something crossed off my list. Yippee! But I think I got the bug for pottery painting, as before I left the studio I'd signed up for a flower painting workshop – which was Thing #5 on my list, take an art class. Two weeks later I went back and learned a simple technique to paint really striking flowers, and this time I painted a cup and saucer. Partway through I was quite disappointed with how it looked, but again once the piece had been fired the colours are bold and I'm so happy with the design – in fact, a few people have said it looks like a professional job! The workshop was great fun. I went on my own but sat with three women who were very friendly, and at only £20 for the evening, which included all the materials plus tea and cake, it was great value for money too. I'm now wondering what craft I might try next, as they run all sorts of workshops – coming up are classes in blockprinting, mosaics and decopatch.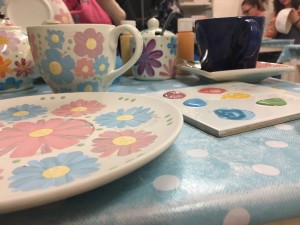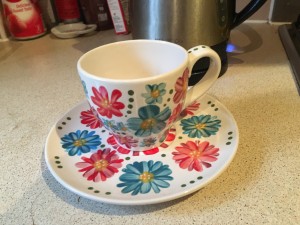 So two items crossed off my list, new things on the mantelpiece and a lot of fun along the way. I can definitely recommend The Pottery Place as somewhere lovely to go for a relaxing and enjoyable afternoon.