September
September kicked off with a trip over the mountains to see my friend Andrea (the owner of the farm where I lived when I first moved to Portugal). It was an eventful trip as the car overheated twice on the way there – the road just went up and up and up without a break! We had a lovely lunch together and went up to the miradouro (viewpoint) where we watched a storm come closer and closer and we only just made it back to the car before we got soaked! The trip home was interesting too, as I was driving through thunder, lightning and a hailstorm for a large part of it, which was fun!
I also went to a pizza night organised by my Portuguese teacher, who is THE PRESIDENT … well, the president of his local social association, at least. There was a good mix of immigrants and Portuguese, delicious and plentiful pizza, good wine, accordion music and dancing – what more could you want from an evening out!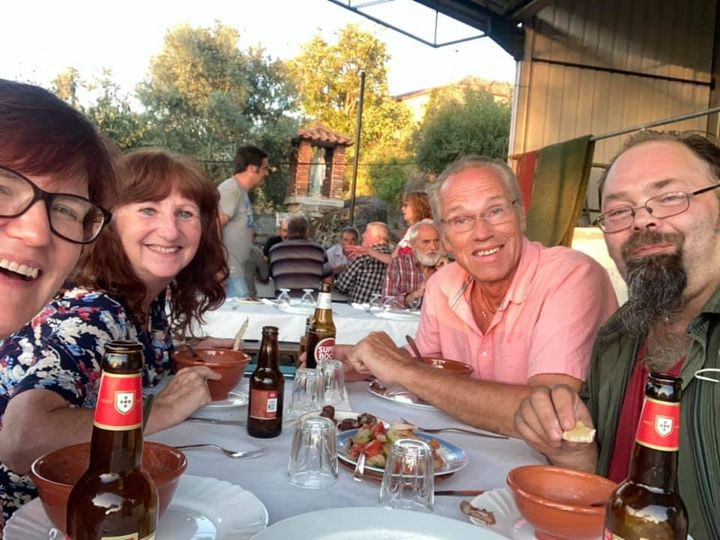 A trip to the UK
And then I was off to the chemist for a pre-flight Covid test (negative, phew!) and off to the UK for two weeks with my wonderful family, which included (deep breath): a haircut, a meal out with Mum and Dan (my son), Mum's book group, a trawl round the charity shops, a boozy night out with old work colleagues, a 6-hour round trip to spend 40 minutes being moaned at by my dad because I'd brought him too many chips, a hilarious trip to the theatre to see a Jenny Eclair comedy gig, two days cleaning out my storage garage and getting rid of THE SUM TOTAL POSSESSION OF MY ENTIRE LIFE barring about eight boxes (that was tough!), dinner in the garden with friends, curry and gin with another friend, lunch in Oxford with a new friend, a trip to the theatre to see a funny play called Groan Ups, a very drunken night out with Mum's neighbours, a trip to Sussex to spend a few days with my daughter Katie and her husband, a manicure, a family lunch out, a family curry night in, Katie and Phil's first wedding anniversary party/delayed wedding reception (complete with lots of family including my cousin, who I hadn't seen for years, and a surprise (well, surprise to everyone else!) ice cream van), and, finally, two days helping teacher Katie in her class as a teaching assistant…
And then I flew home for a rest!
Agueda
I had a feeling I might suffer the post holiday blues when I came back, so I planned a day trip to a small city called Agueda, about an hour from me. Every year, in July, August and September, it is the home of the Umbrella Sky Project, when umbrellas are strung across several of the streets, providing shade from the hot summer sun. There is also lots of street art all over the city, and there's even a handy printed map to show you where to go. Anyway, it was a cloudy day when I went – in fact, I needed an umbrella as it poured as I was walking along the river! – but I spent a lovely few hours exploring the city and taking dozens of photos, a few of which are here. It certainly helped to cheer me up!
October
A decision made … maybe ….
As we moved into October and the weather changed, I did some research into the financial situation of living here long term and got some depressing news, and that sent me into a bit of a spiral where I decided that I positively definitely wanted to move back to the UK, and I booked myself, one car, one dog and one cat onto a ferry from Santander to Portsmouth on October 12th 2022…..
I was adamant at the time that I was happy doing one more year in Portugal and then I'd be ready to go back to my old life, or something resembling it anyway. But now I'm not so sure. There's all the practical stuff, like where will I live, what will I live on etc… but also, despite all the problems and the missing my family and the bouts of loneliness, I do generally love the Portuguese way of life, the landscape, the culture (mostly, there are some bits I dislike intensely), the people… So we will see. I have until August to pay the rest of the ticket, cancel it or move it to another date. We'll see.
A weekend away
I'd originally booked myself a weekend away at the start of October, but for various reasons I postponed it to the end of the month, and that turned out to be a mistake as the weather was HORRENDOUS! It meant I wasn't able to do some of the things I'd planned, but it was a lovely weekend all the same, where I went to a new place, met a new friend and tried a new skill.
It started with a drive to Figueira da Foz, by the sea. The drive was hairy because there was torrential rain and I nearly lost control of the car twice… even scarier as I had the dogs in the back of the car, and they didn't enjoy the rain either! But eventually we made it there and had a brisk wet walk along the boardwalks that go along the beach. Figueira da Foz is one of those places that feels like a town with the sea attached, rather than a seaside town, and apart from a little cove where I did actually see the sea, the beach is a series of loooooong sand dunes away and it was too wet for me to make the long walk to find the waves. But the dogs enjoyed running in the sand and chasing flocks of seagulls, and eventually I made it to a very cool beach restaurant, where I had a late lunch (bacalhau com natas – my new favourite meal!) with a new friend. Vivian and I have been Facebook friends for a while now but this was the first time we actually met and fortunately we got on really well!
I then drove back inland to Quinta da Maceda, in the Serra do Sico limestone mountain range. My home for the weekend was PausaStay, self-contained accommodation run by Mark Gardner, who I had met several times at the food market. The accommodation was wonderful – four double bedrooms, two bathrooms, a beautiful living area, dining room and a well equipped kitchen with a door into a private enclosed garden. The place is either let as a whole or the rooms individually, but this weekend I was the only booking and had the place to myself! I chose the ground floor bedroom as it was easier with the dogs, and they loved exploring the house and garden.
As well as PausaStay Mark also runs PausaBrew – a micro brewery – and PausaArts – a pottery – and I experienced both of these over the weekend. There is a lovely outdoor bar area where Mark and I sampled a few beers on the Friday night – it was very wet and windy but the area is sheltered and was surprisingly cosy despite the weather. And then on Saturday afternoon Mark ran a pottery workshop that I took part in. I haven't done anything with clay for 35 years, and have never used a potter's wheel before, so it was a really interesting afternoon where I discovered it's at least as difficult as looks, if not even harder! I did eventually manage to create some sort of bowl, but I've a long way to go until I can call myself a potter!
I had planned to visit the caves at Buracas do Casmilo / Vale das Buracas and then stop off at the Busaco National Forest on the way home, but the weather was shocking so neither of those things happened. Ah well. Another time!
Mark was the perfect host and made sure I had everything I needed, while also giving me plenty of time and space to myself. The house is beautifully furnished and has a wonderfully eclectic collection of art and craft from around the world, and it's a really cosy and comfortable place to stay. I can definitely recommend it!