So thing number 84 on my list of 101 things to do in 1001 days was "Buy something at an offline auction". I've spent way too much money on ebay over the years, and enjoy watching Bargain Hunt and Cash in the Attic, so the idea of a real life auction appealed. Anyway, one Saturday a couple of months ago Steve and I went up to Banbury to spend the day at JS Auctions and did I buy something? Of course I did! Between us we came home with a table, two chairs, three paintings, a pile of board games, two bookcases, a couple of lamps and … a Chinese elephant.
Now this elephant was part of a lot that included three hideous vases, a picnic basket, two wooden trays and a poster of Maltese buses. (Yeah, they have some pretty random lots there!) The elephant was about a foot high, two feet long and blue and white. An ugly thing, I thought, but for some reason Steve developed an obsession with this elephant and when bidding started he was right in there, bidding away and he won it … well, he won the entire lot, for the princely sum of £18! I teased him relentlessly about his elephant, but it was all to come back and bite me on the bum …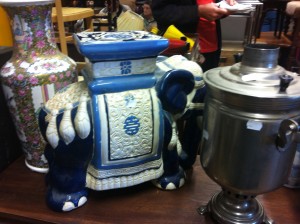 Next day we took delivery of our new things. The hideous vases were hidden away in the garage and I carefully carried the elephant into the lounge and put it down near the French doors. It actually looked okay there, and I decided that Steve hadn't made such a bad purchase after all. And then – as you do – I decided to "mount" the elephant and "ride" it round the room …… and managed to knock it over and smash it into a million pieces 🙁 I was horrified and really upset. Steve, to his credit, was very calm and reasonable about the whole thing but I could tell he was upset too. So I found some superglue and stuck it back together as well as I could. And from one side it looks okay – kind of – if you ignore the crack running right the way through it. Just don't turn it round and look at the other side, though, for that's a bit of a jigsaw!
So that was our auction adventure. The whole day, elephant notwithstanding, was great fun and there were some fantastic bargains to be had. In fact, we've quite got the auction bug and will be back again – I rather fancy myself as a bit of a wheeler dealer!
Soundclip of the auction: