I should have posted about my poor sad Kindle when it first failed in March. I bought it in January with some birthday money and having loaded it up with half a dozen books it was my constant companion while on holiday in Egypt. I didn't use it as much at home, but one day I went to turn it on and it wouldn't respond – the Kindle screen was frozen on the screensaver. After charging it and rebooting it and getting no response I visited the Amazon website and clicked the link to return it. One click later and I had someone from Customer Services on the phone – very impressive. He took me through various rebooting processes and then asked me to leave it plugged in for a few hours and he'd call back at 2.30pm. Yeah, yeah, I thought – that'll be the last I hear from him! But to my surprise,  bang on 2.30pm the phone rang and it was the Amazon guy. He tried one more reboot and when nothing happened he arranged next day delivery of a new Kindle. It duly arrived the next day (a Saturday) and I was sent a return label and instructions on how to have the faulty Kindle collected by a courier. Everything went smoothly – the faulty Kindle was collected, and I was happy with my new one. OK it took me ages to manually put all the books back on it and sort them back into collections, but I had a working Kindle again.
Until now.
I've been using my Kindle more and more at home and I have a good 100+ books on it now. Last night I was reading in bed – Jo Nesbo's The Snowman, if you're interested – and at about 11pm I switched the Kindle off and placed it on the unit next to the bed, on top of my clock, like I do every night. This morning when I woke up I grabbed the Kindle to carry on reading but to my horror the screen looked very different … it was kind of on the page I had last been reading, though the screen was covered with black lines, but the bottom corner was very black. I tried turning it on, off, on again and the bottom corner appeared to be showing the home screen while the top part was stuck on the page. I tried the approved Amazon Kindle reset method – holding the on/off button across for exactly 15 seconds – and I could see the reboot bar in the bottom section, then the home menu – but the top half was still stuck on the page. I tried all the above with the charger in, charger out, tried charging it for a while – all to no avail. My new Kindle – my SECOND Kindle – is dead.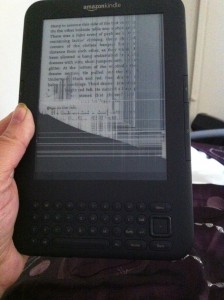 So I went to the returns page again, requested a phone call, explained to the guy what was happening. He asked various questions – Have you dropped your Kindle? No. Has something apply pressure to it? No. Has it been near water? No. – and finally he agreed that it was faulty. A new one is on order and will be here tomorrow morning. So that's all well and good I guess.
But actually, no it's not. It's a pain in the neck having to have a new one again – presumably I'll have to put all the books back on and sort them into collections (though I do have Collection Syncing activated – so we'll see) and I have to wait in all day for delivery. But worse than that is the fear that the first one lasted three months, this one lasted two months, how long is the replacement going to last? It's not like I'm smashing these things up … I have a slipcase that I keep it in when it's not on the cabinet next to my bed. The adverts show people using them on gym equipment and bikes but how long would a  Kindle last if it was being jolted around or dropped, when they break just by being put down!! Also, the 12 month warranty appears to only apply to the original one, which I ordered in mid January, rather than be reset when I get a replacement … so I've got through two in 5 months, how many more will I get through in the remaining 7 months, and what happens next January if one of the many replacements fails – will I just have to shell out for a new one? At over £100 these things aren't exactly cheap!
I'm not the only person to experience problems with their Kindle either. A quick search on Google or Amazon's own Kindle forum brings up  lots of people onto their 2nd, 3rd and even 4th Kindle! I can't fault Amazon's customer service – both times they have been very helpful and I have no doubts that the second replacement will be here tomorrow. But you'd think that, rather than spending a fortune sending out replacements and organising couriers for the return of the faulty Kindles, Amazon would put their money and energy into making the Kindle a bit more robust – because as far as I can tell, it's the flakiest bit of technology I've ever owned!
Have you had problems with your Kindle? Let me know what happened and how Amazon dealt with it!