This entry is prompt #12 of The Book of Me, Written by You project.
This week's prompt is – The year you were born

What happened

Historical

Films

Music

Books

Television

Or use any other historical (well known or otherwise) event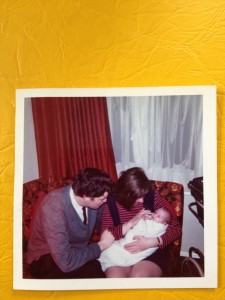 My birth wasn't the only one to happen in 1971; in fact there was something of a baby boom as the world's population grew by 2.1% – the highest on record.
The world was a pretty unsettled place in 1971, especially in Asia, where India and Pakistan went to war with each other. Closer to home unemployment in the UK had reached its highest post-war levels and there were many protest marches and industrial strikes, including the first ever strike by postal workers.
1971 was a year of firsts … including the first One Day International cricket match, played between England and Australia at Melbourne Cricket Ground. The first ever pocket calculator was invented by Texas Instruments, Intel released the first single chip computer microprocessor, and the first CAT scan was done. 1971 also saw the invention of internet chat rooms, email, floppy disks and Liquid Crystal Displays (LCD) – it was definitely all a sign of things to come. Other debuts in 1971 include the NASDAQ, FedEx, Greenpeace and the Morris Marina. 1971 was also the year of the first ever Reading Festival "of jazz and progressive music" …
During 1971 Mother Nature demonstrated her power, with earthquakes in California, Peru, Italy and Turkey; tornadoes in Mississippi; tsunamis in India and Japan; and "the century's snowstorm' in Quebec. Mount Etna also erupted during this year.
Space exploration was a hot topic in 1971. America sent Apollo 14 to land on the moon, and the crew of Apollo 15 explored the moon's surface in a lunar buggie a few months later. The Russian space project was not so successful though, as the crew of Soyuz 11 died when the air supply ran out because of a leak.
Britain was getting to grips with a new currency in 1971 as decimalisation came in. School children were also having to cope without their midday milk because "Maggie Thatcher, Milk Snatcher" took it away (though many local authorities continued supplying it for some years to come).
Trouble in Northern Ireland escalated during 1971, including a huge bomb blast killing 17 people and injuring several more. The IRA also bombed the Post Office Tower in London.
In sports news, Arsenal won both the FA Cup and the Football League in 1971. In better news, Chelsea won the European Cup Winners' Cup (hurrah!). There was a football disaster this year though, when 66 fans were killed in a stairway crush at Ibrox, at a game between Rangers and Celtic.
Finally, in 1971 Blue Peter presenters Valerie Singleton, John Noakes and Peter Purves buried a time capsule in the Blue Peter Garden, to be dug up in the year 2000. Must have seemed a long way away at the time!
Political Leaders in 1971:
UK: Edward Heath

USA: Richard Nixon

Russia: Leonid Brezhnev

India: Indira Gandhi

France: Georges Pompidou
Films in 1971:
Ryan's Daughter, The Aristocats, The Andromeda Strain, The French Connection, A Clockwork Orange, Willie Wonka and the Chocolate Factory
Books of 1971:
The Exorcist (William Peter Blatty), The Day of the Jackal (Frederick Forsyth), Fear and Loathing in Las Vegas (Hunter S Thompson), Mrs Frisby and the Rats of NIMH (Robert C O'Brien), Maurice (EM Forster), The Lorax (Dr Seuss).
UK TV Debuts in 1971:
Crystal Tipps and Alistair, The Two Ronnies, The Onedin Line, Upstairs Downstairs, Old Grey Whistle Test, Parkinson, Budgie, The Generation Game, The Persuaders!
Music in 1971:
The most popular bands or singers in 1971 included Bob Dylan, The Doors, Jimi Hendrix, The Who, Mungo Jerry, Jackson 5 (and Michael Jackson), Marvin Gaye, The Osmonds, Tina and Ike Turner, Rod Stewart and the Rolling Stones. Number one on the day I was born was Dave Edmunds with I Hear You Knocking – but if I'd been born four days later it would have been Clive Dunn's Grandad!
Notable deaths in 1971:
Jim Morrison, Coco Chanel, Igor Stravinsky, Louis Armstrong.
Notable births in 1971:
TV presenter Jayne Middlemiss (my birthday twin!)

Gary Barlow of Take That fame

Comedian Patrick Kielty

Sports presenter/writer Clare Balding

Popstrel Sonia

Actor and one-time X Factor judge Amanda Holden

Melinda Messenger, page 3 girl, actress and Swindon-ite

F1 driver David Coulthard

Actor Ewan McGregor

David Tennant – the best Doctor Who!

Future Tory Chancellor of the Exchequer George Osborne

Sacha Baron Cohen, creator of Ali G, Bruno, Borat etc

Singer Dido

And me!