Our first full day in Dallas was Friday and we didn't have anything planned. Actually, that's a lie – we'd tried and tried to get tickets for NXT Takeover but missed out on pre-sale and sale day, and Stubhub was looking for stupid amounts of money for them. But the day started with Dan deciding he wanted to go to NXT whatever the cost, and us tracking down a ticket for around $380 dollars including fees. Ouch. Suffice it to say that I chose not to go!
I'd heard people talking about Wrestlecon and thought perhaps we'd give that a go, especially as tickets were available on the door. Then we met a couple of American fans in a diner and they almost talked me out of going, saying it would cost us a fortune to meet people and there wasn't a lot else to do.. But we went anyway … and I'm really pleased we did!
Wrestlecon is an independent event, and most of the wrestlers there are retired and ex-WWE … which meant it was a chance to meet some of those longtime heroes! OK it cost us $20 a pop to meet, chat and get a photo, but actually I really enjoyed meeting these huge guys I'd only ever seen on the screen! SO during the morning we splashed the cash to meet Al Snow (crazy guy! And he had Head!), Billy Gunn, Hacksaw Jim Duggan (and we got to do a Hooooooo!), Rob van Dam (Dan met him, and they chatted about concussion…) and Diamond Dallas Page. Hacksaw was a lovely guy, as was DDP – I'd never heard of his DDP Yoga before then, and I'm now a convert … but that's a story for another post!
(I was a bit gutted that Chyna wasn't there, as I was a big fan and hell, so what if she's a porn star now? But her table had a note on it saying her flight had been delayed so she wouldn't be there till Saturday. And later I saw an apology from the organisers, basically saying that she'd got drunk and never made her flight!)
We could have carried on meeting people but we were spending a ludicrous amount of money so at that point we bailed out. Actually, The Hardy Boyz were there and I would have happily paid for a meet and greet with them, but the pre-paid queue was enormous so we ended up not bothering.
I wasn't sure what else Wrestlecon would hold for us, but it seemed there was entertainment all day. We'd just missed a Hardy Boyz Q&A when we arrived, but we did enjoy the Road Warrior session, and the live recording of a podcast by some wrestler called Colt Cabana – never heard of him before but it was very entertaining! And then the day ended with the Queens of Combat wrestling … Dan had poured scorn on this, saying that he was ONLY interested in the proper thing, WWE  – but it actually turned out to be a lot of fun, with all the soap opera drama of the main event but without such egos. It was definitely an enjoyable way to end our day at Wrestlecon and the people who went home early missed out on a treat!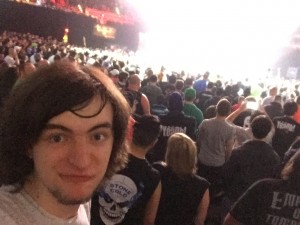 By now I was tired and ready for some food, so we walked into Downtown Dallas and found a Tex Mex restaurant, where we had some really good food (but too much of it, of course!). Then I got an Uber back to the hotel and Dan headed off to Next Takeover – which was apparently worth every penny of the small fortune he paid for the ticket!