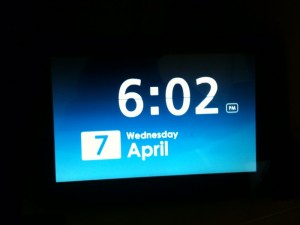 So my Joggler arrived yesterday and on the whole I'm pretty pleased with it. For just under £50 it's a decent bit of kit and has already proved a bit of a hit with us all. So here are my initial impressions of it.
The actual thing itself is very good quality. It's about the same size as a 6″ x 4″ digital photo frame, with a decent thick screen and a solid stand. It comes with a network cable – in case you can't connect to wifi – and a mains lead and was very easy to set up. I just plugged it in and left it to it – it found my wireless router instantly , then took a good 20 minutes to download and install various software upgrades but all went very smoothly.
The Joggler boots up with a screen showing several icons, including news sport, weather, traffic, messaging, radio and photos/music/videos, as well as a settings option, tools and help. There's also one for the new App shop, where you can download more games and some Google apps. The touchscreen responsiveness is okay, not quite as good as I'd have liked though as sometimes you have to press quite hard to make it react. After a set period of time the screen changes from the icons to either a slideshow of images (if you have any on there) or a clock.
The first thing I really like about the Joggler is the internet radio.  There are (apparently) 100 stations on there, including all the BBC nationals, several BBC locals and a good mix of commercial stations too. Fab for me – not only my favourite 5Live but also Kerrang, XFM and LBC (I've missed LBC since I left London!) The radio streams pretty well, there is the odd interruption while it buffers but on the whole it's good. The speaker in the Joggler is a bit tinny but perfectly listenable; there's a headphone socket on the back though so I may get some small speakers at some point. My only criticism of the radio is that among the 100 stations there are 5 regional versions of Galaxy, 5 of Smooth FM and six Traffic Radios. Seems a bit of a waste – I'd like more variety (the fabulous Resonance FM, for example, or my local fave Jack FM). Shame you can't pick and mix to make up the 100 because Traffic Radio North East is never going to be given a listen here in Oxfordshire!!
If the radio doesn't offer enough choice, you can load music onto the Joggler via the USB port but hidden away in the Tools section is Connect and Play – you can set it up so your Joggler can access any music you have stored in Windows Media Player on your PC, which is fab.
Apart from the radio, the big attraction for me was the calendar. I was originally put off the Joggler because of its O2 calendar, which was an independent entity that didn't sync with anything else. Given that I use Outlook and Google iCal and have them synching between two computers and my phone, it would have been a nightmare to then have to enter everything again on another calendar! Fortunately you can download Google Calendar from the new Apps shop, so now I have  a visible calendar in my kitchen (where the Joggler lives) which is synched with my iphone, laptop and PC. Very cool! The drawback is that there is no way of having the calendar on display all the time so you actively have to select it to see it. Not a major problem – though having some sort of pop up screen when events are due would be really useful – but it does kind of blow the idea that the Joggler replaces the junk on your fridge door because I can see that junk all the time!
One of the weirder functions of the Joggler is the messaging. I've seen lots of people moaning on forums about how their messaging hasn't been working but to be honest I really don't get the point of it. Basically, every Joggler comes with its own SMS number and 50 free texts. All well and good, but I have no idea why I'd want to send or receive texts from a device in my kitchen when I've got a perfectly good phone that goes everywhere! If anyone can explain the point of messaging on the Joggler, it would be appreciated!
There are some games on there – Sudoku and something else – and you can download more from the Apps Shop. They're all a bit weird and silly but have entertained us already, and competition is hot for the top score on a couple of them! Also in the App store you can get Google Maps – downloaded but not yet tried – and a YouTube app, which is actually rather fab, fully searchable and runs really well. Will have to find something worth watch while I'm cooking dinner!
The news and sports features are okay, they bring up a list of headlines and you can click for the stories. Quite useful if you want a catch up on what's going on. The weather function is okay, though the closest I location could choose is Swindon, about 15 miles away. There is another weather app though, downloadable from the app shop, and I could get a more local forecast on that. Good good. The travel app looks pretty useless – it shows the major roads but only seems to report problems on the motorways. Can't see me using it much to be honest.
I haven't tried the music, photo or video buttons yet – the Joggler has 1GB internal memory but you need to put files on via the USB port. Will get round to it sometime! There are other bits and pieces too – a calculator, alarm clock and something else, can't remember what!
I'm keeping my fingers crossed that now they have launched the App Shop, O2 are going to keep upgrading with more useful things. The App Store menu lists all sorts of categories including music, business and social networking …. What would be really good would be to have apps for Spotify and BBC iPlayer or TVCatchup!
So overall I'm pretty chuffed with my Joggler. I don't think, as it stands now, it would ever have been worth £150 but for £50 it's definitely worth a punt, if only for the internet radio!