This is a copy of a complaint I have just sent to Hermes, following the "delivery" of a parcel which was damaged beyond repair. It should explain why I'll never use Hermes (My Hermes) delivery service again …!
I've recently started using Hermes for delivering items sold on ebay but am very unhappy with the service I have received.
One item was left on a doorstep in an exposed position. It was raining and the packaging got very wet, but fortunately the item was not damaged.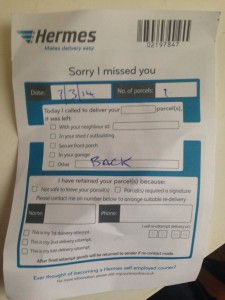 However, I recently sent an item via Hermes to Northern Ireland. No one was home but rather than leave a card requesting the delivery be rearranged, the driver decided to "deliver" the item to the rear of the house – which involved throwing it over a seven foot high gate, which was padlocked shut. The parcel landed on a slabbed pathway and was damaged beyond repair. (The packaging also became very soggy as it was raining.) I have tried claiming compensation but have since realised that the item contained two glass panels, which are exempt from your policy, so I have had to refund the buyer myself.
While I understand your compensation policy I don't understand how your driver could possibly think it was a good idea to throw the item over a gate, not knowing (a) what it would land on and (b) what the item contained.
The item was securely packed in a sturdy Jiffy bag – in fact, an identical item was sent to the United States via Royal Mail's Airsafe service and arrived four days later in perfect condition – so I don't think there was an issue with the packaging. The problem was entirely with the fact that your employee threw the item over a fence!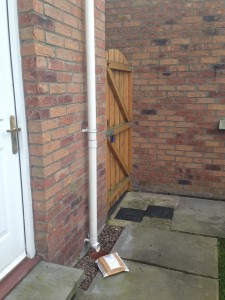 On your website you promise that "You will also benefit from our industry leading first time delivery hit rate which means that the recipient won't have to travel to a sorting office if they miss the delivery, the local courier will attempt to deliver up to three times."
This is obviously not the case – because the courier chose not to attempt delivery a second or third time, but to "deliver" the package in their own unique devastating style.
This wanton act of idiocy by someone recruited by Hermes has left me £44.20 out of pocket and deprived a collector of a limited edition item.
I will not be using Hermes again. I certainly will not be recommending your services to anyone else. And I will be posting this complaint as an open letter on my website.
I look forward to hearing your response.
I'll keep you posted!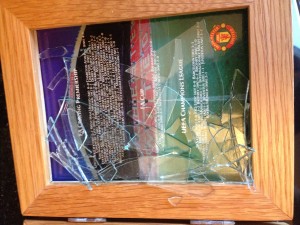 UPDATE: I forgot to mention that two days ago when I first heard about the "delivery" issue I had spoken to someone from Hermes via their online chat function. Despite explaining that the glass was shattered in the item (which would suggest to me that it was "wholly or partly made of glass") "Brian" had sent me a link to a compensation form which I filled in and submitted first thing this morning, as soon as I had all the photos as evidence. After sending my email I had a quick look at the compensation policy and realised my item wouldn't be covered – which was why I then raised the complain you see above.
However, at 13:02 I received the following email in response to the compensation claim I submitted:
Subject
Parcel "delivered" by being thrown over a 7 foot gate onto a concrete patio ….. damaged beyond repair
Response By E-mail (Salman) (12/03/2014 01.02 PM)
Dear Alison,
We are pleased to confirm that we have today accepted your claim for £ 44.20.
•    Selling price: £ 40.00
•    myHermes postage: £ 4.20
To allow us to make payment, please provide your bank sort code and account number.  If you would prefer to do this via telephone, please contact us on 
0330 333 6556
.
On receipt of your bank details, please allow 3-5 working days for us to pass your details to our Finance Department.  You will receive a further email confirmation when your claim has been completed.
Kind regards
Salman Shaikh
Customer Service Advisor
myHermes Claims Department
and two minutes later, at 13:02 I received another email, this time in response to my complaint:
Subject
Very unhappy with Hermes service
Response By E-mail (Anna) (12/03/2014 01.04 PM)
Dear Alison,
Thank you for emailing myHermes.
Unfortunately, as the contents of your parcel fall under the category of items excluded from compensation, I am afraid we are unable to help in this instance.
I am sorry for the inappropriate conduct of our courier. I assure you that this is not common practice at myHermes.
I have forwarded on your comments to the appropriate field manager and we will now deal with this issue internally.
As a goodwill gesture we will refund you postage costs for this parcel.
Once again, please accept my sincere apologies for any inconvenience caused.
Regards
Anna
Customer Service Advisor
myHermes Support
So it looks like Hermes have no idea what their policy on compensation is!!
I've responded to the second message, from "Anna" to say that they have made themselves look completely unprofessional …. and I've responded to "Salman" to say thanks you and please refund the money, minus the £4.20 they have just paid into my Paypal account for the Hermes fee, to my bank account. Will see what happens next!
FINAL UPDATE: I received another email from Hermes saying that they wouldn't normally refund but because I had been told two different things they would honour the offer to refund me … and sure enough, a week later I did get back the value of the item. So good on them for doing that …
BUT … They never did really address the issue of why their courier felt it was acceptable to throw my parcel over a seven foot fence. I had three of these items in total – one went to a London address via Royal Mail, one went to America via Airsure … those two parcel arrived in perfect condition. The third – the one I used Hermes for – arrived smashed to pieces.
So thank you for refunding my money … but Hermes, I will still never use you again.