A couple of weeks or so ago my lovely mum came over to visit me here in Portugal and we had a really good time together. Mind you, we almost missed each other …
Mum's flight landed shortly before 7pm and as Porto is 2.5 hours from me and my car is ancient, we arranged that she'd get the train down to Coimbra, my nearest station, and I'd collect her there; it seemed like a good plan as Pickle had a vet appointment that evening in Lousa, which is kind of on the way to Coimbra anyway. Shortly before we left, Mum messaged to say her flight was delayed due to thick fog at Porto airport. I said I'd drive to Porto and collect her, she protested, so I set off for the vets awaiting further developments on her flight. There was a message to say she was on the plane, then that it had been further delayed, then that they were finally about to take off. When I came out of the vets I checked the arrivals tracker for Porto and saw that she was unlikely to make the train, so I messaged to say I'd collect her at the airport and set off for Porto.
The fog was heavy but the drive wasn't too bad. I was concerned that I'd not received any further message from Mum, and worried that maybe the plane was circling the airport waiting for the fog to clear. There was a queue for the short term parking when I arrived so I called Mum to say I was there and ask where she was. "Oh – I'm in the taxi queue. I was going to try and get a later train!"
So fortunately we met up before she set off for Coimbra, and it later transpired that she had messaged me, but she hadn't turned on mobile roaming so neither her messages or mine had been received! The journey back, via a cafe for coffee, wasn't too bad and we arrived here in Coelhosa about 1.45 am. Poor Pickle has never endured such a long car journey but she was very well behaved, albeit quite excited to meet my mum!
When we got home we had a cuppa and some cheese and biscuits, and were rather alarmed to hear some very strange noises outside. The moaning and groaning went on for some time, and eventually, like a fool, I decided to go and explore. Armed only with a head torch I wandered round the village in the dead of night, getting closer and closer to the noises which now sounded like a zombie invasion! Eventually the noise got so close I freaked out and realised that I probably didn't really want to meet whatever was making it!
I thought it was maybe javoli – wild pigs – as I know they roam the area at night; Mum suggested it sounded like rutting deer. I've since talked to a friend from the next village who said it was more likely deer, as September and October is mating season. He added that they can be very dangerous when they're on heat. I'm very glad I turned back when I did!
After a good night's sleep we woke to bright sunshine and I took Mum on a tour of the village, the garden and my fledgling vegetable patch, and she marvelled at the beautiful views, which got even better when we took to the "Sky Road", which follows the ridge of the mountains nearly at the top and has views of some amazing vistas. We were heading for Unhais de Portela, where we met my friends Andrea and Jeroen for lunch. One of the menu choices was the delicious arroz de pato (duck rice), which we all very much enjoyed. After lunch we went back to my friends' farm and I had great fun showing Mum the animals. She'd heard a lot about them but was still blown away by how huge D'Rock the pig is!
Friday we had a lazy start and then went into Pampilhosa da Serra to do "touristy" things – a visit to the church (being painted inside so full of scaffolding), the town museum (where we had our own exclusive tour guide) the cemetery (quite creepy, especially all the photos on the gravestones) and the Chinese shop! Most towns in this regions of Portugal seem to have one of these, a shop packed floor to ceiling and end to end with plastic tat. It's an experience in itself! We also had the obligatory coffee and cake.
We'd checked the weather forecast and Saturday looked to be very wet so we planned ahead to stay home. It rained all day and we amused ourselves by reading, playing Scrabble, chatting and watching films. I also made my first attempt at cooking Bacalhau a Bras, a traditional Portuguese fish dish, and it was very tasty!
Some months ago I visited an amazing schist village at Talasnal, the other side of Lousa, and I'd seen information about a group of four similar villages closer to home, so on Sunday we set off on the schist trail to visit Pena, Agra Velha, Agra Nova and another one that I can't remember the name of but we kept calling Connemara. In the first village it seemed that all the stonework had been plastered over, so we drove on to the second,which was tiny and shabby and all the things you were meant to be able to see – the village bread oven, an olive press etc – were either in ruins or behind locked doors. The third village looked slightly more promising but there were some young men working and singing, and we felt too awkward to explore it, and the fourth was even less exciting than the second. Suffice it to say we were seriously underwhelmed!
We headed to Gois, one of the three towns closest to home. I'd only been once before, back in 2008 on my first visit to Portugal, and I didn't remember anything about it except for an excellent pizza restaurant. Turns out Gois is a beautiful little town, very attractive and with some interesting sights, and the pizza we had for lunch was just as good as I remembered!
I was still annoyed that the schist villages had been so disappointing so I decided we'd drive to Talasnal even though it was a fair way away. Last time I went it was deserted but when we arrived the road approaching the village was lined with cars along both sides! Turns out there was a wedding taking place, and we had to walk through the hog roast reception to get to the entrance to the village. Fortunately Talasnal was every bit as spectacular as I remembered and we thoroughly enjoyed wandering through the narrow passageways and marvelling at the stone houses that almost hang off the edge of the mountain. We stopped in a little cafe for coffee and were treated to the view of paragliders soaring over the next mountain, as well as the newly wed couple sharing an intimate moment on a terrace below the cafe!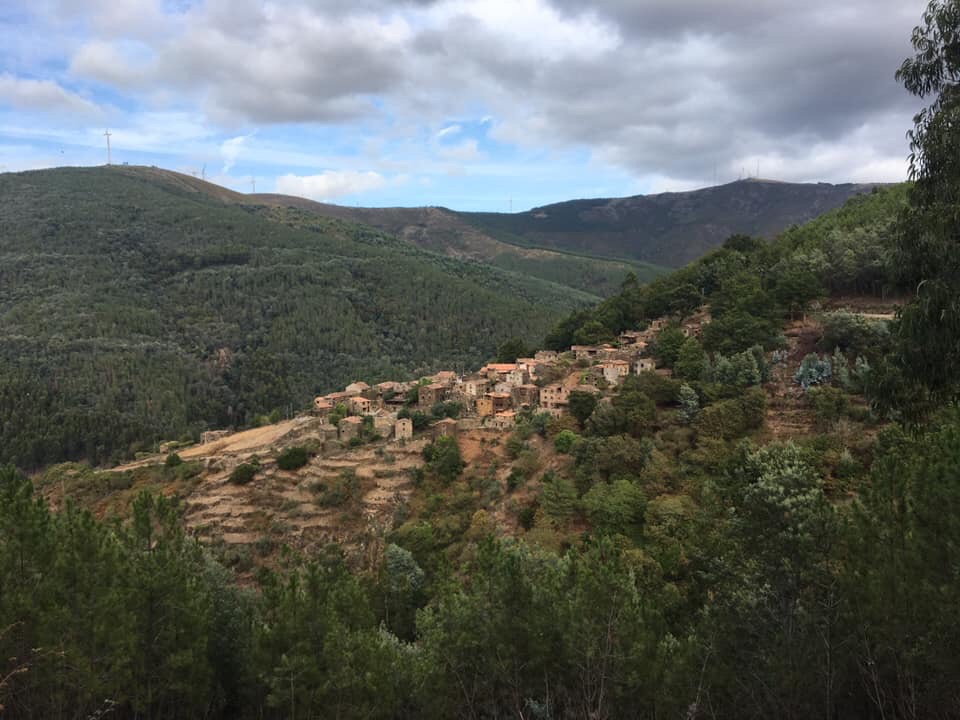 I decided we'd come home a different way, using roads I'd never been on before – and soon regretted that decision! A tarmac road turned into a gravel road turned into a dirt track complete with lumps, bumps and ridges – and it continued for four miles! Yet according to my satvav it was a national road and perfectly fine to use. It was a bit of a hair-raising journey but, with white knuckles, we made it to the end and onto something more suitable for my car! We the passed (and stopped to explore) a beautiful building that appeared to be a social club or village hall, completely abandoned and in the middle of nowhere. Portugal keeps throwing up surprises.
Monday is market day in Pedrogao Grande, one of the three towns within half an hour of the village (and not as grande as its name suggests) and I usually go, so Mum came with me. The indoor food hall is a good mix of commercial sellers and home produce, and I try to buy the home grown stuff, which often comes in weird and wonderful shapes but always tastes delicious. I'm starting to recognise a few of the stall holders, and they me, so hopefully it will become a social event as much as anything. There's also an outdoor market that sells mainly clothing but also shoes, homewares and, occasionally, live chickens and rabbits.
My Monday morning ritual is coffee and cake at the cafe in Pedrogao town after the market and of course I wanted to share that ritual with Mum! We also had a lovely walk round the small but beautiful botanical garden and up to one of the churches – which wasn't under scaffolding!
On the way me we drove through Pedrogao Pequeno (again, not as pequeno as its name suggests!), which has some beautiful old buildings, and on to the dam at Cabril. I'd stumbled across this a couple of weeks ago and it was just as stunning as I remembered.
Later that day we went to Trinhao, a village about half an hour away by road but a blink of an eye as the crow flies, to visit my friend Liz. Liz has been in Portugal for three years now and has developed green fingers, and I wanted to show Mum her lovely vegetable garden, which has inspired me to plant veg of my own. We had a very jolly afternoon there and I came home with freshly picked homegrown lemongrass, tomatoes, and onion seeds!
Tuesday morning was quite foggy and I had some work to do, so I got on with that and Mum entertained herself with her Kindle. After lunch we headed off to the Arganil area, as it was my monthly writing group get together. The roads were damp and horrendously slippery – probably all those eucalyptus trees depositing oil on the tarmac – and at one point we nearly skidded over the edge of the mountain!! Scary stuff. I tiptoed my way round the hairpin bends and eventually the road surface changed to something with more grip and we were able to resume our journey. We stopped off in Arganil itself for coffee and bolo do bolacha (biscuit cake), which was delicious, and then spent a couple of hours with my literary friends, sharing our work. We heard a mixture of fiction, poetry and memoir and I even read a chapter from the erotic novella I've recently published – though obviously not a sexy bit, with my mum there!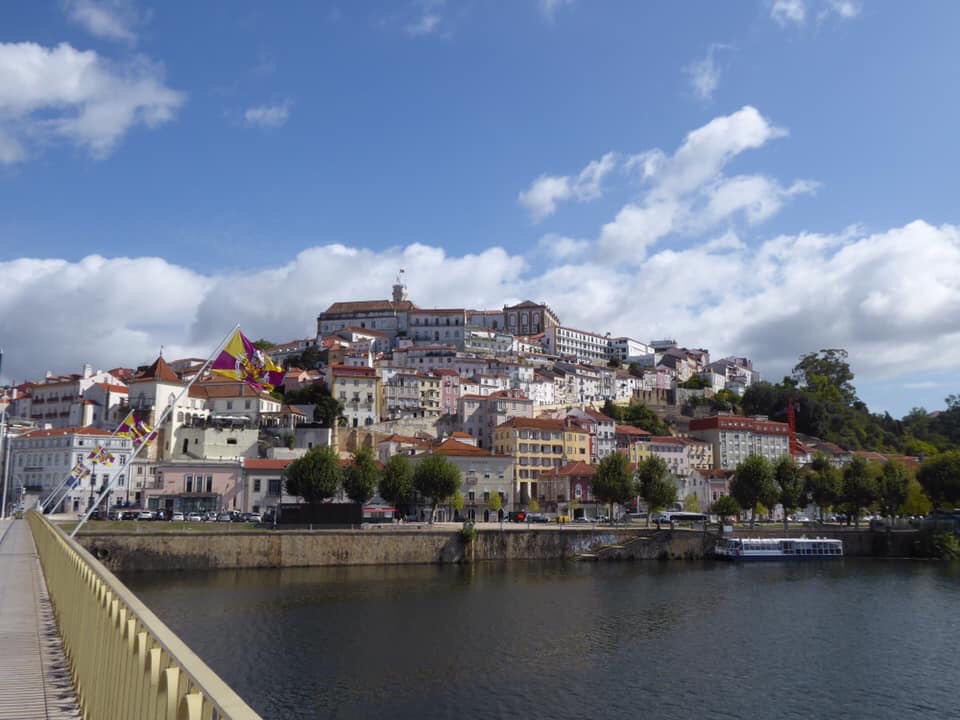 Wednesday was Mum's last day here and as she had arranged to stay overnight in Porto ready for an early morning flight the next day, we decided to spend the day in Coimbra ahead of her train to the hotel. I've only previously passed through Coimbra before but knew it was a beautiful city, and it didn't disappoint. Set along either side of a wide river, the buildings are stacked up the sides of the mountains and are a sight to see. We spent a happy few hours wandering the streets, exploring the narrow back alleys and visiting some of the shops, including an overly ornate shop that sold nothing but tinned fish! We had lunch at a tiny locals restaurant tucked away in a courtyard – bacalhau a bras, very tasty and nearly as good as mine!! – and then headed to the station for Mum's train to Porto. I was feeling very sad by now as I was going to miss Mum loads, but the train arrived really quickly and there wasn't time to cry too much before she was gone!
We had a really lovely week and I so enjoyed showing my mum round this beautiful part of the world. I know my lifestyle choice wouldn't be for everyone – I mean, living in a derelict village with only one neighbour, no shower, no flushing indoor toilet, and a wee bucket in the bedroom? But you know what? Mum really got it … and that makes me very happy.