After two weeks staying with family in the UK I headed back to Portugal with my daughter Katie in tow. Katie is a primary school teacher and tends to find the long summer holidays drag a bit as her boyfriend is at work, so she was coming here for a couple of weeks of R&R – and that's pretty much what she got!
Our flight to Lisbon didn't really coincide with any trains so I'd booked us into the Tivoli Oriente, a lovely 4 star hotel with a spa, (special offer from Booking.com) so we could see a little bit of the capital before heading into the sticks. It was a stifling hot day and we were tired from travelling, but we spent a lovely few hours exploring some of the narrow side streets in the Baixa-Chaido quarter of Lisbon. Beautiful old buildings, many with intricate exterior tiling, all very interesting. I was keen to take a ride on the famous old Tram #28 – but not so keen that I was prepared to queue up for hours or stand all the way, so we gave that a miss. Maybe I'll go back to Lisbon in the autumn for a touristy day. We stopped at a bar at the Museum of Pharmacy (!) for a beer, which turned out to be the most expensive beer in Portugal at €4.50! Well, I guess we were in the city. We spent the evening at our hotel, relaxing in the spa and then enjoying a glass of wine in the Sky Bar. Our hotel had a stunning view of the Targus River – the photo below shows the view from our room.
The hotel was right next door to Oriente station and next day we took the train down to Fundao, and then drove to my friends' farm at Aradas so we could collect my dog. I was really looking forward to seeing Pickle, but the feeling didn't seem to be mutual as she was decidedly off with me. Andrea said she'd attacked a duck (NotFelicity*!!) the day before and had been roundly told off, so perhaps that was why she was a bit quiet. Anyway, after coffee and cake at the farm, we headed off to Coelhosa and my little house.
*Remember 'my' duck, Felicity, who I rescued from the pigs? She was one of a pair of white Muscovy ducks, and one of them went missing – but we are not entirely sure which! So Felicity has become NotFelicity, just in case she's not.
Pickle was very unlike her usual boisterous self that evening and was sick in the night, and then the next morning it was obvious that she was very ill. Andrea recommended a vet in Lousa and we rushed her over there, to find out that she had parvovirus, which can be fatal in puppies. Up to this point I'd still been debating whether or not I was truly a dog person, but the thought of losing Pickle had me in tears as I realised just how much I love her. The vet kept her in for four days to have IV fluids and antibiotics, and fortunately she made a full recovery. It was a really worrying time though.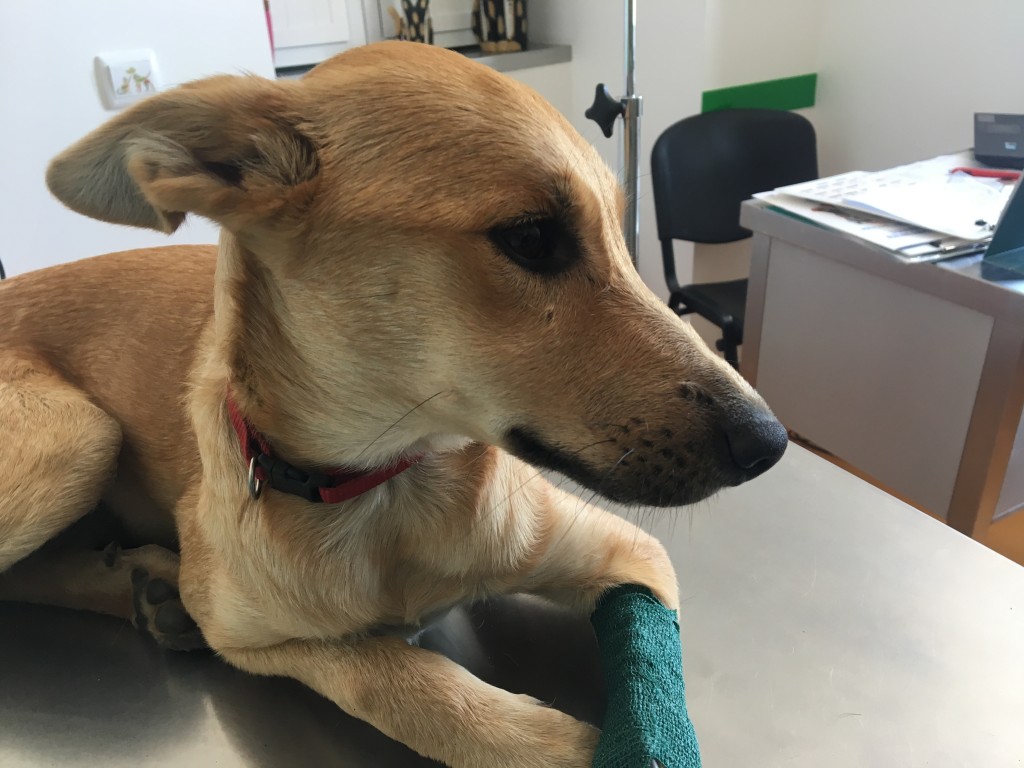 Once Pickle was home, she reverted to her normal naughty self! She started straying from my house to that of my only permanent neighbour, who has a dog and chickens. I think Pickle was going there to eat the other dog's food … but I was terrified that, having got a taste for farm birds with NotFelicity, she might go for the chickens. So over the next few days I began erecting a variety of barriers to try and stop her roaming. And blow me, but she managed to get through every one! Eventually I resorted to buying a 6m chain to attach to one of the trees, so she could be outside without running off. Seems to have done the trick as she hated being on it and two weeks on, I can now trust her to run free, stay away from the other house and come back when I whistle. Mostly!
Pickle-related events dominated the first week or so of Katie's holiday here, in various ways, but we also managed to do not very much together and have a lovely relaxing time. I'd bought a hammock while in the UK and Katie found two trees to hang it from, so we took it in turns to use that. Very relaxing to swing gently in the hammock while reading, chatting and listening to music. And Katie taught me to crochet while she was here (and I can still remember how to do it!) though admittedly I find it quite stressful … who would have thought counting three crochets would be so difficult!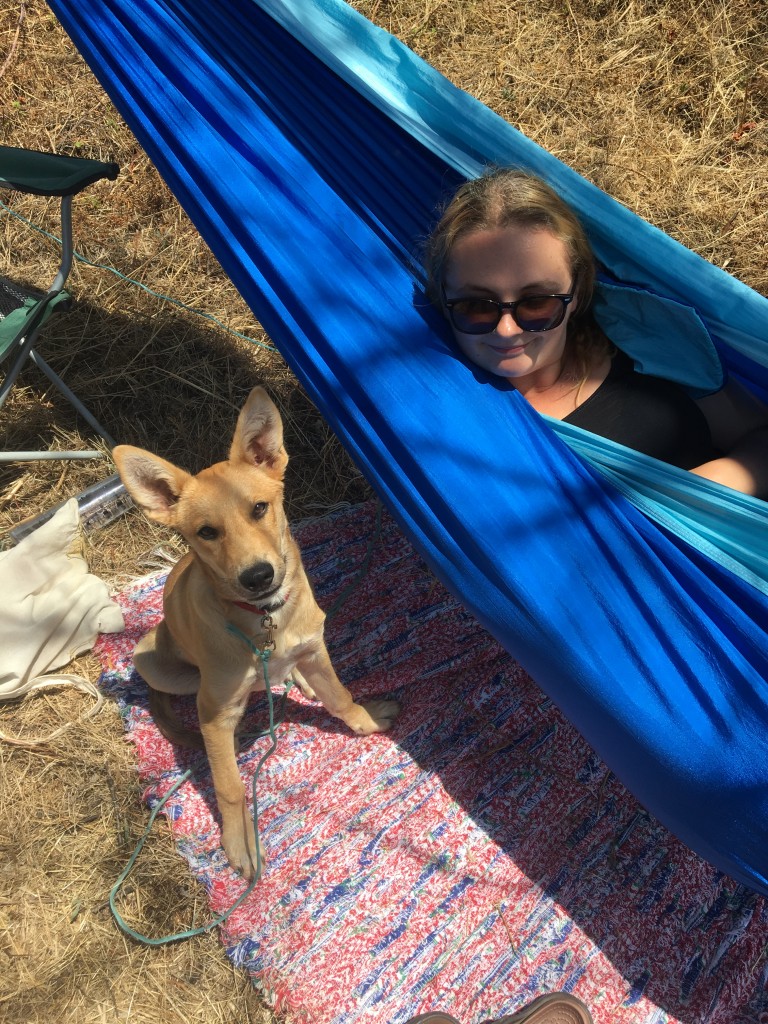 Every evening we took Pickle for a walk on the mountain ridge and most days we went for a swim at the praia fluvial (river beach) at Pessegueiro. It's a beautiful spot with crystal clear (and icy cold!) water that flows from the mountains into a small river which is dammed each summer to make it deep enough for swimming. There's also a riverside bar where we often had a beer and chips, and took advantage of the free internet. We went into Pampilhosa da Serra on market day for coffee and cake and a chicken dinner; another day we sat by the river there eating bifanas (pork rolls). In the evenings we watched TV together – we worked our way through seasons 2 and 3 of Strangers Things on Netflix, as well as the latest series of Queer Eye. August is festa season here in Portugal so one windy evening we ventured out to Ramalheira, a nearby village, for their festa, which involved concertina music, a safety boot sale, dangerous games with hammers and nails, and a man collecting monetary donations in a potato – yes, it was as bizarre as it sounds!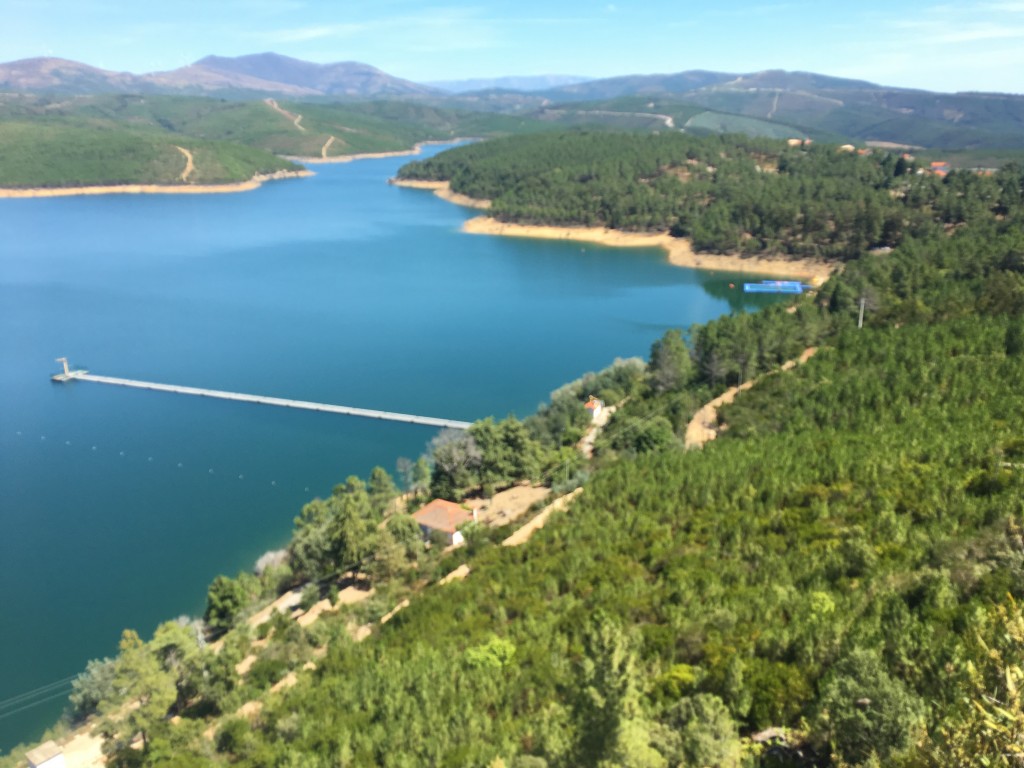 On Katie's last full day we went over to Casal de Lapa to meet Andrea and family for lunch – I didn't realise that the fantastic prato de dia €7.50 menu is suspended during August, so it cost a bit more, but was still a fabulous meal for not a lot of money. Then we went to the pool in the lake for a swim – nice to have a splash somewhere different for a change! The swimming pool is the small blue area on the right hand side of the lake in the photo above – the lake is enormous!
So that was pretty much how the two weeks passed, and, all too quickly, Katie's holiday was over. We drove to Coimbra so she could get a train to Porto, ready for her flight home. Coimbra is a beautiful city built either side of a river, and I would love to visit it properly – but I was a bit tearful when Katie departed, and drove straight home. Another day …
I think Katie enjoyed herself while she was here, but I know she found it all a bit too primitive, especially the compost loo and the wee bucket! I don't think Portugal worked its charm on her in the same way it has for me. But then again, there was a time when I didn't understand why anyone would want to live here either … until a magical moment changed my opinion forever.
After Katie left I felt a bit down, so I've thrown myself into socialising – Sunday lunch with some people from the Single in Central Portugal Facebook group, a very drunken evening with a friend at her village festa, two energetic late nights at the Seaside Sunset Sessions, a big dance music event in Pampilhosa, and participation in a pool tournament at the festa in the neighbouring village, Coelhal. I've also done a bit of writing, a lot of reading, some TV watching and daily dog walks on the mountain ridge.
Oh, and I've acquired a kitten. This is Bobcat Bob, AKA Bobbie, and he's gorgeous!