Oddball Day.
Wear a mismatched pair tomorrow: odd socks, shoes, gloves, earrings, or mismatched legs from tights or trousers. Enjoy being different!
When I was a teenager I used to wear odd socks – normally fluorescent ones – as a regular thing. However, the idea of wearing odd things now just seems … well, a bit odd!
I wore odd socks today – a pink stripy one and a fluorescent stripy one – but as I was also wearing long boots no one could see them. I did feel quite confident today but don't know if that was anything to do with the socks!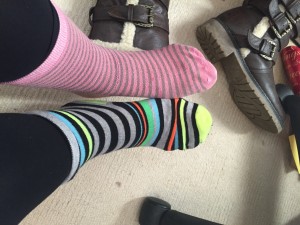 The idea of wearing odd shoes terrifies me – I actually did that once, two shoes that were very similar, and was mortified when I realised! However, I like the idea of odd earrings – I don't wear them a lot, but quite like the idea of feather earrings in contrasting colours, so might give that some thought.