So on Sunday 3rd Feb 2019 I set off from my mum's in Wantage and drove down to Portsmouth to board Cap Finistere, the 22.30 Britanny Ferry to Santander, as the first part of my trip to Portugal. My car was pretty loaded up but not as full as I feared (and I'm already kicking myself for leaving some things behind, give I had the space!).
I was looking forward to the ferry crossing, as the last time I did an overnight one was back in the 1980s to Denmark. And while I failed to find any of the promised "entertainment" it was a very enjoyable and relaxing journey. I spent a lot of time out on deck failing to spot whales and admiring the French coastline, which we came surprisingly close to at one point. I also watched a film, read a book and ate far too much food!
The first night the sea was a bit choppy and I found it hard to sleep but I slept well the following night, though an embarkment at 6.45am meant an early start. I was parked on deck 5; cars on deck 3 were called and then we waited … and waited … and waited. Eventually a message came over the tannoy apologising for the delay and informing us that the doors wouldn't open and engineers were on their way! Lots of people seemed very annoyed but I was in no rush and enjoyed the extra time on deck, where I chatted to a fellow traveller who was also heading to central Portugal. An hour or so later we were finally allowed down to the cars and I sat nervously waiting for the bit I was most worried about – driving on the wrong side of the road!
But you know what, it was a doddle. Spanish (and Portuguese) motorways are generally two lane, the speed limit is 120km so slightly higher than in the UK, but they are so quiet that driving is a real pleasure and I even found I had time to take in the scenery as I whizzed along! And what amazing scenery it was. The first part of the journey took me through the Cantabrian mountain range – quite literally through it, as I lost count of the number of tunnels through the snow-covered mountains. The dazzling white of the snow on the peaks set against a bright blue sky was a stunning sight and I thoroughly enjoyed the drive.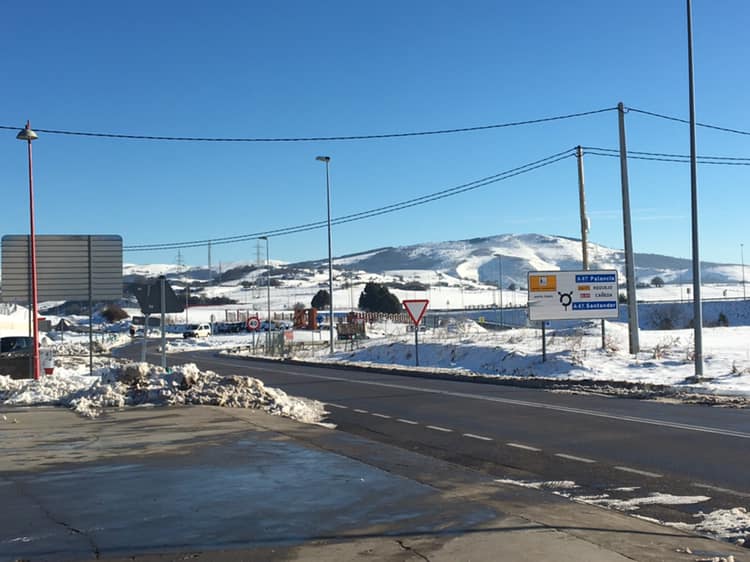 I headed towards Palencia the scenery changed; the snow disappeared and I was driving though beautiful open countryside that looked very much like spring had sprung. There was a rather grotty industrialised area near Valladolid but otherwise the view was lovely. The only downside was the tailgaiting Spanish drivers. I'd be doing the speed limit of 120km/h and the road behind me would be totally clear … totally clear … totally clear … and then just as I pulled out to overtake a lorry ZOOM someone appeared from nowhere and sat on my boot until I'd pulled in again!
I stopped off at a services and had lunch in the cafe there – La Loba, The Wolf – and bought some petrol.Weird staying in my car while a man fills it up – I think that's going to take me a while to get used to!
I arrived in Salamanca at about 2.30pm and had fun (!) negotiating the one way system to find my hotel – I think I did cross a one way street the wrong way but fortunately no one noticed! Salamanca is a beautiful city and I can recommend it to anyone wanting a city break! The Old City is a UNESCO World Heritage Site and rightly so. Set around Plaza Mayor, considered to be one of the most beautiful squares in Spain, the buildings range in architectural style from Gothic to Moorish, baroque, renaissance and Romanesque and many are built from sandstone that glows golden as the sun sets. Salamanca is also a university city; the university was founded in the 13th century and again the buildings are well worth seeing. In fact, I was heading to the two adjoined cathedrals in the south of the city but never made it there because I was distracted by the university chapel! I spent a couple of hours exploring the old city but barely scratched the surface. There are lots of small churches and palaces and museums to be discovered and I would love to return to Salamanca for a long weekend some time.
After a long hot bath at my hotel and a good night's sleep, I did one more bit of sightseeing before heading off. In 2013, the residents of the Barrio del Oeste part of the city, which was looking a little shabby, invited street artists to brighten the place up. Radiating along every road leading from Plaza del Oeste are trees wrapped in knitted "hugs", crocheted owls, and dozens of works of art. Wandering these streets was just as rewarding as exploring the older part of the city.
Eventually I dragged myself away and set the sat nav to take me to Casalinho e Escabelado, Aradas, Unhais o Vehlo, Pampilhosa da Serra …. my friend's farm. It immediately got me lost once again in the Salamanca one way system  and after driving round the same route three times I disobeyed the instructions and took off in a different direction, which, fortunately, led to me being spit out of the city and back onto the motorway.
The drive down to the border was fine; more easy motorway cruising through open countryside, the barest of glances at my passport by border police and that was that. Almost instantly I crossed the border, the landscape changed from flat fields to rugged rocky mountains. I was in Portugal!
The first section was dead easy, more motorway and even fewer cars. The road down through Guarda is a toll road and I'd been a bit concerned about this as there are all sorts of complicated ways you can pay online but I'd not managed to set anything up. Fortunately there's a lane specially for tourists and after rejecting my first card it accepted the second, locked it to my registration plate and I was free to go. Seems like a lot of hassle given the tolls are only a euro or so, but I guess it must add up to a decent money earner. The route took me past Serra da Estrela, Portugal's highest mountain range, and the peaks were snow-capped even though the day was really warm.
I stopped for lunch at Fundao services (tosta mista, a ham and cheese toasted sandwich, and my favourite Pasteis de nata, Portuguese custard tart) before tackling the last part of my journey – the winding mountain roads! Again this had been a bit of a concern of mine but in reality I took it slowly and was soon pulling into the drive of my friend's farm. The adventure has begun!